Yes, Lisbon is worth visiting for its rich history, stunning architecture, delicious cuisine, vibrant culture, and beautiful views of the Tagus River.
Top places to visit Lisbon:
City Centre

Santa Justa Lift

Carmo Convent

Pink Street

Praça do Comércio

Sao Jorge Castle

Belem Tower

Jeronimos Monastery
Lisbon, Portugal's capital city that mixes old-world style with modern facilities and a diverse culture, is one of the most beautiful European capitals and should not be skipped.
I recall strolling through the narrow, cobblestone streets of the Alfama district, enchanted by the nostalgic melodies of Fado music wafting from a nearby tavern.
The city offers alluring climate conditions throughout the year, unparalleled history along with lip smacking dishes. For those reasons, it's truly irresistible!
If the question 'Is Lisbon worth visiting' comes to your mind and you want to find out more about this marvelous destination, then get ready, let your curiosity be your guide as you explore everything Lisbon has to offer!
Short Summary - Reasons to visit Lisbon
Experience Lisbon's amazing weather, cuisine and architecture.

Explore the city's iconic sites, beaches & unique neighbourhoods.

Enjoy its vibrant nightlife, stunning views and outdoor activities!
Reasons to visit Lisbon
Amazing weather
Visiting Lisbon, built on its remarkable seven hills with a captivating year-round climate, is always enjoyable.
Winter temperatures typically linger in the 50s (10-15 degrees Celsius), while summer highs can reach 27°Celsius or 80 degrees Fahrenheit.
Allowing visitors to take advantage of all that this Portuguese capital has to offer at any time – from vibrant nightlife and breathtaking vistas, to historical spots and world class beaches.
Come December, revelers may enjoy Christmas markets along Ericeira's shores or hit up Serra da Estrela for some skiing followed by an extravagant New Year's Eve celebration at Terreiro do Paço come midnight!
Those looking for warmer weather should visit during September/October where you'll find less crowds and still access most beach bars.
For those seeking out peace without pushing aside activity options, a visit in January shall suffice perfectly, imagine perusing through museums against tranquil backdrops offering insightful perspectives into Portugal history.
No matter when it is decided that a trip must be taken, there will surely be much fun found when visiting enchanting Lisbon!
Gourmet cuisine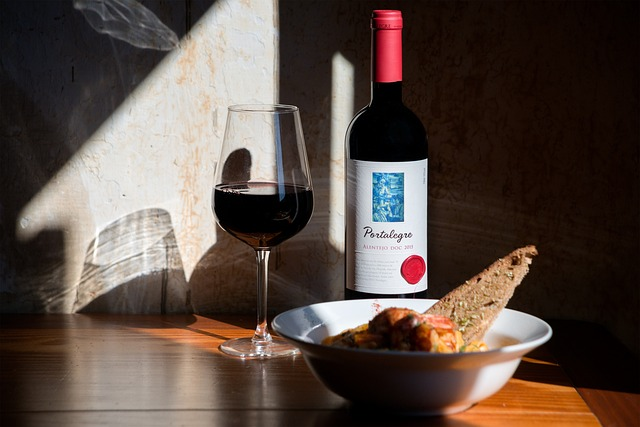 Visiting Lisbon is the perfect opportunity to experience a wide variety of traditional Portuguese cuisine.
As you stroll down its narrow streets in central areas, there are local eateries scattered everywhere serving up delicious dishes like Bacalhau à Brás, Pasteis de Bacalhau and Polvo à Lagareiro. I still remember the taste of the savory Polvo à Lagareiro I enjoyed at a small eatery in Bairro Alto, accompanied by a glass of delightful Vinho Verde.
Don't forget to indulge your sweet tooth with Pastel de Nata pastries from the oldest pastry shop, Pastéis De Belén located in the capital city as well!
With so many reasons for food lovers to visit this charming European city, including mouth-watering flavours from seafood treats Porco Preto and diverse restaurants ranging anywhere between fine dining establishments or cozy cafes. It's no wonder why people love visiting Lisbon.
Beautiful architecture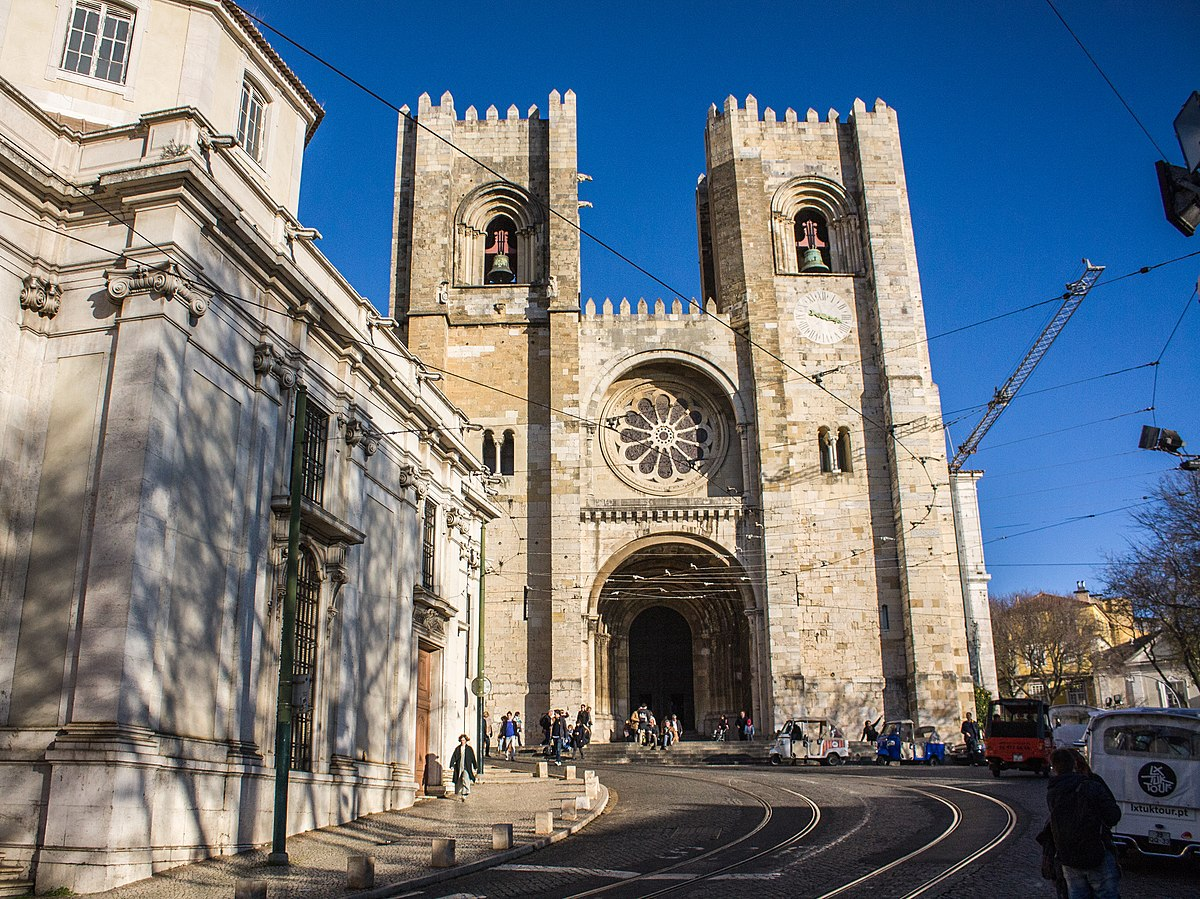 Lisbon's architectural magnificence is an inspiring vision. The historical and cultural influences of the city are exemplified in its myriad designs, ranging from Baroque to Gothic as well as more modern styles.
An especially unique feature found throughout Lisbon are Azulejos. Colorful tiled paintings decorate many structures adding a vivid splash of charm to this wonderful metropolis.
Some tourist attractions that should not be missed when touring include São Jorge Castle (showcasing richness stemming centuries back) Carmo Convent, Livraria Bertrand (the world's oldest bookstore), Mosteiro dos Jerónimos plus Belem district landmarks such Santa Justa Elevator, Rua Augusta Arch together with religious monuments like Jeronimos Monastery and beautiful Santa Maria church.
Having wandered through the grand halls of the São Jorge Castle and marveled at the ancient manuscripts in Livraria Bertrand, I can attest to the rich, historical depth these places hold.
A real feast for architecture lovers exists here – waiting to be explored, making Lisbon quite the paradise for those who admire tremendous architectural beauty!
Gorgeous beaches
Visiting Lisbon is worth your time and effort. Not only can you find stunning, golden sandy beaches just a short drive or train ride away in places like Cascais, Ericeira, and Costa da Caparica – where there are plenty of water sports such as sailing, kayaking, and surfing.
Ponta de Mato also offers the opportunity to enjoy sunbathing in tranquil surrounds by its river beach with views over the city skyline.
Make sure to take advantage of this beautiful destination for some relaxed beach culture on your trip! Also chill at some of the best beach clubs in Lisbon to make your journey more fun.
Vibrant blend of old and new
Lisbon, Portugal's capital and the oldest city of its kind in Western Europe, offers an amazing mix of tradition and modernity that creates a special atmosphere which anyone can appreciate.
The prominent So Jorge Castle as well as the renowned Carmo Convent are great examples representing Lisbon's remarkable past while vibrant places such as LXFactory (which was once home to several industries) give visitors many interesting activities like gourmet restaurants, shopping venues or galleries. You can find some really pretty souvenirs in Lisbon to take back home.
This distinctive blend of culturally-filled heritage and hip aspects makes it attractive for people from all walks looking forward to be engaged with diverse experiences on their journey through Lisbon's wonders.
Unique neighbourhoods
The old-world charm of Alfama district, with its stunning vistas and comforting cafes playing traditional Fado music, can be a lovely place to explore the past.
In contrast, Bairro Alto's lively atmosphere, brimming with numerous bars and restaurants, provides an unforgettable nightlife experience.
Belem should not be missed either - it has been historically important for its maritime traditions, featuring notable attractions such as the remarkable Belém Tower and Jerónimos Monastery, providing you with insights into Lisbon's culture in full bloom.
Strategic location
Lisbon, the Portuguese capital, provides excellent access to various regions of Portugal and beyond for those who want to take day trips.
With its close proximity to locations such as Ericeira, Sintra, and Cascais and easy public transport including the metro system, discovering all that Portugal has to offer is convenient. Here are some guides to help you make the decision on whether to visit these places:
No matter if you are looking forward to beaches or exploring historical sites, there is no better base than Lisbon located in a prime spot allowing tourists to experience what this stunning country can provide!
Safe-to-explore region
When venturing to Lisbon, safety is a prime concern. Fortunately, this city has an inviting environment for people of all backgrounds and sexual orientations so travelers can feel secure while visiting.
There are some common criminal activities such as pickpocketing and illegal drug activity that tourists should be aware of in order to safeguard themselves from potential threats during their trip.
It's sensible then, when on holiday in the Portuguese capital, not to go overboard with drinking alcohol or get involved with any type of drugs trade which could have adverse effects on your security. Always remain alert about who's around you for best results.
If these basic precautions are taken one can fully enjoy the amazing beauty and atmosphere Lisbon offers without having worries over personal safety!
Fun nightlife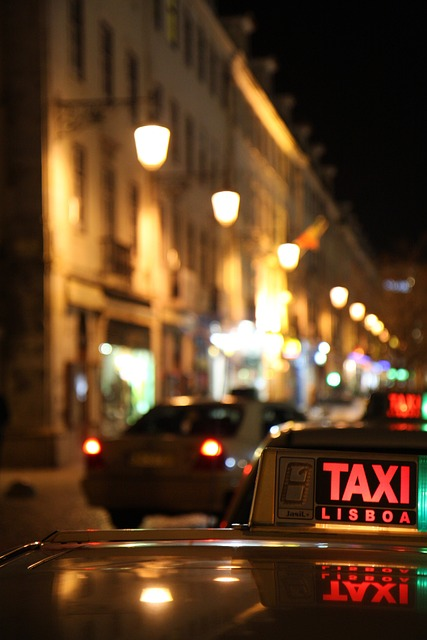 If you're a fan of the nightlife, Lisbon will leave you in awe. Bairro Alto and Cais do Sodre are bustling hubs full of vibrant bars and clubs for those looking to dance up a storm into the wee hours!
There is something special about dining out late at night here too - many local restaurants won't even serve dinner until 10pm, even when it's not the busiest tourist season.
No matter what your preference may be, there's plenty on offer when it comes to an enjoyable evening in this beautiful city.
Take advantage of its diverse atmosphere with friends or by yourself. Make sure whatever activity you partake in fits right within your taste profile!
Lisbon offers endless possibilities if given some exploration—you don't want to miss out on all that magic after dark so grab someone close and experience this buzzing destination firsthand. Here's a blog on the nightlife in Lisbon for you to check out.
Stunning views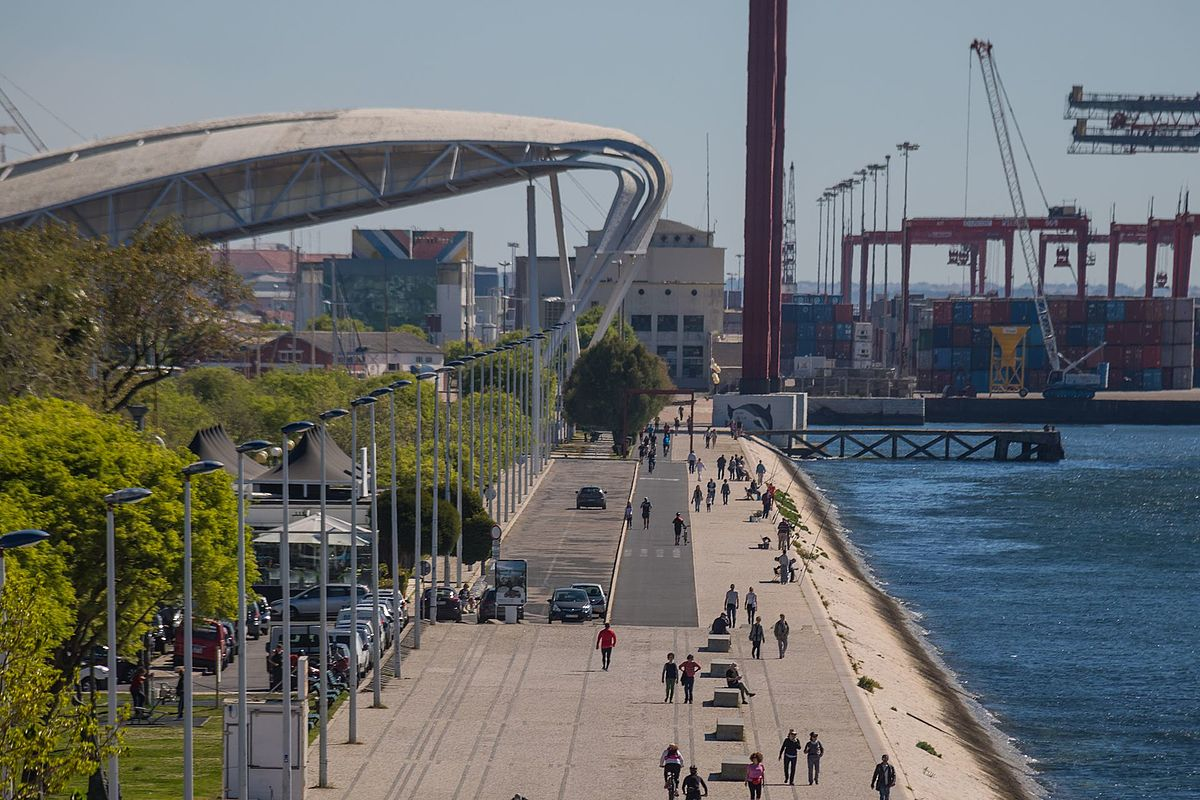 The gorgeous views of Lisbon that can be seen from various miradouros (viewpoints) and rooftop bars make for an incredible experience. Here's a blog on the best views in Lisbon for you to pick the places to visit.
From Santa Luzia to Miradouro de Nossa Senhora do Monte, there are no shortage of great spots with a stunning view.
For those looking to get even higher up the city's hilly terrain, Topo Chiado offers spectacular panoramas and delicious refreshments such as cocktails or local wines. It truly makes visiting this beautiful city memorable.
Fascinating history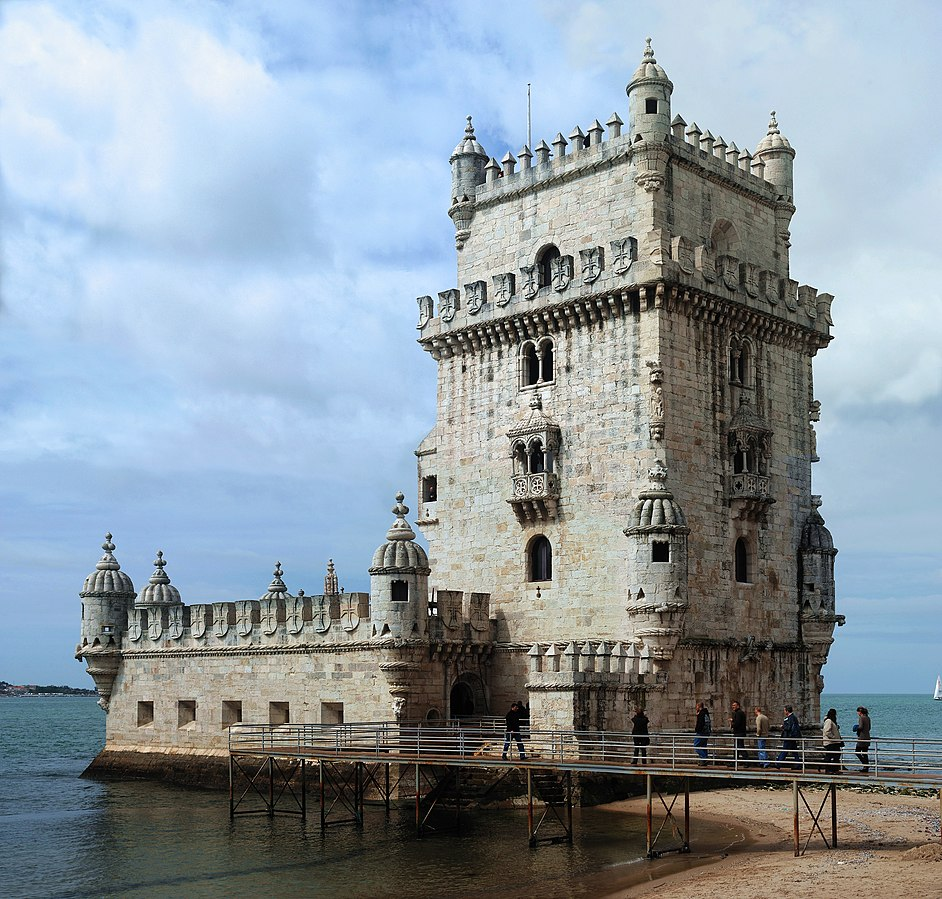 Lisbon is a true paradise for history enthusiasts. Its culture and heritage offer abundant opportunities to immerse yourself in its past, with countless sites full of memories.
Take your camera and wear comfy shoes as you go back in time exploring the So Jorge Castle, one of Lisbon's oldest monuments, or visit some stunning landmarks such as the Jerónimos Monastery, which has been named UNESCO World Heritage Site, or experience cultural wonders like Carmo Convent: all amazing places that will let you appreciate this city's long journey through time.
Iconic monuments
Lisbon is a gorgeous destination for architecture and cultural buffs, home to many captivating historic monuments. Among them stands the impressive 16th century Belem Tower – situated on the Tagus River that has been declared as UNESCO World Heritage Site.
It's not just this tower either. An incredibly detailed structure found nearby is the Jerónimos Monastery, which contains the Museu de Marinha - Lisbon's maritime museum.
Exploring these sites provides visitors with an unforgettable journey through time and culture in each of their own unique styles making wandering around Historic Portugal so worthwhile!
Eclectic shopping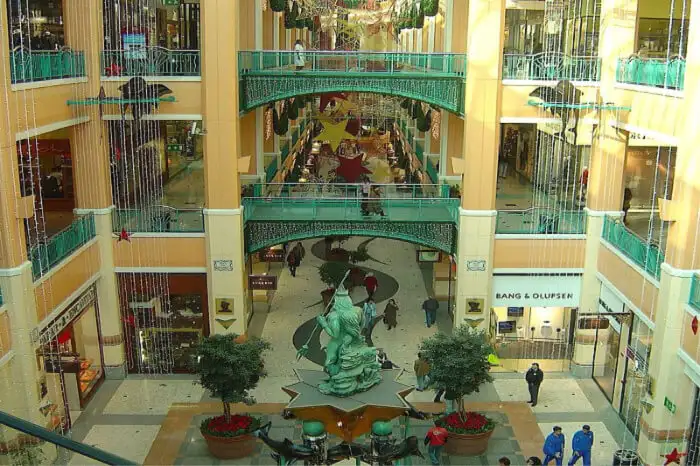 Image source: https://traveltriangle.com/blog/shopping-in-lisbon/
Lisbon presents shoppers with a variety of shops to suit all tastes and budgets. Luxury brands, local stores, and one-of-a-kind finds can be discovered in spots like Avenida da Liberdade, Rua Augusta, Centro Comercial Colombo, or the charming neighborhood Príncipe Real. You can also find amazing tattoo shops in Lisbon if you're into tattoos.
Not only that, but markets provide excellent fresh produce options so visitors may sample Lisbon's culinary treasures from their very own home kitchen!
Friendly people
As you explore Lisbon, its friendly and hospitable locals will be there to greet you. Wander around the city streets and chat with residents who can offer useful tips on where to eat or provide fascinating tales about local history and culture.
Taking time to connect with these people helps create a truly one-of-a-kind experience in this enchanting destination. So don't miss out – strike up a conversation as it could lead to an unforgettable journey into what makes Lisbon so unique!
In my travels, I was deeply moved by the genuine warmth of the locals. A chance conversation at a corner bakery led me to a hidden gem of a restaurant, not mentioned in any guidebooks.
Numerous outdoor activities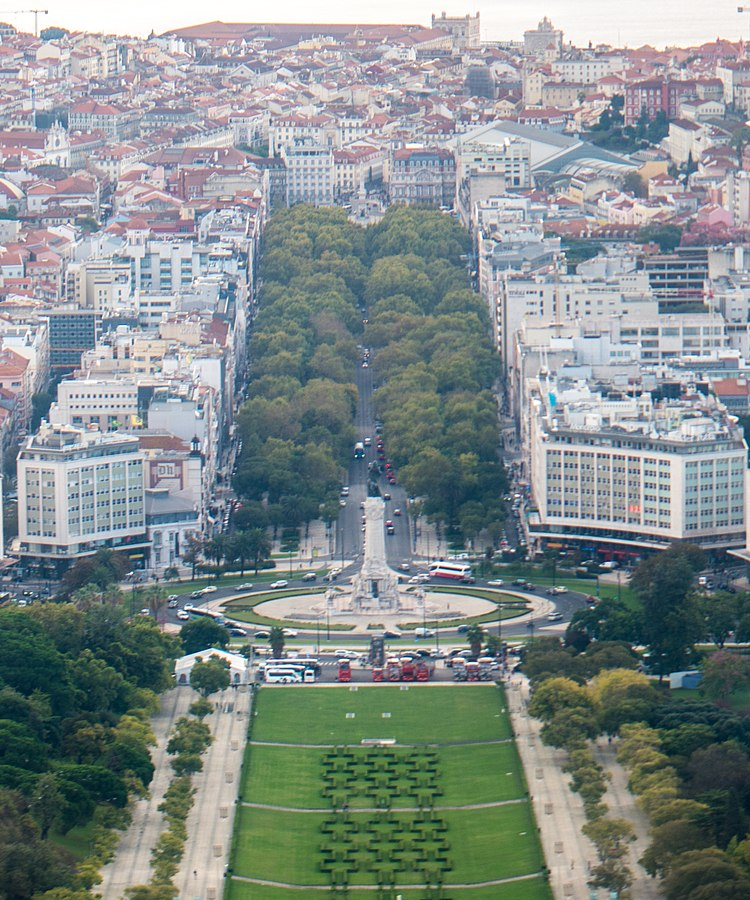 Lisbon and its surrounding areas are great for active travelers. Whether you enjoy hiking in nearby hills, surfing by the ocean or cycling around town, there's plenty to choose from that will really get your blood pumping.
Beyond all the adventures offered within city limits, Lisbon also makes a wonderful gateway to some of Portugal's most breathtaking scenery - including multiple national parks and gardens which can be easily reached after a short drive away.
So don't forget your walking boots or surfboard if you wish to explore everything this stunning area has got going on!
Vibrant day trips
Lisbon's great location allows people to discover more of Portugal's splendid attractions on a day trip from its capital city. Popular choices include Sintra, renowned for its alluring castles, and Cascais, famed for the stunning beaches it offers. Also, Ericeira is notable for its surfing scenes.
With easy public transportation connections and limited travel time between these nearby locations, visitors can really make their journey worthwhile in this attractive country without compromising much sightseeing within Lisbon itself.
Popular places to visit in Lisbon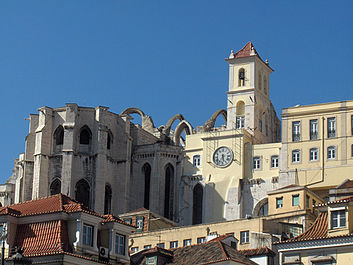 Visiting the city center, Pink Street and Praça do Comercio should be on top of your list when planning a trip to Lisbon.
An ode to Portugal's captivating capital city, one of Europe's most stunning capitals, these attractions will give you an opportunity to explore its history as well as vibrant culture – from Carmo Convent to Sao Jorge Castle, Belem Tower, and Jeronimos Monastery.
Don't forget also about Santa Justa Lift - it'll provide an unforgettable experience for sure!
City Centre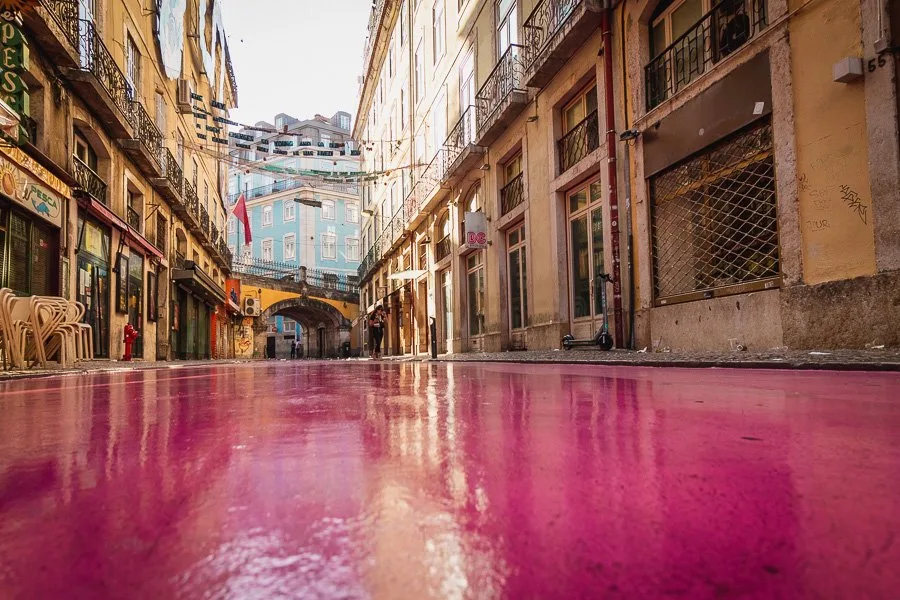 Source: https://onceuponajrny.com/cais-do-sodre-pink-street-lisbon/
Lisbon's bustling city center is packed with exciting activities, attractions and plenty of shops. As you meander through the narrow cobblestone roads, you'll be surrounded by an energetic ambiance which begs to be discovered.
With great streets for shopping like Rua Augusta and Avenida da Liberdade along with alluring hidden cafes plus historic monuments tucked away in small places, this area has something special that everyone must experience!
So, put on your walking shoes and embark on a journey into the lively hub of Lisbon where its unique energy comes alive!
Santa Justa Lift and Carmo Convent

No visit to Lisbon is complete without exploring the majestic Santa Justa Lift and Carmo Convent. Built in the 19th century, this elevator offers captivating views of Portugal's capital when you reach its peak.
A quick stroll away lies the stunning 14th-century Gothic church known as Carmo Convent, which now acts as a museum, showcasing some incredible pieces from bygone eras.
These two attractions provide an unrivaled insight into Portuguese history and architecture, making them must-see sites for anyone visiting this Portuguese city.
Pink Street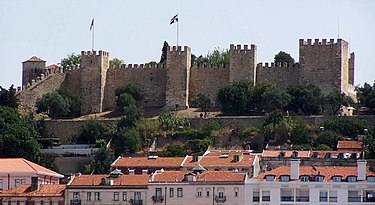 If you're looking to experience the vibrant nightlife that Lisbon has to offer, then Rua Nova do Carvalho - better known as Pink Street - is where it's at.
Having spent an afternoon in the Pink Street, I found that the most vibrant time to visit is during the evening when the street really comes alive with bustling bars, live music, and a lively, welcoming crowd.
This pedestrian area in Cais do Sodre used to be a red-light district but today offers an exciting atmosphere with its selection of bars, clubs and restaurants.
No matter your preferences for how you want to spend the evening, from wild dancing to chill drinks. Pink Street provides both options allowing anyone a chance to enjoy an unforgettable time spent enjoying themselves until late into the night!
Praça do Comércio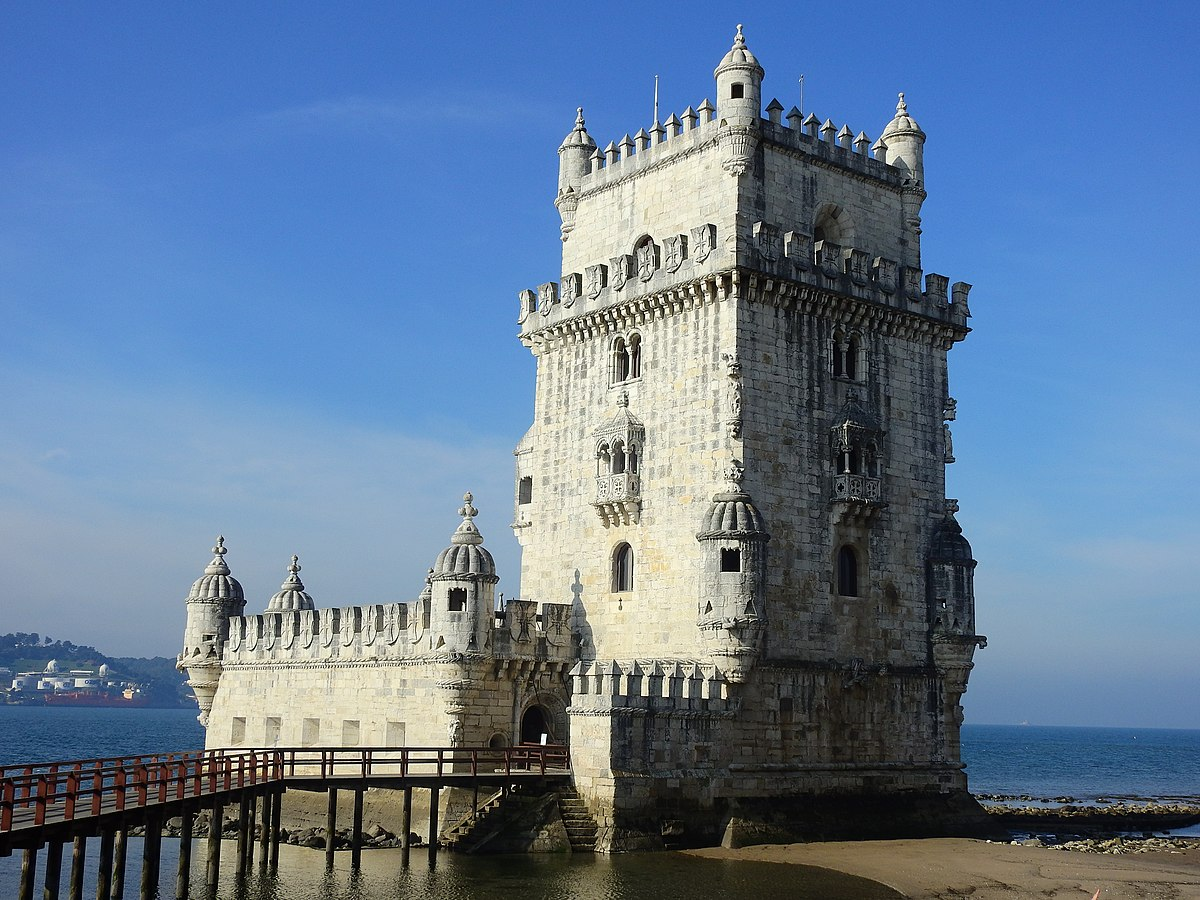 The Tagus River houses the beautiful Praça do Comercio public square, which historically served as an entrance into Lisbon for boat passengers.
Today, its yellow buildings are a popular destination that draws in both visitors and residents alike. At the heart of this plaza stands the Rua Augusta Arch with breathtaking views from up top – it is truly awe-inspiring!
Walk around Praça do Comercio to soak in all the history embedded within every corner and revel in its majestic architecture. You won't be disappointed!
Sao Jorge Castle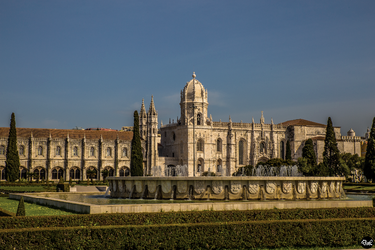 Nestled atop one of Lisbon's seven hills, the ancient fortress of Sao Jorge Castle is an essential stop for history buffs and those looking to take in stunning vistas.
Built during the second century BC, this medieval castle has served as a place of residence for numerous Portuguese rulers and held its ground against foreign invaders alike. Sao Vicente de Fora lies close by – another must-see historical destination if you're visiting Lisbon.
Today guests have a chance to explore what remains from long ago, wandering around onsite grounds or taking part in guided tours are great options if seeking insight into days gone by!
Plus, don't forget that impressive panoramic views over Lisboa await at the topmost walls! Treat yourself to walking through time and relishing breathtaking sights while exploring alluring Sao Jorge Castle while your stay in Portugal's capital city lasts.
Belem Tower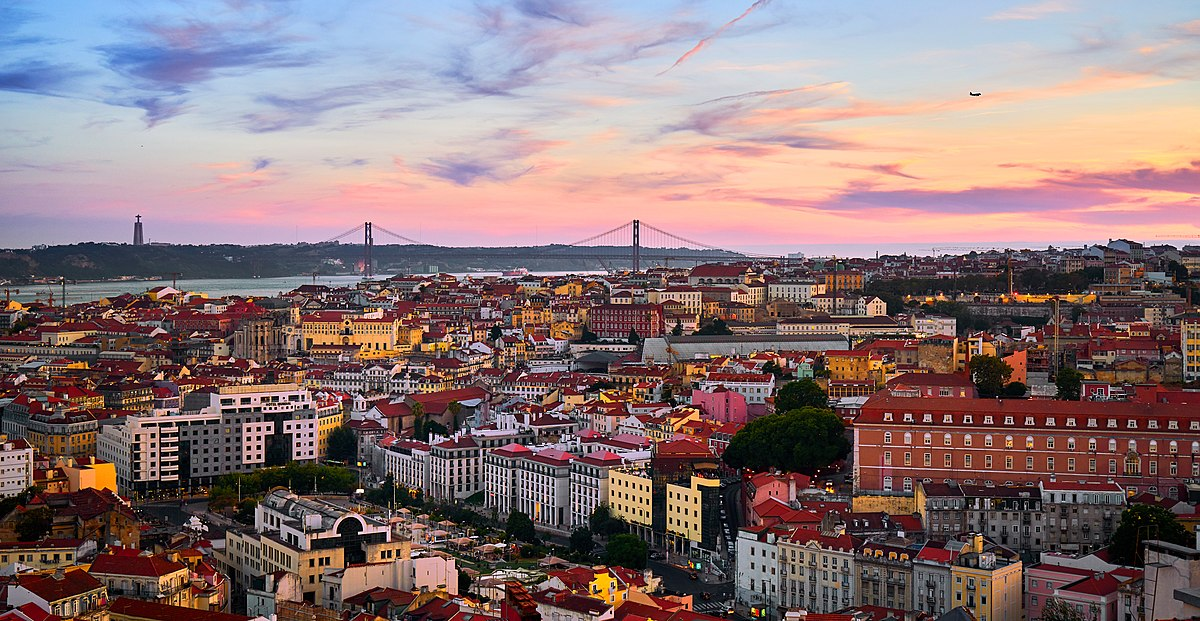 The iconic 16th-century Belem Tower, declared a UNESCO World Heritage Site, stands proudly on the banks of the Tagus River. Built to protect Lisbon from foreign ships during the Age of Discovery period, it is now one of its most memorable landmarks and reminders for its maritime history.
When visiting this must-see attraction in Portugal's capital city, you can take an insightful look into its architecture and savor some traditional Pastel de Belém at a local bakery near by – providing visitors with fun memories about their experience here!
Jeronimos Monastery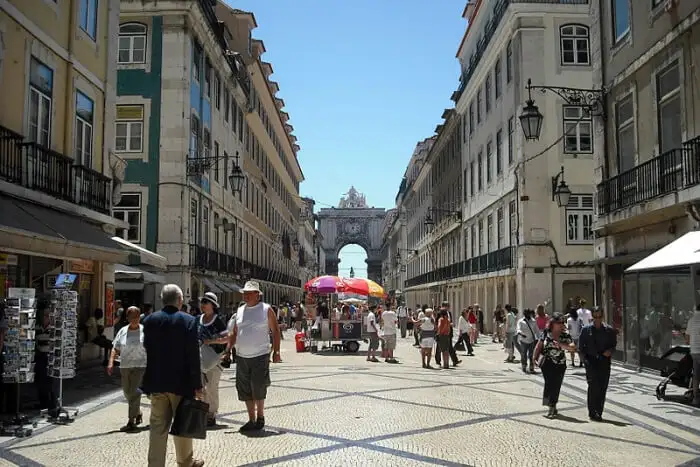 The majestic Jeronimos Monastery is one of the world's most renowned UNESCO World Heritage Sites, boasting a wealth of unique Portuguese architectural and cultural gems.
Visitors to this incredible Belem district site can explore its immense inner courtyard, stunning gardens and awe-inspiring cathedral. As well as view Portugal's maritime history at the Museu de Marinha within it.
A visit here provides an invaluable insight into centuries old architecture from around Lisbon that has made such monumental contributions to culture throughout time, making any trip incomplete without exploring all these fascinating sites in person!
Why not to visit Lisbon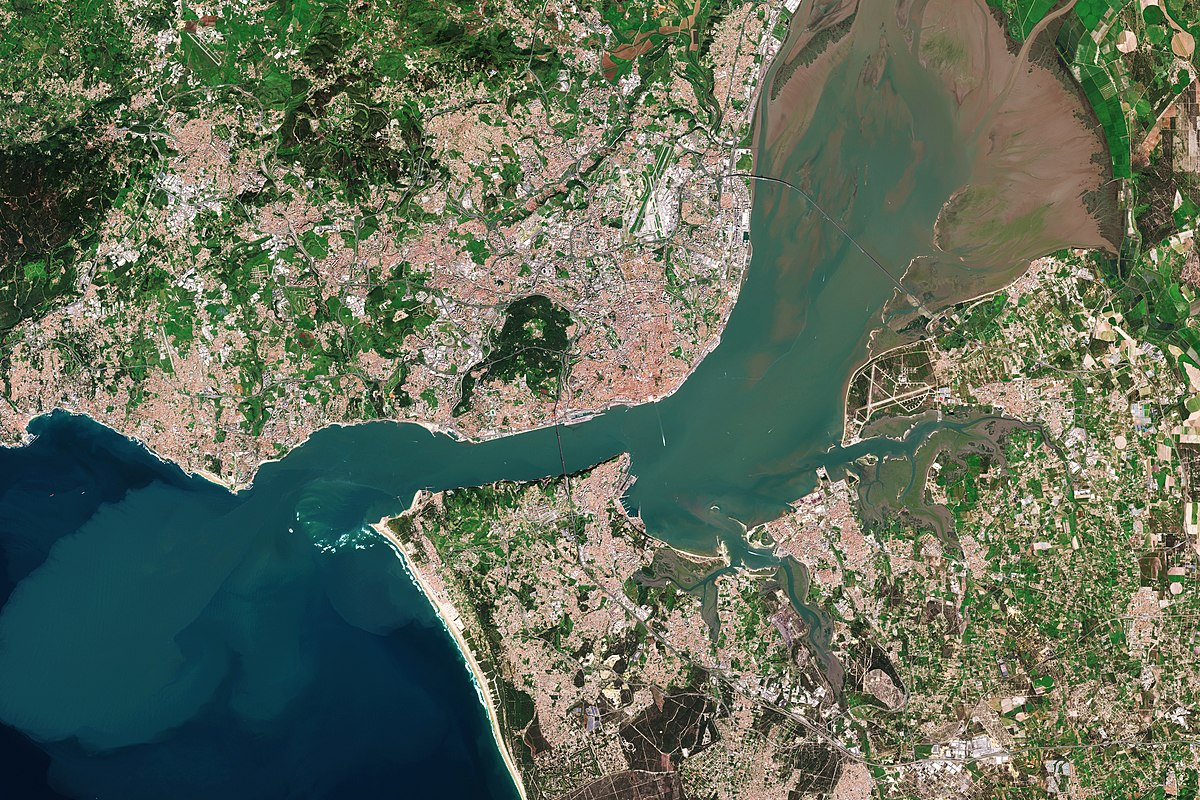 When thinking of visiting Lisbon, there are plenty of great reasons to do so. However, when the tourist season is at its peak, it can be difficult to explore all that this captivating city has to offer due to overcrowding and narrow streets. Many souvenir shops as well as restaurants may have hiked their prices for tourists during such periods.
Still, though, one must not worry! By planning a trip off-season and seeking out more local stores rather than cashing in on popular spots with inflated costs, an amazing experience in Lisbon is still very much achievable without any potential downside attached too!
I found Lisbon to be a city that was both walkable and charming. One of my favorite memories is of strolling the narrow, cobblestone streets of the Alfama district, the city's oldest neighborhood, and discovering little cafes and shops tucked away in corners.
Crowded streets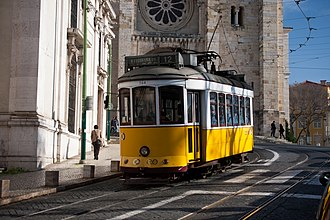 When the busiest time of year for tourists in Lisbon arrives, navigating around its narrow cobblestone roads can become extremely congested and difficult.
Finding parking spaces is even harder due to their scarcity in the city center and the high cost associated with them.
To prevent long lines or feeling overwhelmed by your search for a spot, using public transport would be more suitable than trying to park anywhere close-by.
Being aware of how busy these streets get during peak season will help you make the most out of your visit while still enjoying all that Lisbon has to offer without complications!
Expensive destination
Due to the influx of digital nomads and tourists visiting Lisbon, prices have gone up in some areas. But with a bit of strategic budgeting and by staying away from hotspots popular among travelers, it is still possible to enjoy all that this city has to offer without blowing through your finances.
A great way for frugal visitors to make the most out of their trip would be by exploring during its off season as hotel rates will decrease significantly along with costs at restaurants, shops selling souvenirs or any other activity one could find around town.
Traveling smartly can allow you to discover what makes Lisbon so special while keeping your wallet full!
Verdict - is Lisbon worth visiting?
Lisbon, the capital of Portugal, is worth a trip thanks to its remarkable past, distinctive architecture and delicious cuisine combined with an amazing atmosphere.
The city center has much more than can satisfy visitors from all walks of life – there's something for everyone who comes here, whether you are into history or looking forward to having an exciting adventure.
From exploring every corner in this breathtakingly beautiful destination to sampling many mouthwatering local dishes, Lisbon will mesmerize anyone lucky enough to visit it with its irresistible appeal.
Best time to visit Lisbon
The best time to visit Lisbon is during either spring or fall when there are fewer tourists around.
The mild weather creates a great atmosphere for enjoying all that Lisbon has to offer while also finding deals on accommodations and activities due to lesser crowds.
Even in its busiest season, it still remains captivatingly charming, so why not start packing now?
How long do you need in Lisbon?
You need at least 3 days in Lisbon to explore the city.
When visiting Lisbon, it's important to allocate enough time in order to fully appreciate the beauty of this city.
A minimum stay of 3-5 days is recommended so that you have plenty of opportunities for exploration and enjoyment.
During your stay there are endless possibilities which include sightseeing at renowned attractions, taking part in leisure activities and travelling outside the city centre towards places like Sintra, Cascais or Ericeira.
These kind of memories will last forever as long as visitors make sure they take advantage of everything Lisbon has to offer during their visit!
Summary
Visiting Lisbon is an unforgettable experience, with its vibrant nightlife and diverse neighborhoods combining to make a captivating city.
With attractions ranging from grand architecture and delicious cuisine to culture-filled experiences like the Fado music that can't be found elsewhere - there are plenty of reasons why Portugal's capital should feature on everyone's travel list.
To get the most out of your time in this destination, it's best planned for during off-peak times, allowing 3–5 days so you have enough opportunity to explore all it has to offer without missing anything crucial!
Frequently Asked Questions
How many days should you spend in Lisbon?
Three days is suggested as the ideal amount of time to be able to experience all that Lisbon has to offer.
This allows visitors enough opportunity for wandering through the streets, indulging in scrumptious local meals and immersing themselves fully into its distinctive characterful vibrancy.
It's a perfect way to soak up this city's magnificent nightlife activities and get an unforgettable insight into life here! Here's a more extensive guide on how many days to spend in Lisbon.
Which is better Lisbon or Barcelona?
The Portuguese capital of Lisbon is renowned for its wealthy cultural heritage and sublime views along the Tagus River. It offers a plethora of galleries, museums, and gorgeous vistas to explore.
On the other hand, Barcelona has an enthralling nightlife with parks and beaches not far away from one another. Perfect for outdoor enthusiasts.
Both cities provide tourists with unique opportunities that they can't find elsewhere!
What is the best time of year to visit Lisbon?
The best time of the year to visit Lisbon is during spring or fall.
Visiting Lisbon is best when the temperatures are mild and there are fewer people, which happens in both spring and fall.
Having visited in both Spring and Fall, I found the city equally charming in both seasons. The weather was comfortable, making it perfect for long walks and outdoor dining.
Those seeking to explore this wonderful city should consider these seasons as the optimum time to visit Lisbon, Portugal. You can check out this extensive guide on the best time to visit Lisbon.
What are some must-try Portuguese dishes in Lisbon?
If you're in the Portuguese capital of Lisbon, make sure to sample some traditional delicacies such as Bacalhau à Brás, Pasteis de Bacalhau, Polvo à Lagareiro and Porco Preto.
Not only are these unique specialties, but they are also an essential part of local cuisine that cannot be missed!
What are some day trip options from Lisbon?
Day trip options from Lisbon are Sintra, Cascais and Ericeira.
All three make excellent excursions.