The best time to visit Lisbon in 2023 is spring or fall, either March to May or September to October, for mild temperatures, fewer crowds and lower prices.
If you are planning to take a trip to the delightful Portuguese capital of Lisbon, this ultimate guide will help you determine what is the optimum time for your visit.
With its captivating architecture, prosperous history and delicious gastronomy, there are various factors that should be taken into account when it comes to scheduling such as climate conditions, how many people or crowds might be in attendance as well as cost matters.
Having strolled through the narrow, picturesque streets of the Alfama district, I can vouch for the charm of Lisbon's architecture. Sampling the local pastel de nata was a gastronomic delight that I look back on fondly.
The below helpful advice allows visitors to familiarize themselves with all four distinct seasons so they can select which one fits their plans best!
Summary: When to visit Lisbon?
Visit the vibrant city of Lisbon in spring or fall for mild temperatures, fewer crowds and lower prices.

Visit in winter (Nov-Feb) if you are looking for the cheapest time to visit and want to save on costs.

Plan ahead for peak warm season (June - August) and off-peal or shoulder seasons (Mar - May & Sep – Oct) depending on what type of experience you're looking for!
Weather in Lisbon
Lisbon is blessed with a delightful Mediterranean climate influenced by the Atlantic Ocean. The summer months usually involve hot temperatures of up to 35°C, delivering a full range of sunny days for visitors in this season.
During winter, on the other hand, milder temperatures average between 8-15°C and people can explore Lisbon wearing light layers such as an easy coat when out and about at these times.
Rainfall does vary from March onwards until June (which has approximately 5 rainy days per month) making way for more pleasant and bright weather conditions instead.
Ultimately leaving you spoilt for choice depending on whether one prefers soaking up sun or experiencing cooler moments while touring around Lisboa's cityscape!
Seasons in Lisbon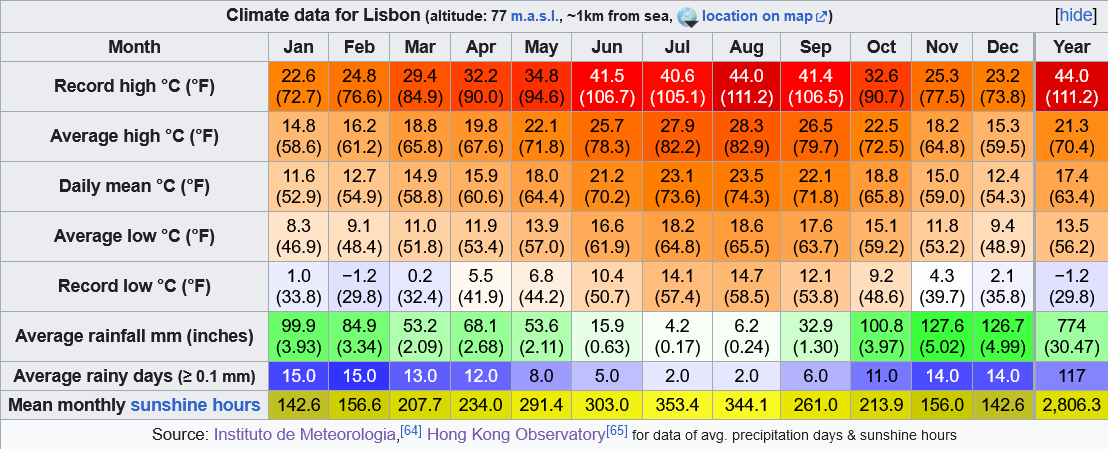 Image source: Wikipedia
When visiting Lisbon, tourists can experience the four distinct seasons offering a variety of experiences and attractions.
From October to December (fall) temperatures average around 10-15°C (50-59°F). My visit in October was particularly memorable. The fall colors in the Jardim da Estrela park were truly breathtaking.
In contrast, during summer months such as June to August, temperatures soar with minimal rainfall and 11 hours of daylight in full swing.
Springtime is when Lisbon truly shines. Barrio. Alto's cobbled streets become filled with people taking advantage of mild weather while exploring nature through activities like trekking or biking from March to May.
Winter brings colder climates throughout January and February too, so if that suits your plans, you're welcome!
Tourist Seasons in Lisbon
If you're planning to visit Lisbon, it is essential that you know about the different tourist seasons in the city. Depending on your preferences for weather conditions, crowds and pricing, understanding these different times of year will help ensure a great experience when visiting Lisbon.
The three main seasonal divisions are peak season (busiest), shoulder season (mediate) and off-season (least crowded). Each offers its own advantages, so working out which one suits your needs best can make all the difference when choosing an ideal time to plan your trip! Also, here's a list of the best viewpoints in Lisbon to visit on your journey.
Shoulder Season 1: March - May
The perfect balance of pleasant weather, sparse crowds and lower prices as opposed to the busy peak season can be experienced in Lisbon between March-May.
During these months, average temperatures tend to reach highs of 18°C (65°F) with lows near 10°C (50 F), bringing sunny days interrupted by a bit of rain.
For those who are looking for an energetic city experience without having to navigate through huge tourist groups, this springtime is just ideal.
Peak Season: June - August
The city of Lisbon is busiest between June and August, the peak season. Tourists flock to enjoy the full summer weather, street parties and a variety of music festivals while prices for accommodations and activities are at their highest.
High temperatures combined with crowded tourist spots means it's essential to plan your visit efficiently if you want to make the most out of your stay. Don't forget about staying hydrated either!
Shoulder Season 2: September - October
For people searching for more mild temperatures, less travelers and lower costs than the peak season, September and October offer a great balance.
It is usually quite nice in Lisbon during this period of time. It is initially sunny with balmy warmth before getting mildly cooler later on.
Taking advantage of these months allows you to explore the city without all the summer tourists around while still having delightful weather conditions.
Off -season: November - February
Visiting Lisbon in the off-season, which is between November and February, can be a great way for travelers to save on costs and avoid crowds of peak season.
Weather conditions may not always be ideal during this time period. Visitors will still have the chance to appreciate all that the city has to offer without having their experience rushed due to the rush from other vacationers.
Touring around Portugal's capital at a more relaxed tempo while being able to spend less money makes exploring Lisbon in winter months an enticing choice for some tourists.
Is Lisbon a Year-Round destination? Lisbon month-by-month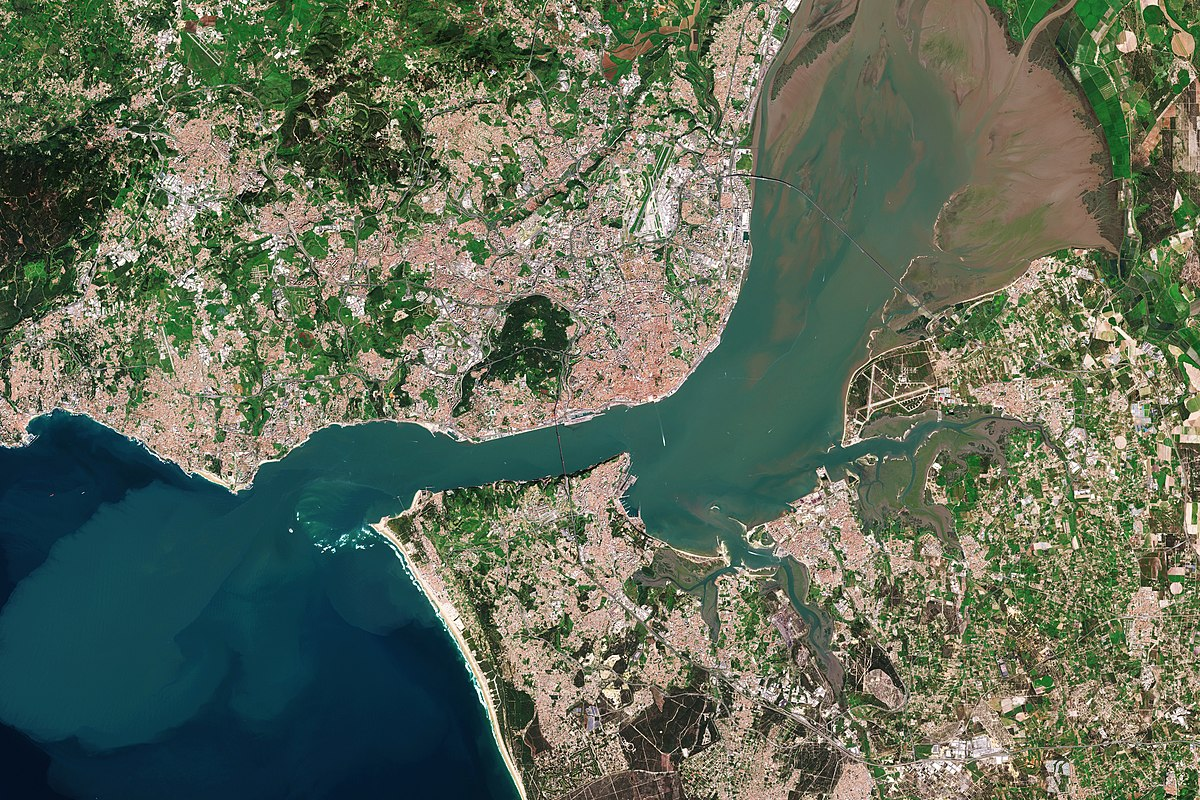 I have visited Lisbon in different months, and I can say that each season has its own unique charm. The city's energy is infectious no matter when you go.
Visiting Lisbon can be a unique experience regardless of the time of year. During summer months, you'll find plenty to do from music festivals and trips to the beach (the higher sea temperature makes it extremely pleasant), while winter brings more festive events with lower prices.
No matter your preference for weather or activities, there is something special about Lisbon and there are key events across every month! Tourists visiting Lisbon are bound to be left enthralled across seasons.
Summer's balmy climate perfect for exploring outdoors plus many fun-filled attractions like festivals and beaches - right through until winter when temperatures drop creating an atmosphere full of Christmas cheer combined with cheaper costs.
It's easy to see why people love coming back again and again to this captivating city all year round!
January
During the winter season in Lisbon, there are fewer tourists and flight/accommodation costs are lower. Despite its cold temperatures of 15°C (59°F) highs and 10°C (50 °F) lows with rainy days, it makes an attractive option for those looking to visit this city without crowds or fuss.
The weather might not be ideal, but exploring Lisbon during the off-season provides a unique way to experience all that the city has to offer while avoiding any hustle!
February
For anyone looking to travel without having to battle the crowds of peak tourist season, February may be a great time for a vacation. Temperatures in Lisbon are typically cool during this month with temperatures ranging from 17°C (62°F) down to 8°C (47°F).
Accommodations and activities will most likely still come at lower prices compared to other months so you can make the most out of your budget.
March
As March arrives, the city of Lisbon starts to bloom in time for spring and is not crowded like during peak season. This month offers ideal temperatures from day into night. Temperatures range from 17-20°C (62-68°F) in daylight hours and dip down to a slightly cooler 11°C (51°F) at night.
Thus it's an excellent choice for visitors wanting comfortable weather while exploring everything this great Portuguese city has on offer, such as its historic sites or even experiencing some vibrant evening fun.
April
If you're planning to visit Lisbon in April, it's best to be ready for sudden shifts in temperature and weather. Temperatures could range anywhere from 12°C (54°F) up to 20°C (68°F), making it hard to predict what kind of clothes you should wear.
The flowers are blooming and the crowds aren't too overwhelming at this time, all reasons why taking a trip there is highly recommended!
Be sure not forget some layers plus an umbrella or light raincoat just in case bad weather strikes unexpectedly during your stay.
May
Experience pleasant weather conditions in May with an average temperature ranging between 72°F (22°C) to 57°F (14 °C). This time of the year is perfect for exploring Lisbon without being confronted by large summer groups.
Profit from less crowded attractions and cheaper prices than peak season. Take pleasure in this attractive climate while enjoying a great value during shoulder season!
June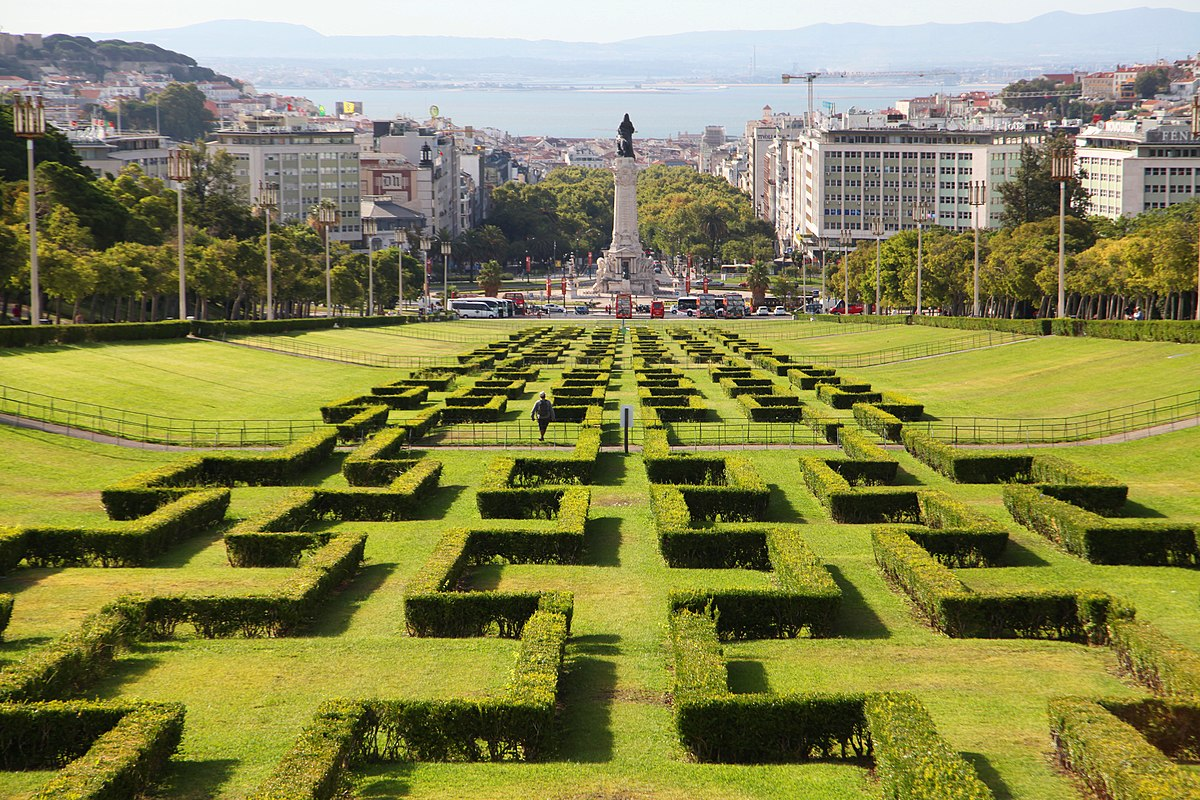 Summertime in Lisbon is a great opportunity for travelers to enjoy the capital's dynamic vibes and its many festivities.
June promises an average of 27°C (81°F) during the day, along with 18°C (63°F) at night, making it perfect weather-wise for your summer vacation. You can wear a light summer coat in this weather.
You should be mindful that crowds are larger as it gets closer to the holiday season and important occasions on the city's calendar.
July
In the month of July, Lisbon becomes quite crowded and there are various activities taking place in the city. The temperature can be as high as 27°C (81°F) or go down to 18°C (63°F). So it is best to take precautions such as drinking enough water while exploring during this peak season in Lisbon.
Visiting at this time gives you an opportunity for a truly unique experience surrounded by rich culture with lively sights all around!
August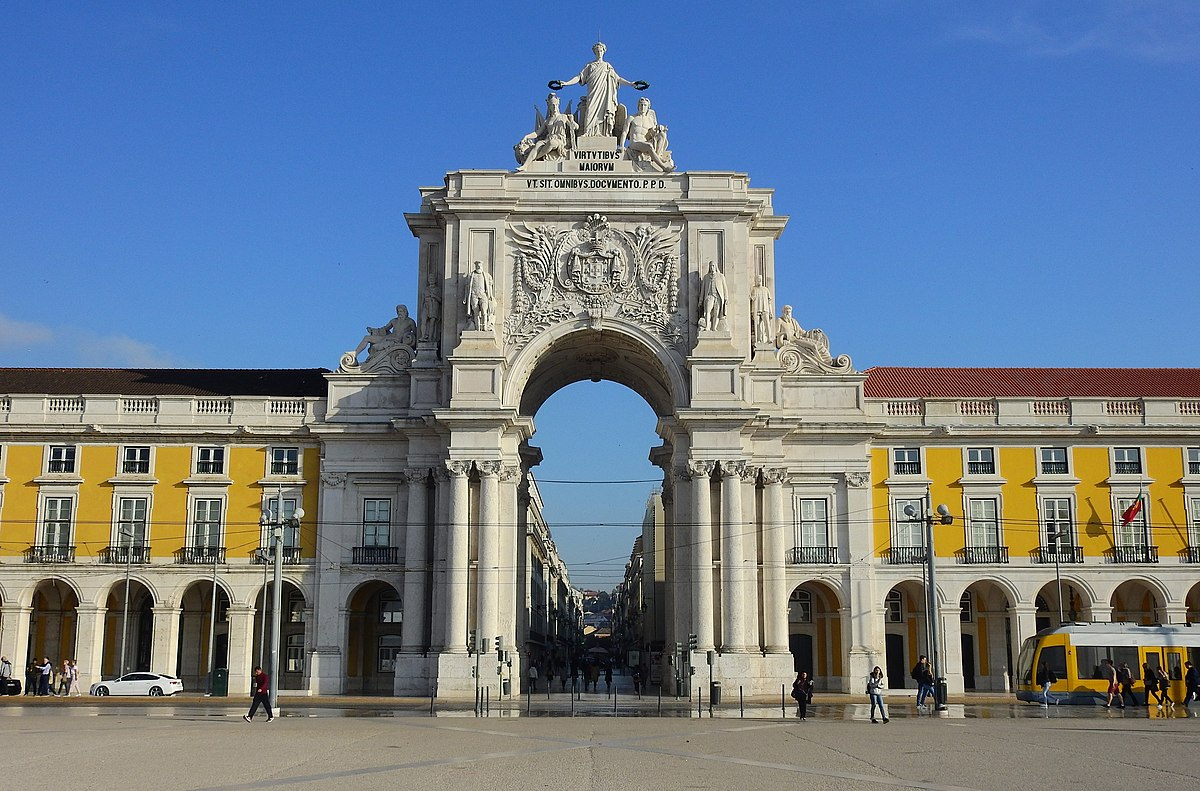 August is the perfect time to visit Lisbon as it's the hottest month of summer with temperatures reaching a high of 28°C (82°F) and an average low temperature hovering around 18-19 °C (64-66 °F).
This period draws crowds from all over and pushes up costs for accommodation and activities accordingly.
If you can brave through these conditions, August will reward your stay in Portugal's capital city with plenty of exciting events that make this time even more special.
My visit to the iconic Belem Tower and Jeronimos Monastery in August was unforgettable. The architectural beauty and rich history captivated me throughout the exploration.
September
September in Lisbon brings mild temperatures, a decrease of tourists and more affordable prices as opposed to the peak season.
This shoulder period offers an agreeable climate, perfect for visiting the city without the summertime crowds. With temperature averages ranging from 26°C (79°F) during the day down to 17°C (63°F), you can make the most of these pleasant conditions while also benefiting from lower costs!
October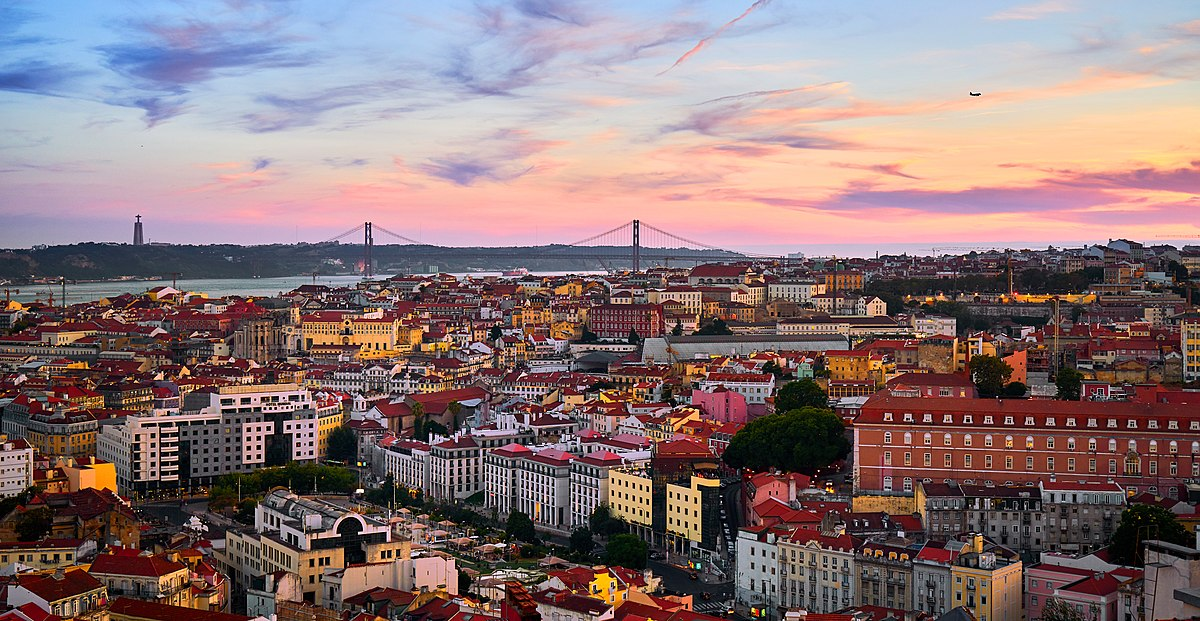 In October, the city of Lisbon has cooler climates and much fewer visitors than during peak season. Temperatures start off warm then drop gradually, making it an ideal time to explore while avoiding huge crowds.
You will find cheaper prices on accommodation as well as activities during this month too! Enjoy a more relaxed atmosphere with all the charm that Lisbon offers without battling for space or paying premium prices for services like you would typically expect at busy times of year.
November
In November, Lisbon offers lower prices and less crowded attractions due to the off-season weather. Traveling this month also allows you to benefit from discounted flights and accommodations compared to peak season conditions, plus you won't have to deal with the summer crowds.
Even though it may be wetter and cooler during this time of year, visitors can still experience all that Lisbon has to offer without the rushed or hustled atmosphere typically associated with busier times of the year.
December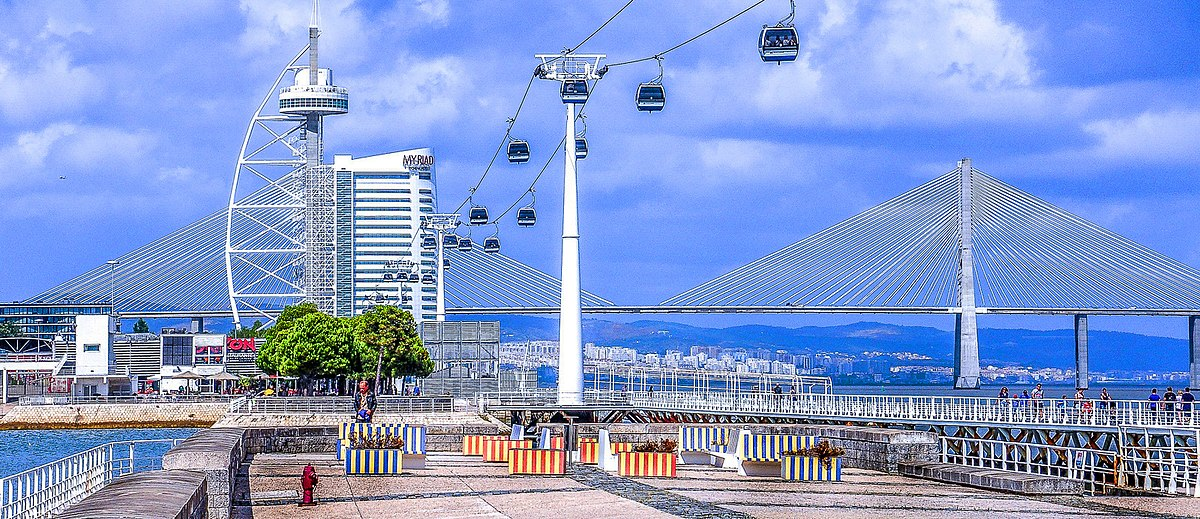 For those looking to experience the festive atmosphere without the peak season rush, December in Lisbon presents a great opportunity.
Although it is cold and wet during this month of the year, with flights and accommodation prices lower than usual, one can still appreciate the beauty that lies within Portugal's capital city.
Enjoy wintery celebrations as you explore all that Lisbon has to offer, there will be no shortage of attractions even if crowds are less abundant!
When is the overall best time to visit Lisbon
The overall best time to visit Lisbon is spring (March-May) and fall (September-October). During those shoulder seasons, visitors can enjoy mild temperatures with fewer crowds than peak season.
During my spring visit, I was lucky enough to catch the annual Fish Festival in Cascais, a suburb of Lisbon. The event showcased a stunning array of seafood, reflecting the city's strong ties to the sea. You might want to pack some and take it home. If yes, check out this list of the best souvenirs from Lisbon.
Also, prices are lower during this time making it the perfect opportunity to explore all of what the city has to offer as well as its surrounding areas that may not be available at other times due to varying weather conditions.
The combination of pleasant weather, smaller crowd sizes, and more cost-effective expenses makes these two periods an ideal choice when deciding on which timeframe is right for you!
Cheapest time to visit Lisbon
The cheapest time to visit Lisbon is in winter, in the months of November to February.
Visiting Lisbon during the winter season (November to February) is a great way to save money, as flights and accommodations will be significantly cheaper. The cooler weather might not make it the most ideal time of year for vacationing.
There are far fewer tourists, which can contribute to an enjoyable atmosphere in the city. With careful planning, you'll have no trouble finding cost-effective opportunities while still experiencing everything that Lisbon has to offer, despite its winter climate.
Things to consider when visiting Lisbon
The things to consider when visiting Lisbon are:
individual tastes

available budget

the kind of activities you would like
The Portuguese capital offers an extensive range of experiences throughout each year, when going there at the right time will really make all difference in terms of enjoyment levels.
Whether selecting summer's vibrant months or winter's quiet period – this city accommodates everyone who desires either beach-focused tranquility or busy urban entertainment! Also, here's a blog to help you decide what to wear in Lisbon at any time of the year. You can also check out the safest neighborhoods in Lisbon to stay in.
How to avoid the crowds?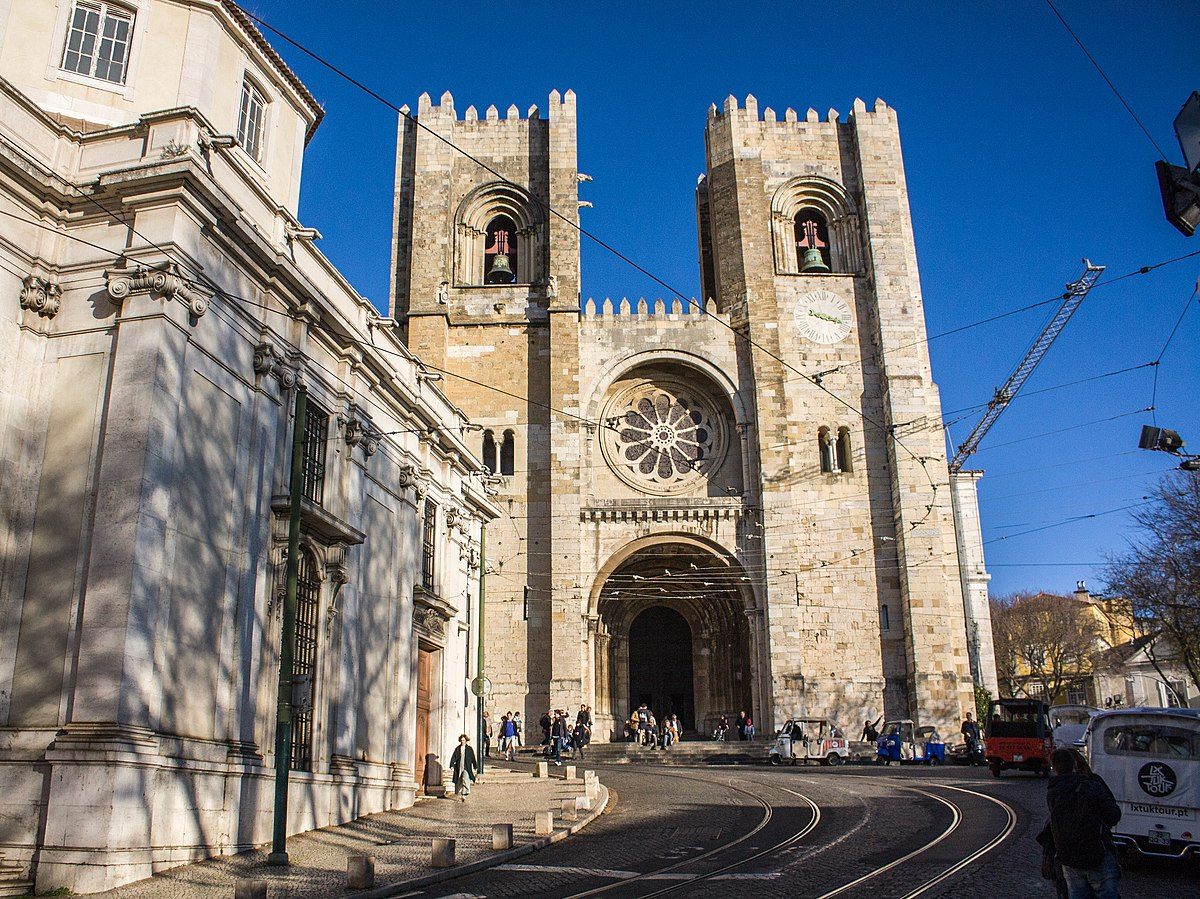 To avoid the crowds when traveling to Lisbon, visit the city during the shoulder seasons.
If you're looking for a quieter atmosphere in Lisbon, traveling during the shoulder seasons (March-May and September-October) or off season months (November to February) can be quite advantageous.
These times attract fewer tourists and offer lower prices, allowing visitors to leisurely explore all of this charming city's attractions without feeling overwhelmed by crowds.
By visiting between March and October or November through February, one will find there are fewer people, making sightseeing much more enjoyable and giving easier access to more affordable accommodations around town.
Summary
When deciding on the perfect time to visit Lisbon, it is ultimately based on individual taste. The city boasts numerous attractions that vary by season. So, for a great combination of climate, price, and crowd, spring or fall would be the best advised.
If budgeting is an issue or you're looking to dodge the influx of tourists during peak seasons then November through February could also prove ideal while still enjoying all that lovely Lisbon has to offer.
The peaceful atmosphere at Sintra, a nearby UNESCO World Heritage site, was a perfect getaway during my September visit. Its fairytale palaces and gardens are worth exploring.
Frequently Asked Questions
How many days do you need in Lisbon?
You need at least three days in Lisbon. Spending three days in Lisbon gives you the perfect opportunity to get a full experience of what this beautiful city has to offer.
Explore famous attractions such as the Jeronimos Monastery and Belem Tower, take part in exhilarating nightlife activities, visit a beach off the Atlantic Ocean, or try something unique like Fado music tours, all within your time frame.
There are many options for exciting excursions available so be sure not miss out on any during your visit! You can check out this more extensive guide to decide how many days to spend in Lisbon.
What is the rainy season in Lisbon?
The rainy season in Lisbon is from September to June.
Lisbon experiences the heaviest rains between September and June, with an average of 3.1 inches in November being its highest amount of rainfall during this period.
During August and July, though, only 4mm of rain is observed on a monthly basis, making them by far the driest months within that season.
What time of year is cheapest to go to Lisbon?
The time of year that is cheapest to go to Lisbon is in winter, the months of January or February.
Head to Lisbon in January or February for the best value on flights, hotels and attractions. Temperatures will be lower, but crowds will be thinner during these off-peak months, making it a great time of year to save some money!
Which is nicer Lisbon or Porto?
For travelers looking for an authentically Portuguese experience without as many tourists, Porto can be a great option.
If you are wanting to see more sights and do various activities then Lisbon is the preferable choice of the two cities.
Having visited both cities, I found Lisbon more cosmopolitan and bustling, while Porto provided a more traditional and relaxed atmosphere. Check out this blog on the best time to go to Porto.
What months are best to go to Portugal?
Visiting Portugal in March, April, May and September is recommended for their pleasant weather and peaceful atmosphere.
These months are particularly suitable for those who seek to make the most of the country's climate conditions as well as its calming ambience.