The best time to go to Porto, Portugal is the shoulder season in April/May.
However, when to visit Porto is completely based on your preferences. When considering a trip to the wonderful city of Porto, Portugal, it is important to take into account factors like weather and tourist seasons.
With its colorful architecture, plentiful port wine offering unique flavors and an exciting history for visitors to explore – there's no question that this coastal destination offers something magical for everyone who visits!
Here I will outline the best times when you can truly immerse yourself in all that beautiful Porto has on offer.
How to decide when to visit Porto?
Porto has mild weather and great outdoor activities year-round, making it an ideal destination for tourists.

The best time to visit Porto depends on your preferences, but the shoulder season in April/May is a great choice!

Consider the weather forecast, cost of accommodation & tourist seasons when planning your trip to get the most out of it.
How is the weather in Porto?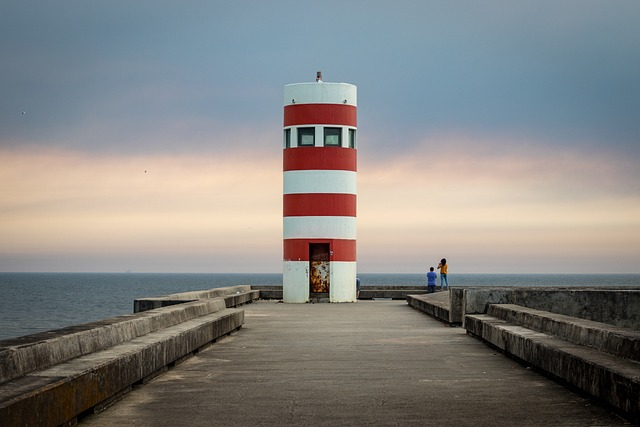 Porto enjoys a mild Mediterranean climate due to its location by the Douro River and close proximity to the Atlantic Ocean.
With summer months of warm sunshine from June to September being ideal for visiting tourist attractions such as City Park or exploring Ribeira district in this city, winter temperatures are not so extreme compared with other places in Europe. However, it rains more often due to its positioning along the ocean's shoreline.
The vibrantly colored houses of Ribeira district, a sight I will never forget, are indeed a feast for the eyes. Walking down its narrow streets, hearing the seagulls, and the gentle sounds of the Douro River created a truly immersive experience.
Visitors flock here in search of balanced weather that offers both sunny days and cooler temperatures - indeed, they will get what their hearts desire when traveling through Portugal's second-largest metropolitan area!
Average Temperature in Porto across seasons
The average temperatures in Porto across seasons are as follows:
In Summer, temperatures generally vary from an average low of 53.5°F in winter and a high of 86°F.

Winter has an average range between 6°C/43°F and 15 °C/59 F. Making it ideal for exploring Vila Nova de Gaia's renowned port wine cellars!

As for the peak tourist season during summertime, visitors can expect higher temperatures up to 77°F (25°C), but also cooler days at 57.2°F (14°C).
Porto enjoys a moderate climate through the year. As such, tourists have access to countless enjoyable experiences while visiting Porto, regardless of the time spent there or the temperature variance!
Porto temperature and rainfall charts
When preparing your itinerary for Porto, monitoring the rainfall is essential. Being near to the Atlantic Ocean means that for Porto weather it gets its most precipitation between October and April.
May until September are normally relatively dry months - perfect times to take advantage of outdoor activities or sightsee along this scenic city's landscapes.
If you want to steer clear from rainy days, then keep in mind when planning your trip as accordingly!
Deciding the time to visit Porto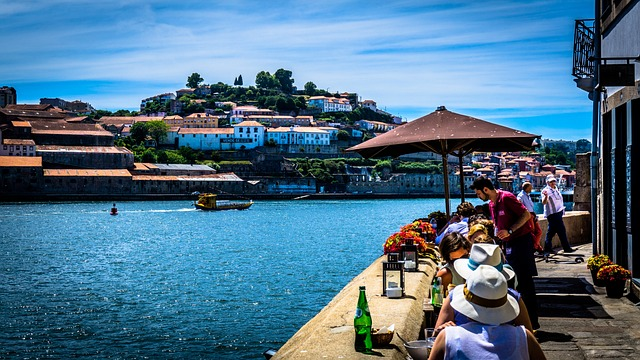 When it comes to deciding the best time to visit Porto, your preferences matter. From May until September, many festivals are celebrated, and tourists flock in abundance, making this period a popular choice for visitors looking for warm weather.
If you seek peace as well with fewer crowds, April-May is the shoulder season that should be considered – mild and moderate temperatures, plus plenty of blooming flowers provide an idyllic getaway atmosphere! Visit Porto, choose what suits you better!
Porto in summer
June in Porto is an exciting time as it brings a blend of sunny days and hot temperatures, along with various celebrations taking place across the city. The St John's Festival during mid-June highlights these festivities which make Porto wine fest make for unforgettable summer memories.
A perfect way to enjoy this season would be by embracing all that Porto has to offer - whether you're indulging yourself in port wine tasting or simply soaking up the vibrant atmosphere outdoors. Either choice will create marvelous experiences!
As a wine enthusiast, visiting the Vila Nova de Gaia for the renowned port wine cellars was an absolute delight. I had the opportunity to taste some of the finest port wines and learn about the history and wine-making process from the knowledgeable guides.
Porto in winter
During winter, Porto's temperatures typically range from 6°C/43°F to 15°C/59°F, and there are fewer tourists compared with other times of the year. This provides budget travellers an ideal opportunity for exploration as accommodation prices drop too!
Despite being relatively mild in temperature yet somewhat wetter than other seasons, a visit to this city offers visitors plenty of outdoor activities like sightseeing or bike rides along the Douro River. So, if you don't mind rain showers every now and then, why not make your way here during winter?
Tourist seasons in Porto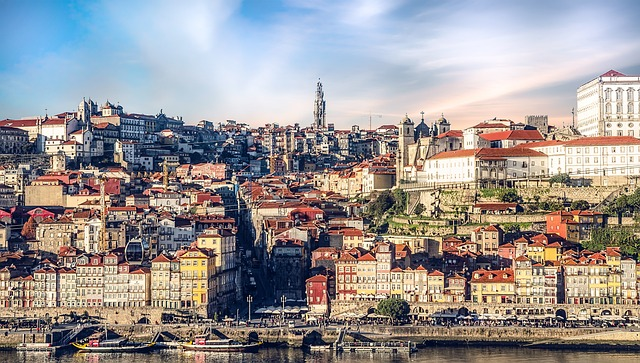 Porto's tourist industry operates on three main cycles: peak, mid and low. From June to September, the city sees its busiest period, when it is at its warmest with a plethora of events happening that draws many visitors.
The milder weather found during March-May or October makes this time ideal for exploring local vineyards while taking in Porto's stunning parks and gardens without dealing with overcrowded attractions. Come November until February, tourists visiting Porto can expect cooler temperatures along with rain, but they also find bargains as prices drop significantly.
Whichever season you choose there are guaranteed to be lots of activities to do providing each period has something unique on offer!
Peak season - June to September - Festivals and beach going
During the peak season of June to September, Porto becomes a bustling hub as it offers sunny weather and an array of festivities. The city sees some exciting events such as the Jazz Festival, Beer Festival and Beach Festival during this time that draws in many tourists seeking out activities like sunbathing or swimming at the beach.
It is important to note that due to its popularity, there are limited amounts of hotel spaces and flight tickets available with demand so booking ahead is highly recommended if you plan on visiting this vibrant destination during these months.
Mid season- March to May, and October - Wine and mild weather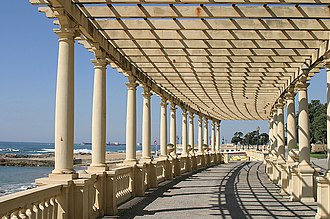 Image source: Wikipedia
Visiting Porto during the mid-season presents a more laid-back atmosphere with mild temperatures, fewer visitors and sightseeing options in the wine region and public spaces like parks. Highlights include attending events such as July's Port Wine Fest or Marés Vivas Festival.
There is plenty to discover through day trips throughout Northern Portugal that offer captivating views of culture & nature. From cities including Braga, Aveiro, Guimaraes, and Viana do Castelo, there are many exciting opportunities for learning about this historic area!
Low season - November to February - Cheapest time to visit
For those looking to make the most of their time in Porto and save money, visiting during its low season from November until February could be an ideal option. Though temperatures are chilly at this time of year with more frequent rain showers, budget travelers will appreciate the lower prices on accommodation and flights.
Despite the sometimes inclement weather conditions, there is no shortage of things to do - including festive Christmas markets, iconic Portuguese festivals as well as a plethora of fun activities surrounding New Year's Eve celebrations – making sure your stay remains enjoyable even while feeling like you have gotten great value for money!
Is Porto a year round destination?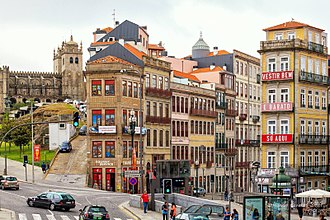 Image source: Wikipedia
Yes, Porto is a year-round destination. When considering when to visit Porto, a Portuguese city full of adventure and charm all year round, it boils down to one's own preferences.
Whether seeking out sunshine-filled days complete with energetic vibes in summertime or mild temperatures offering more economical travel options during winter season, both will provide an unforgettable journey!
Pack your belongings for this remarkable destination that can be explored at any time according to personal wishes.
Porto in January
January can be an ideal time to visit Porto if you don't mind the rain - with fewer tourists and lower prices, there are plenty of opportunities for a fantastic city break.
A boat trip on the 6 Bridges tour or taking a hop-on hop off bus around town is perfect way to explore while wine tasting in one of the port cellars will provide delicious memories too!
Porto in February
The city of Porto in February boasts mild temperatures and higher levels of rainfall. This time provides visitors the exciting opportunity to experience carnival parades with costumes, as well as attend Fantasporto film festivals.
This is a great alternative for budget travelers looking for unique activities within the city without needing to pay an excessive amount since there are far fewer tourists around during this month.
Porto in March
In March, temperatures in Porto start to become more moderate and the tourist population starts to subside. This makes it an ideal time for exploring the city at a relaxed pace without the hustle and bustle that comes with peak tourist season.
Stroll around its cobbled streets and winding alleyways. Blooming flowers will be seen bringing new life to this vibrant cityscape.Visitors can enjoy all of this leisurely while soaking up some sun rays – a quite different experience from other busy months!
Porto in April
In April, the city of Porto provides an ideal environment for outdoor activities due to its nice weather and abundant flowers. Taking a stroll in any of the gardens or parks is perfect at this time as they are all looking their best.
Plus there's less tourists around compared to peak months, which gives visitors more space to explore without feeling rushed. Enjoy getting acquainted with Porto - you'll feel like it was made just for you!
Porto in May
May is a great month to visit the Portuguese city of Porto. Tourists flock in from all over the world, making it an exciting time when Primavera Sound festival begins. You will be captivated by its bustling environment and abundance of activities that celebrate this historic locale's culture, heritage and cuisine.
The atmosphere throughout Porto's cobblestone streets is lively with bright-colored buildings surrounding you as your gaze takes in breathtaking views across town. It's truly vibrant!
Porto in June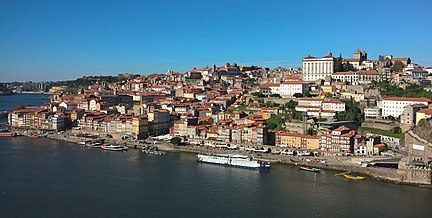 Image source: Wikipedia
Visiting Porto in June is an ideal time as the city offers warm weather, traditional music, lively atmosphere and a variety of festivities.
The Popular Saints Festival starts from 13th to 21st, bringing tourists live bands playing classic tunes combined with organized parades throughout the area.
This vibrant season makes it no surprise why June is known as one of the best times to visit this beautiful Portuguese capital city!
Porto in July
In July, the city of Porto is alive with energy and offers tourists plenty to do. Those seeking a relaxed holiday can bask in the heat of summer days, while those looking for more excitement may attend one of many music festivals happening around town.
In addition to these festivities, there are countless historical sites, parks and beaches that allow visitors an opportunity to explore all that this vibrant city has to offer throughout July.
Porto in August
Visiting Porto in August promises to be an exciting and memorable experience with its vibrant atmosphere, beautiful beaches, and endless activities. Whether you're looking for relaxation or excitement, the city has something for everyone to enjoy throughout their stay.
Throughout this month, there are numerous festivals that bring life to every corner of the Portuguese destination, ensuring a lively holiday no matter how long your trip may last!
Porto in September
The end of summer in Porto brings with it mild temperatures and a less crowded atmosphere, making it the perfect place to explore its vast array of historical sites.
With beautiful parks and gardens, September is an ideal time for outdoor activities or simply taking leisurely walks through the city's streets.
Nature lovers will be delighted by all that this incredible Portuguese destination has to offer during this season: stunning landscapes coupled with comfortable summer weather will make your vacation one you'll never forget!
I relished the opportunity to explore the beautiful Parque de Serralves without the summer crowds, where the Museum of Contemporary Art stands.
Porto in October
In October, the city of Porto becomes much quieter and its hotels offer good value.Temperatures are lower than other months, but rainfall may be higher.
This only adds to the unique atmosphere as colorful leaves begin appearing. Despite the weather being rainier, there are still plenty of indoor activities, like art galleries and concerts, which can keep one entertained during a visit.
So don't forget that for affordable hotel prices coupled with interesting cultural experiences in an autumnal setting, Porto awaits!
Porto in November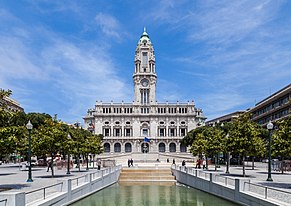 Image source: Wikipedia
November in Porto marks the start of the low season, with colder weather and more rainfall. Despite this, there are a variety of indoor activities for visitors to take part in. Touring around the city without as many tourists, due to lower prices during this time period, is an added advantage. Exploring Porto minus the much-visited crowds is what November has on offer!
A highlight of my visit was the warm, cozy atmosphere of the traditional taverns in Porto, where I enjoyed the popular dish, Francesinha, a type of sandwich unique to the region.
Porto in December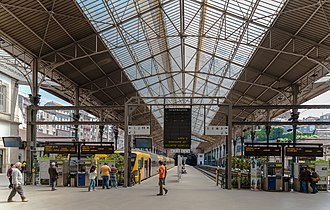 Image source: Wikipedia
During December, Porto is characterized by its mild and damp climate that contributes to the special holiday vibes. The cityscape of this European destination transforms into a magical place due to all the decorations placed around it with shimmering lights.
The cozy indoor attractions make for ideal activities despite the rainy weather. Allowing visitors an exciting opportunity to explore Porto while still being able to embrace Christmas festivities like markets or other events in the city!
Things to keep in mind when visiting Porto
Image source: Wikipedia
The things to keep in mind when planning your Porto visit are:
climate conditions

cost of lodging

popular tourist times.
Evaluating these points can maximize enjoyment and create an unforgettable experience.
Regardless of whether you enjoy a lively vibe during peak season or prefer quieter moments during shoulder season, there is something for everyone at any time throughout the year when visiting Porto. I've covered the tourist times above, here's a bit about the former two points:
Weather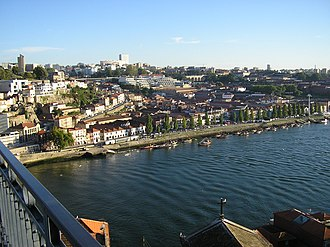 When organizing your travel plans for Porto, it is key to factor in the weather. To make sure you will have a pleasant and comfortable stay, be sure to look up what type of climate you can expect at that time of year.
This way, you'll know if there are any periods when the weather would suit activities that appeal more specifically to your interests.
Researching which season best fits with your desired objectives while visiting this Portuguese city is essential for making the most out of your trip!
Check ahead on accurate forecasts regarding temperature and other meteorological conditions so nothing unexpected ruins all those special moments during vacationing here!
Cost of accommodation
When organizing your visit to Porto, you must factor in the cost of accommodation since prices vary based on the season, being lowest during the low season and highest at peak times. The city provides an array of lodging selections from top-notch hotels to economical hostels to meet every desire as well as budget size.
No matter what type of accommodations are chosen, the aim is always for guests to be able to get great value when traveling through Portugal's vibrant second largest metropolis – making it possible even with a lower spending plan!
Summary
Porto, a stunning Portuguese city boasting a lively atmosphere and steeped in culture, is an ideal destination for visitors wanting to explore all year round.
With its temperate Mediterranean climate, budget-friendly lodging options available throughout the tourist season and beyond, travelers can easily tailor their trip according to personal preferences. So don't hesitate, grab your bags and come discover this captivating corner of Portugal!
Frequently Asked Questions
Is Porto worth visiting?
Yes, Porto is worth visting for its old world charm and being the home of port wine among other things. You can check out this extensive guide on 'Is Porto worth visiting' to make a decision.
How many days do you need in Porto?
If you have two days in Porto, it is possible to explore the city's many attractions at a leisurely pace. Walk through quaint streets and observe beautiful ceramic-tiled architecture. Pay a visit to churches, palaces and other landmarks while enjoying some of the delicious regional food.
On top of that, one could take advantage by making day trips from this vibrant urban center for an even more comprehensive experience, be it going out to nearby towns or beaches! And there are amazing views over the Dom Luis I Bridge which will leave no visitors indifferent. Here's an extensive guide on how many days to spend in Porto.
What is the rainiest month in Porto Portugal?
December is the rainiest month in Porto, Portugal. In the city December is much rainier than July with an average rainfall of 5.1 inches, compared to just 0.4 inches respectively for each month. This makes it apparent that there is a distinct discrepancy between precipitation levels during these two months in this particular location.
Does Porto have a rainy season?
Yes, from October to April, it's common for Porto to have chilly days and rainy conditions. Especially in December - with an average of 15 wet days as well as numerous periods with heavy rainfall.
Even during this season there can be brief reprieves from the rain so you won't necessarily remain soaked all day long!
Do you need more time in Lisbon or Porto?
Two nights in Lisbon and two more in Porto would be a good way to have an all-encompassing experience of Portugal. The best approach is to fly into one city, spend your time there for 2 days each then depart from the other, which will make it easier for you! However, a longer stay is recommended for exploring the city. You can check out this guide on the best time to visit Lisbon.
What is the best time to visit Porto?
If you're looking for vibrant crowds and an abundance of activities, the top time to pay a visit to Porto is between May and September. During this period, the city will offer balmy temperatures perfect for exploring its sights.
Alternatively, April or May can provide guests with more serene vibes if that's what they prefer! No matter what month it is though, visiting beautiful Porto promises unforgettable experiences throughout all times of year!