The best places to visit between Lisbon and Porto are:
Sintra

Cabo da Roca

Fatima

Batalha Monastery

Coimbra

Praia da Pedrógão

Nazare

Vagos Toy Museum

Costa Novo

Aveiro
Hey there! So, I recently took this amazing trip between two of Portugal's most famous cities: Lisbon and Porto.
And let me tell you, the journey was just as fascinating as the destinations! Picture this: ancient castles, sun-kissed beaches, mouth-watering dishes, and memories that'll last a lifetime.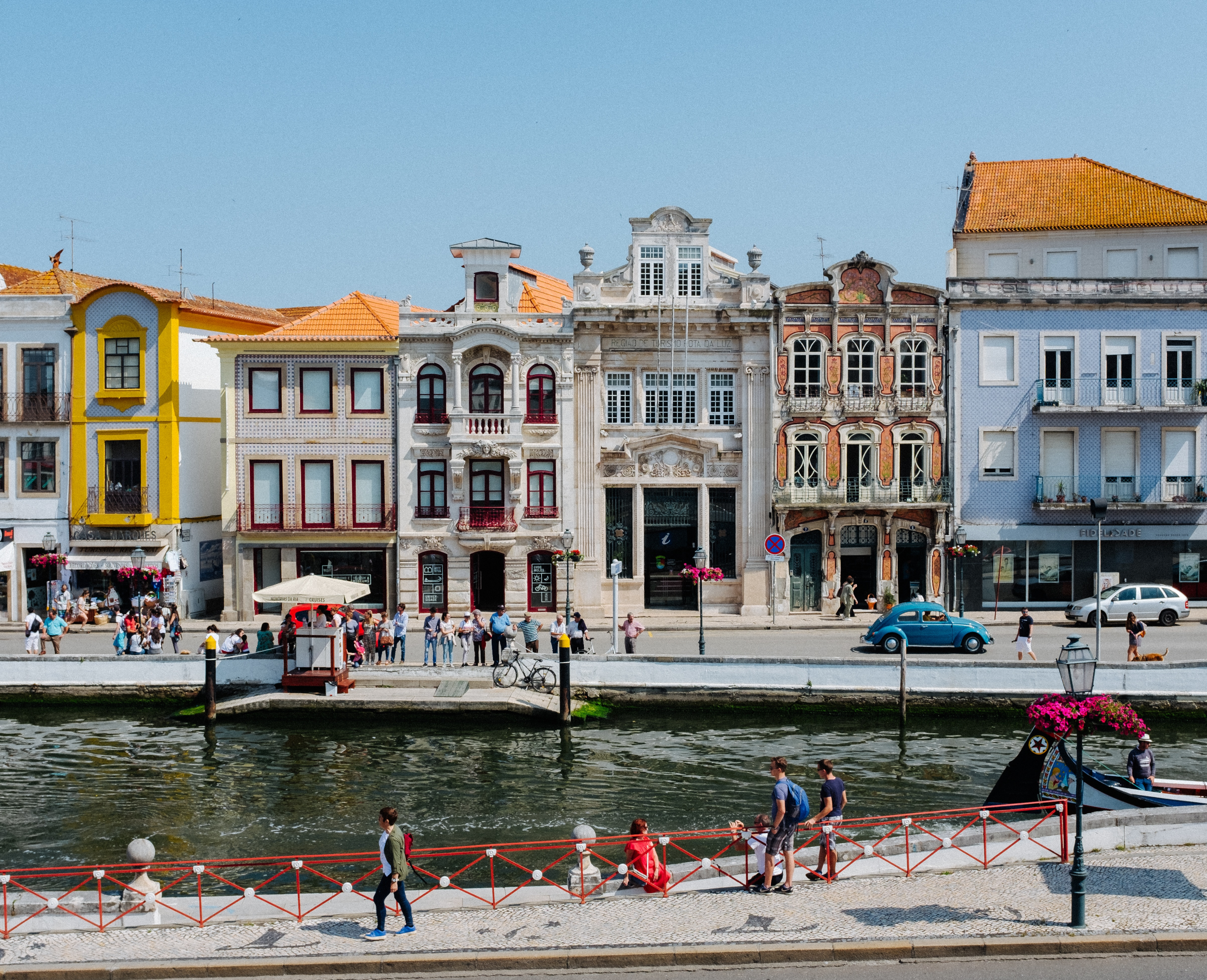 I discovered so many must-visit spots along the way, from cozy coastal towns to magnificent monasteries.
Join me as I share some of the highlights of my Portugal road trip, and maybe, just maybe, you'll find inspiration for your own adventure! Go ahead and include these places in your Lisbon to Porto road trip itinerary.
Places to visit between Lisbon and Porto
Sintra
Sintra is pure magic. Nestled among green hills, this small town is a blend of fairy-tale palaces, mysterious woods, and age-old legends, and is just a few hours from both Lisbon and Porto.
The air felt cooler here, a pleasant escape from Portugal's summer heat. I remember roaming its lanes, filled with artisan shops selling everything from handmade pottery to pastries like "travesseiros" – flaky pastries filled with almond cream. From Sintra's city center, you can head to the below places:
Castelo dos Mouros
On one of Sintra's hills, I discovered the ancient ruins of Castelo dos Mouros, or the Castle of the Moors. Climbing up, I was met with a breathtaking panorama of Sintra and the coastline beyond.
The castle's stone walls and towers, which have stood for over a thousand years, whispered tales of Moors and medieval battles.
It's a bit of a hike, but the views? Absolutely worth every step.
Quinta da Regaleira
Not far from Sintra's center, I ventured into the enchanting world of Quinta da Regaleira. This grand palace, with its turrets and gothic features, was just the beginning.
The gardens, oh the gardens!
They were filled with mysterious wells, hidden tunnels, and beautiful statues. One of the wells, the Initiation Well, felt straight out of an adventure novel.
Spiraling stairs lead down into the earth, and as I descended, I couldn't help but feel a mix of awe and wonder.
Pena Palace
Ah, the Pena Palace! I remember the first time I set eyes on this medieval castle. Perched atop a hill in Sintra, it's like something out of a fairy tale.
I must admit, the bright colors – reds, yellows, and blues – caught my attention right away. The palace is around 500 meters above sea level, so you get these amazing views of the forest below.
Walking inside, I felt like I was stepping back in time. There are rooms filled with old furniture, like beds and chairs, that kings and queens once used.
I even saw some beautiful plates and vases, examples of fine ceramics. The whole place is like a huge toy castle, and I could easily imagine knights and princesses walking around.
You've got to wear comfy shoes, though! The palace is big, and there's lots to see. If you go, don't forget to check out the gardens.
They have more than 200 species of trees from places like Japan and Australia. I spotted some lovely ferns and tall palm trees.
Cabo da Roca
Talk about a place with a view! Cabo da Roca is super special because it's the westernmost point of mainland Europe. Yup, that's right, there's no land farther west than this spot in Europe.
I stood there, the wind in my hair, looking out at the endless ocean. I felt like an explorer on the edge of the world. There's a lighthouse, too, standing tall and guiding ships for over 200 years.
And guess what? They have this cool certificate you can get to prove you've been to the very edge of Europe!
Down below, the waves crash against big, jagged cliffs. Birds like seagulls fly around, and sometimes you can spot examples like the cormorant or the oystercatcher. Just remember, it can get windy, so a jacket might be a good idea!
Fatima and The Sanctuary of Our Lady
Oh, Fatima is a peaceful place! Lots of people come here, around 6 million each year, to visit The Sanctuary of Our Lady. It's a big church and super famous. Some say miracles have happened here.
Back in 1917, three kids said they saw the Virgin Mary, and since then, many believe the place is blessed. I saw people walking on their knees, praying, and lighting candles. There are rows and rows of candles, each one telling a different story.
Outside, there's a big square, enough to fit around 300,000 people. Yes, you read that right! There are also trees and statues.
For instance, there are statues of the three kids who saw the vision. If you go, take a moment to just sit and feel the peace around.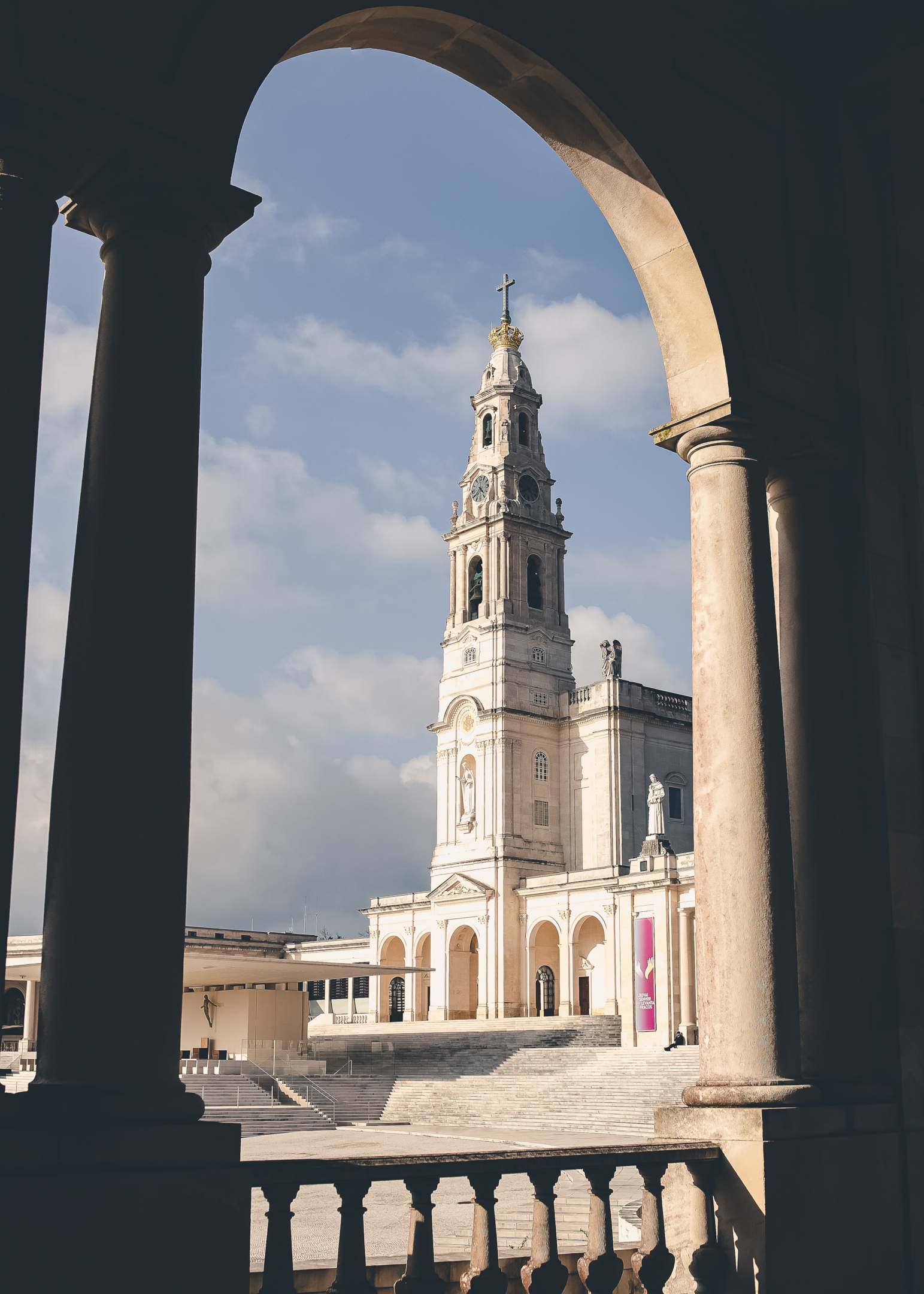 Batalha Monastery
Built over 600 years ago, it's like a giant artwork made of stone. It's one of the many UNESCO World Heritage Sites on this route. Every corner has carvings and statues. There are soldiers, angels, and even animals. I saw a couple of lion statues, looking all mighty and strong.
Inside, the church is super tall, with big windows that let the sunshine in. It felt calm and cool. There are tombs, too, where kings and their queens rest.
And guess what? The monastery has a room with unfinished chapels. They started building them but never finished. It's kind of mysterious and cool.
Right outside, there's a lovely garden with flowers and trees. You can find roses, daisies, and other pretty blooms. The perfect place to sit and rest a bit.
Coimbra
Ah, Coimbra! I remember arriving in this city, greeted by the sounds of the famous Fado music. The place has history in every brick and stone.
It's home to one of the oldest universities in the world and a UNESCO World Heritage Site, the University of Coimbra, which is more than 700 years old! I took a tour, and the grand library was an absolute highlight. Rows and rows of old books, like ancient treasures.
Walking through Coimbra, you'll see lots of young students wearing traditional black robes. They look a bit like wizards, and it makes the whole town feel magical.
The streets? They're narrow cobbled streets and sometimes steep. And there are cafes everywhere. I remember sipping a cup of coffee, nibbling on pastries, examples being the sweet "pastéis de nata".
If you ever visit, don't forget the river. The Mondego River flows right by the city. It's peaceful, and there are lots of little bri
dges to cross.
Praia do Pedrógão
Sun, sand, and surf! Praia do Pedrógão is a beach spot I won't forget in a hurry. The sands are golden and stretch on for what feels like miles. I took off my shoes the minute I got there, just to feel the soft sand between my toes.
The waves? Oh, they're perfect for a little splash and play. Families build sandcastles, kids laugh and run around, and there are even some surfers catching waves. Along the coast, you'll find little eateries selling fresh fish and seafood. I tried some grilled sardines – yum!
One more thing: the sunsets here are to die for. Picture the sky painted with shades of pink, orange, and purple.
Nazaré
Talk about a place with big waves! Nazaré is famous for surfing, and it's got some of the tallest waves in the world. I watched, in awe, as brave surfers tackled these massive walls of water.
But Nazaré isn't just about surfing. The town itself is charming, with white-washed houses and narrow streets. I visited the Our Lady of Nazaré Sanctuary, which sits on a hill. The view from up there? Spectacular!
There's a market in town, too, where they sell all sorts of things. Fresh fruits, cheeses, and even crafts like handmade baskets and pottery.
Vagos Toy Museum
Now this was a treat! The Vagos Toy Museum felt like stepping into a time machine. It's filled with toys from all over the world and from different times. I saw dolls, cars, trains, and even board games. Some toys were more than 100 years old!
One room was dedicated to toy soldiers. Another had miniature houses with tiny furniture inside. And then there were teddy bears.
Big ones, small ones, old ones – you name it! The museum reminded me of my childhood, and it was fun to see toys from other countries, examples being a Japanese kendama or a Russian matryoshka doll.
Visiting the museum felt like a journey through time, and it brought out the kid in me. If you're ever in the area, it's a must-visit. Great for both kids and adults!
Costa Novo
Stepping onto the sands of Costa Novo was like entering a postcard scene. What truly makes this beach special, apart from its beautiful sands and waves, are the quirky striped houses.
They're painted in bright colors with vertical stripes, reminding me of candy canes. I learned that these houses, known as "palheiros," were originally used by fishermen to store their equipment.
Strolling down the beach, I could hear the distant laughter of families and the subtle whisper of the sea.
And while the beach is a treat, there's also some local food to try. I remember tasting delicious seafood, examples being grilled fish and shrimp.
Aveiro
Often called the "Venice of Portugal," Aveiro sure lives up to its name! This city has canals running through it, and traditional boats called "moliceiros" float gracefully on the water.
These boats are colorful and often have fun, cheeky paintings on them. I took a boat ride and enjoyed seeing the city from the water.
Aveiro is also famous for a sweet treat called "ovos moles." It's made from egg yolks and sugar, wrapped in a thin wafer. Mmmm, trust me, you'd want more than one!
I also visited the local fish market and the Art Nouveau Museum. Aveiro's charm is truly undeniable. It's a blend of old-world charm and modern vibes. If you wish, you can book a luxury hotel here and enjoy the charm.
Tomar
History buffs, listen up! Tomar was like walking through the pages of a history book. The centerpiece? The Convent of Christ.
This castle and convent combo was once the stronghold of the Knights Templar. As I wandered through its halls, I felt transported back to medieval times.
The architecture here is fascinating. Arched doorways, intricate stone carvings, and beautiful tiles known as "azulejos."
The town of Tomar itself is quaint and filled with delightful little corners. I especially enjoyed the ancient aqueduct with its towering stone arches.
Serra da Estrela Natural Park
Nature's masterpiece! Serra da Estrela Natural Park is the highest mountain range in mainland Portugal. I remember the drive up, winding roads with breathtaking views at every turn.
This park is a dream come true for outdoor lovers. In winter, it's a snowy wonderland perfect for skiing. But I visited in summer once, so it was all about hiking and picnics.
The trails lead you through dense forests, and sometimes you'd stumble upon crystal-clear lakes.
One highlight? The local cheese, named after the region, "Queijo Serra da Estrela." It's soft, creamy, and oh-so-delicious. I paired it with some local wine, sat back, and enjoyed the stunning natural beauty around me.
Óbidos
Ah, Óbidos! As I walked through its cobblestone streets, I felt as though I'd been whisked away into another era.
This medieval town is wrapped by sturdy stone city walls, and entering through the main gate was like stepping into a storybook.
Houses painted in white, with bright flowers hanging from the windows, greeted me at every turn in the old town. And oh, you can't visit Óbidos without trying "ginjinha," a cherry liqueur. I had mine in a tiny chocolate cup, a sweet little treat!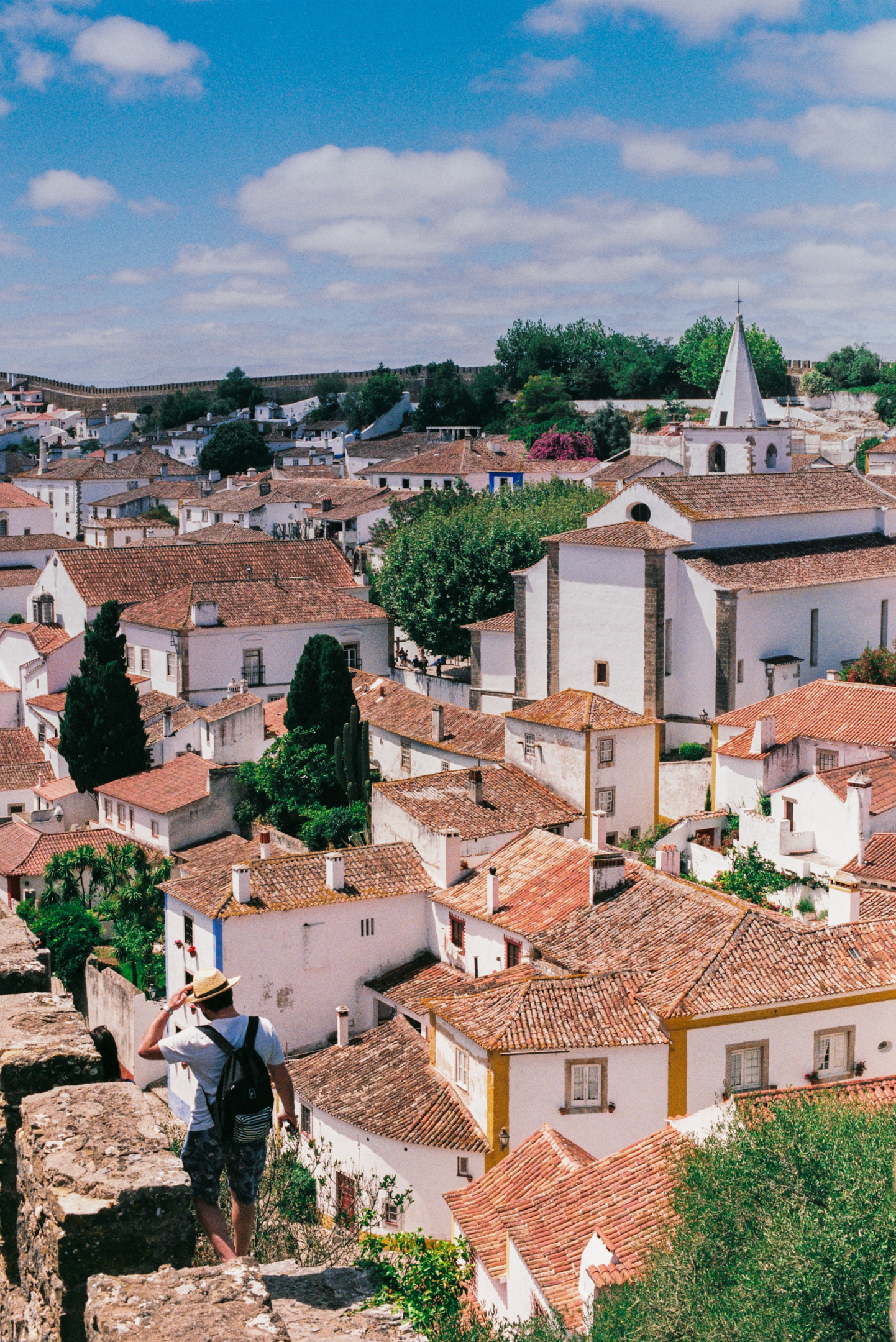 Azenhas do Mar
During my journey, I found myself in Azenhas do Mar, a seaside gem. This tiny charming village, perched on a cliff overlooking the Atlantic Ocean, is postcard-perfect.
The white houses against the backdrop of the blue sea are a sight to behold. I enjoyed a meal at a cliffside restaurant, savoring fresh seafood while watching the waves crash below.
The blend of the ocean's roar and the tranquil village life was the perfect way to wrap up my travels.
Exploring these places, from vibrant towns to age-old castles to serene seaside escapes, added layers of wonder to my Portuguese adventure. Each place, with its unique charm and story, left an indelible mark on my heart.
Ericeira
The salty breeze of Ericeira instantly filled my lungs as I set foot in this coastal haven. It's renowned as a surfer's paradise, and it didn't take long to see why.
Everywhere I looked, surfers dotted the waves, gracefully dancing with the ocean's rhythm. But beyond the waves, Ericeira charmed me with its narrow streets and traditional blue and white houses.
I still remember the taste of fresh seafood, especially the grilled octopus, at a local eatery overlooking the sea. It's not just a surf town; it's a slice of Portuguese coastal life at its best.
Peniche
Upon reaching Peniche, I felt like I was on the edge of the world. This fishing town, perched on a peninsula, had a raw beauty that captivated me. The rugged coastline with cliffs and caves was a sight to behold.
I took a boat trip to the Berlengas Islands, a short distance from Peniche. With its clear waters and abundant marine life, it's a diver's dream.
Back in Peniche, I wrapped up my day with a bowl of "caldeirada," a traditional fish stew, reminding me of the town's deep connection with the sea.
Caldas da Rainha
A town known for its thermal waters, Caldas da Rainha was a refreshing detour. Legend has it that the waters here have healing properties, and while I'm not sure about that, a relaxing soak was indeed therapeutic.
The town's parks and gardens, like the D. Carlos I Park, were lovely spots to relax and enjoy nature. But what truly intrigued me was the town's rich ceramic heritage.
I wandered through local markets and shops, discovering quirky and colorful ceramic creations, from cabbage-shaped dishes to intricate decorative pieces. It's art and tradition beautifully merged together.
Alcobaça
Stepping into Alcobaça, I was immediately drawn to the Alcobaça Monastery. This grand structure, with its soaring spires and intricate stonework, is a testament to Portugal's rich history and culture.
As I explored its interiors, the tales of King Pedro and Inês de Castro, a tragic love story, echoed in the hallways. The town itself exudes a quiet charm, with quaint cafes and local boutiques lining the streets.
While there, I tasted some delightful local sweets, like the "cornucópias" - almond-filled pastries that looked as good as they tasted.
Conclusion
And there you have it! From the cobbled streets of Obidos to the surfing waves of Ericeira, the stretch between Lisbon and Porto is more than just a travel route—it's a treasure trove of experiences waiting to be uncovered.
Each of the 21 places I mentioned holds a special memory, like tasting the creamy "queijo da serra" in Serra da Estrela or feeling the history of the Convent of Christ in Tomar. If you're planning a trip to Portugal, don't rush between the big cities. If however, you have to choose between visiting Porto vs Lisbon, I have a blog to help you with that.
Take your time, make some stops, and let the journey surprise you. After all, sometimes it's the unexpected detours that make the trip unforgettable. Safe travels!
FAQs
How far is Sintra from both Lisbon and Porto?
Sintra is about 30 km from Lisbon and approximately 335 km from Porto.
Are there any coastal towns worth stopping at between the two cities?
Absolutely! Some great coastal towns include Ericeira, Peniche, and Costa Novo. Azenhas do Mar is also a picturesque village worth a visit.
Can you recommend any historical sites along the way?
Sure can! The Convent of Christ in Tomar, the Batalha Monastery, and the Alcobaca Monastery are all rich in history.
Are there wine regions to explore between Lisbon and Porto?
Yes, the Bairrada region is between Lisbon and Porto and is known for its sparkling wines and red wines.
What's the travel time by train between Lisbon and Porto?
It's roughly 2.5 to 3 hours by fast train (Alfa Pendular) between Lisbon and Porto.
Which town is famous for its traditional tile production?
Caldas da Rainha is known for its ceramics and traditional tile production.
Are there any natural parks to explore along the route?
Certainly! Serra da Estrela Natural Park is a gem worth exploring with its mountainous landscapes and endemic flora and fauna.
How can I reach the coastal village of Aveiro from the main highway?
From the main A1 highway connecting Lisbon and Porto, take the exit for Aveiro and follow the signs. It's a straightforward drive. You can take a rental car to explore the region.
What's the best way to explore the Douro Valley from Porto?
The Douro Valley can be best explored by taking a river cruise or by train, both offering scenic views of the terraced vineyards.
Can I reach the medieval town of Óbidos easily by public transportation?
Definitely! Buses frequently run between Lisbon and Óbidos, making it easily accessible.
How far is Coimbra from the main highway connecting Lisbon and Porto?
Coimbra is just about 15 km off the A1, the main highway connecting Lisbon and Porto.