The best viewpoints in Lisbon are the São Jorge Castle, Miradouro de São Pedro de Alcântara, and Panteao Nacional.
Hey there, fellow travelers! Ever been to a city where every turn and twist holds a surprise? That's Lisbon for you. With its vibrant colors, history-packed streets, and a river that glimmers like a million diamonds, it's a sight to behold. But the real magic? It's when you see it from above, and enjoy a panoramic view.
During my time in Lisbon, I discovered so many amazing viewpoints. Some were famous, others were hidden gems. Each one told a different story.
From castles on hilltops to modern rooftops buzzing with life, I felt like a bird soaring high. Ready to join me on this adventure? Let's dive into these viewpoints and see Lisbon like never before!
The best Lisbon viewpoints: Miradouros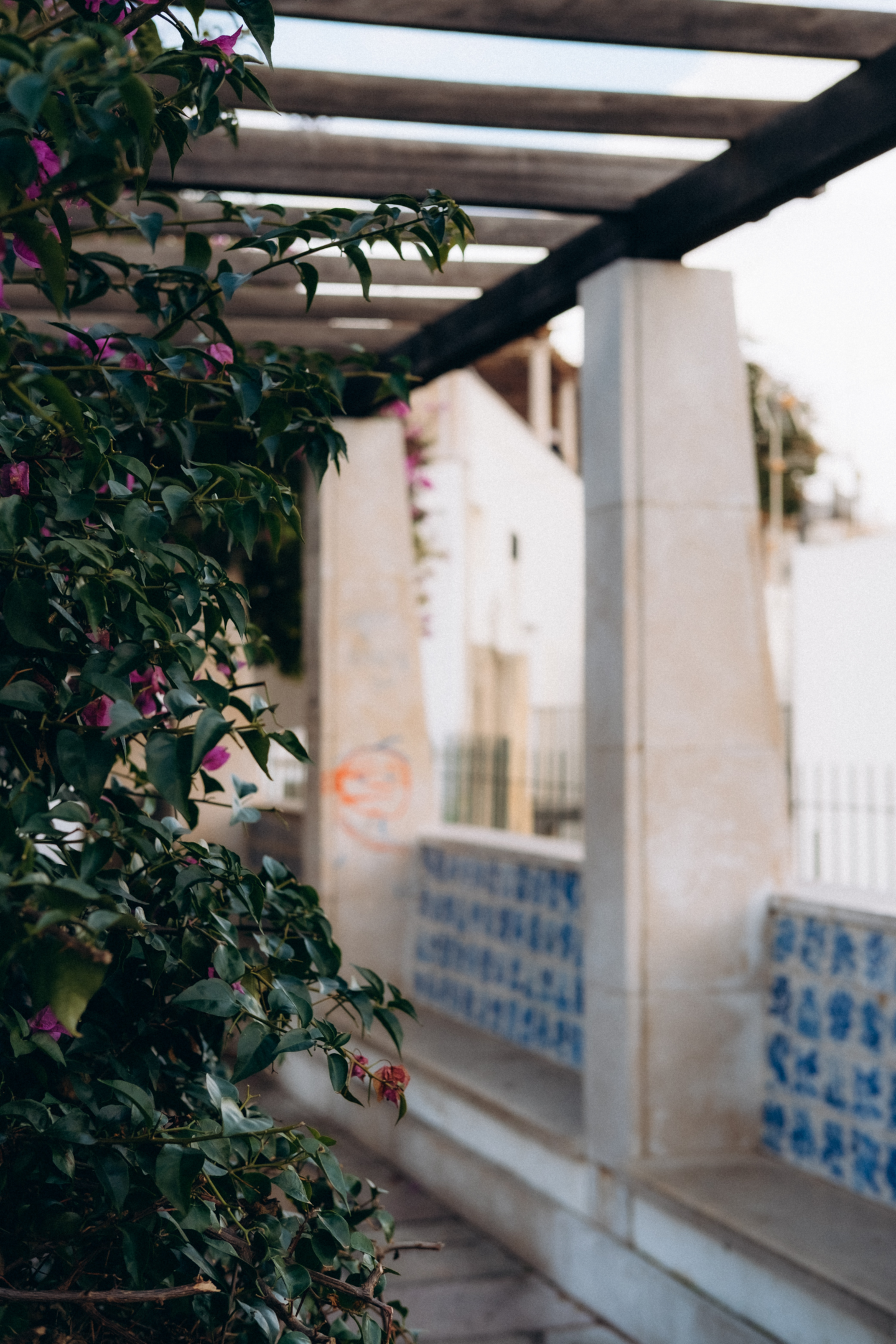 Lisbon, the hilly capital of Portugal born among seven hills, is a city full of surprises. Every corner, every alley, has a story. But there's one thing that truly stands out when you walk its streets - the Miradouros.
Wondering what that is? Well, "Miradouro" means "viewpoint" in Portuguese.
These are special spots dotted around the city where you can stand and look out over the rooftops, the winding streets, the buzzing city center and the shimmering river. It's like you're on top of the world (or at east, the entire city)! Imagine being at a place where everything looks like a postcard.
That's what these Miradouros feel like, they're full of amazing views. So, come with me as I share my adventures to some of the best Miradouros in Lisbon. Let's dive into the views and the magic they bring!
Miradouro de São Pedro de Alcântara
Ah, I remember the first time I set foot on Miradouro de São Pedro de Alcântara. It was a sunny day, and I felt the warmth on my skin at this beautiful viewpoint.
This place, let me tell you, is like a big balcony that looks over Lisbon. The view? Wow! You can see the whole city from there. I saw three red-roofed houses, two tall towers, and even a castle!
There's also a cool garden there with lots of trees and flowers. Kids played around, and there were a couple of statues too. It's a perfect spot for taking photos. I took, like, 10 pictures in just 5 minutes!
People sold drinks and snacks there, so I grabbed a cold drink. Sitting on a bench, I thought: "This is the best view in Lisbon!"
Miradouro de Graça
Next, I visited Miradouro de Graça. This place is on top of a hill. Yes, it's a bit of a walk, but trust me, it's worth it. The trees and streets below looked like tiny toys from up there.
I found a church right next to it. It was old and pretty, with big bells. From this spot, I saw four bridges, countless boats, and the sunset. It was magic. I met two people who said they come here every evening just for the view.
I thought, "If I lived in Lisbon, I'd come here a lot too."
Miradouro Senhora do Monte
My next stop? Miradouro Senhora do Monte. It's the highest viewpoint in Lisbon. I had to climb a steep hill, but my legs didn't mind. The view from the top made it all worth it.
From here, I saw the river shimmering. It looked like a huge mirror. There were seven churches, three parks, and loads of colorful buildings. Imagine looking at a big painting of Lisbon. That's what it felt like.
I sat on a bench and just watched the city move. Cars. People. Birds. Everything was alive and moving. This place, it felt special.
Miradouro de Santa Luzia
Last but not least, I went to Miradouro de Santa Luzia. It's a cozy spot with white walls and blue tiles. These tiles, by the way, are called "azulejos." They're so pretty!
There's a garden here with purple flowers. And guess what? I found two cats just lounging around the Santa Luzia viewpoint. It felt like a secret garden.
From this viewpoint, I saw the sea. Big ships sailed on it. The sun made the water sparkle. It looked like diamonds.
There was a church too. I heard bells ring twice. Everything felt peaceful and quiet. I whispered to myself, "I'll come back here one day."
Miradouro de Santa Catarina
Ah, Miradouro de Santa Catarina! This spot feels like a secret corner of Lisbon where artists, musicians, and dreamers gather. Nestled on a hill, it gives you a sweeping view of the Tagus River, with boats lazily drifting by.
The first time I stepped onto its cobbled ground, I heard a guitarist strumming a soulful tune. Nearby, locals and travelers alike lounged, sipping on drinks and soaking in the golden hue of the setting sun. I remember finding a spot near the railing, feeling the gentle breeze, and watching the city lights start to twinkle.
From vintage trams to the distant 25 de Abril Bridge, everything looked like it was painted with a touch of magic. If you're looking for a slice of authentic Lisbon vibe with a side of stunning view, Miradouro de Santa Catarina is your go-to!
The best viewpoints in Lisbon: Monuments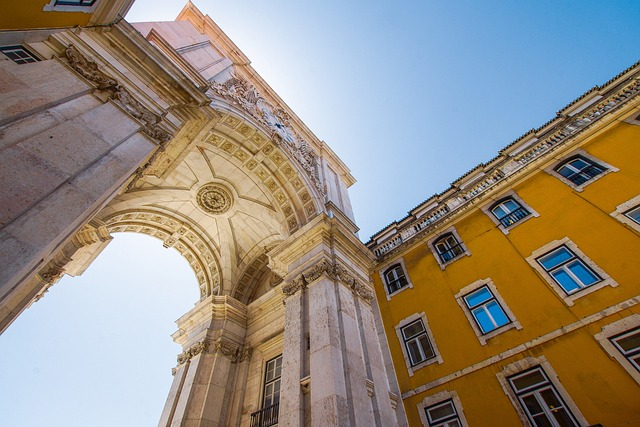 Águas Livres Aqueduct
The first time I saw the Águas Livres Aqueduct, I thought it was like a giant bridge in the sky. This aqueduct is super old, built hundreds of years ago.
Can you believe it was made to carry water? It stretches for 18 kilometers! That's like, the length of 180 football fields!
Walking on it felt like stepping back in time. I could see cars, houses, and trees below. Some parts had arches, 35 of them!
Just like the arcs you see in a rainbow, but made of stone. It was like peeking through big windows at the city below. So cool!
Arco de Rua Augusta
Standing under the Arco de Rua Augusta, I felt tiny. This arch is massive and so detailed. It's right at the end of a busy street filled with shops, cafes, and street artists playing music. And guess what? There's an elevator inside!
Once at the top, I saw the whole city spread out. From here, three main squares were clear as day, each buzzing with people.
The river glinted like a sea of diamonds. The feeling? Like being on top of a giant's castle, looking out at his kingdom!
Belém Tower
Ah, Belém Tower! It's like a fairy-tale castle by the sea. This stone tower has been there for over 500 years! It's surrounded by water, and from its top, the waves look like they dance.
I climbed its narrow stairs, feeling like an explorer. Up there, I saw five big ships and countless smaller boats. The breeze smelled like salt and adventure. It's a place where you dream of pirates and treasure chests.
Castelo de São Jorge
Castelo de São Jorge sits on a hill, watching over Lisbon. This castle is super old, with walls that have seen centuries pass by. Inside, there are gardens with peacocks. Yes, real peacocks with colorful tails!
I walked along its ramparts and towers. From up there, Lisbon looked like a toy city. I counted seven churches and two bridges. The sunset? Oh, it painted the sky in pinks and oranges. I felt like a knight in a storybook.
LX Factory Rooftop
LX Factory is a trendy spot. It used to be an old factory, but now it's filled with shops, restaurants, and art. And the rooftop? That's a hidden gem!
I took an elevator up and found myself in a cool bar. From here, the view was amazing. The river, the bridges, and the city—it all looked so vibrant.
I saw four graffiti walls and three street performers below. With a drink in hand, the music playing, and the city below, I thought, "This is the perfect end to a day in Lisbon."
Monastery of São Vicente de Fora
The Monastery of São Vicente de Fora is like a huge treasure chest of history. This grand building has stood for centuries!
When I first walked in, the corridors were filled with patterns of tiles called "azulejos." Thousands of them, telling stories from the past!
But the real magic? Climbing up to the rooftop. From there, the view was splendid.
I saw five parks, countless orange rooftops, and the river flowing like a ribbon. The church bells rang, and I felt like I was floating above an old tale.
Panteao Nacional
The Panteao Nacional or National Pantheon is not just any building. It's where Portugal's heroes rest. When I stepped inside, I could feel the weight of history. Big domes, tall pillars, and silent whispers of the past surrounded me.
Climbing to the top was an adventure. And the reward? A breathtaking 360-degree view of Lisbon.
I spotted three markets, two bridges, and the distant hills. Everything felt calm and peaceful, like watching over a sleeping giant.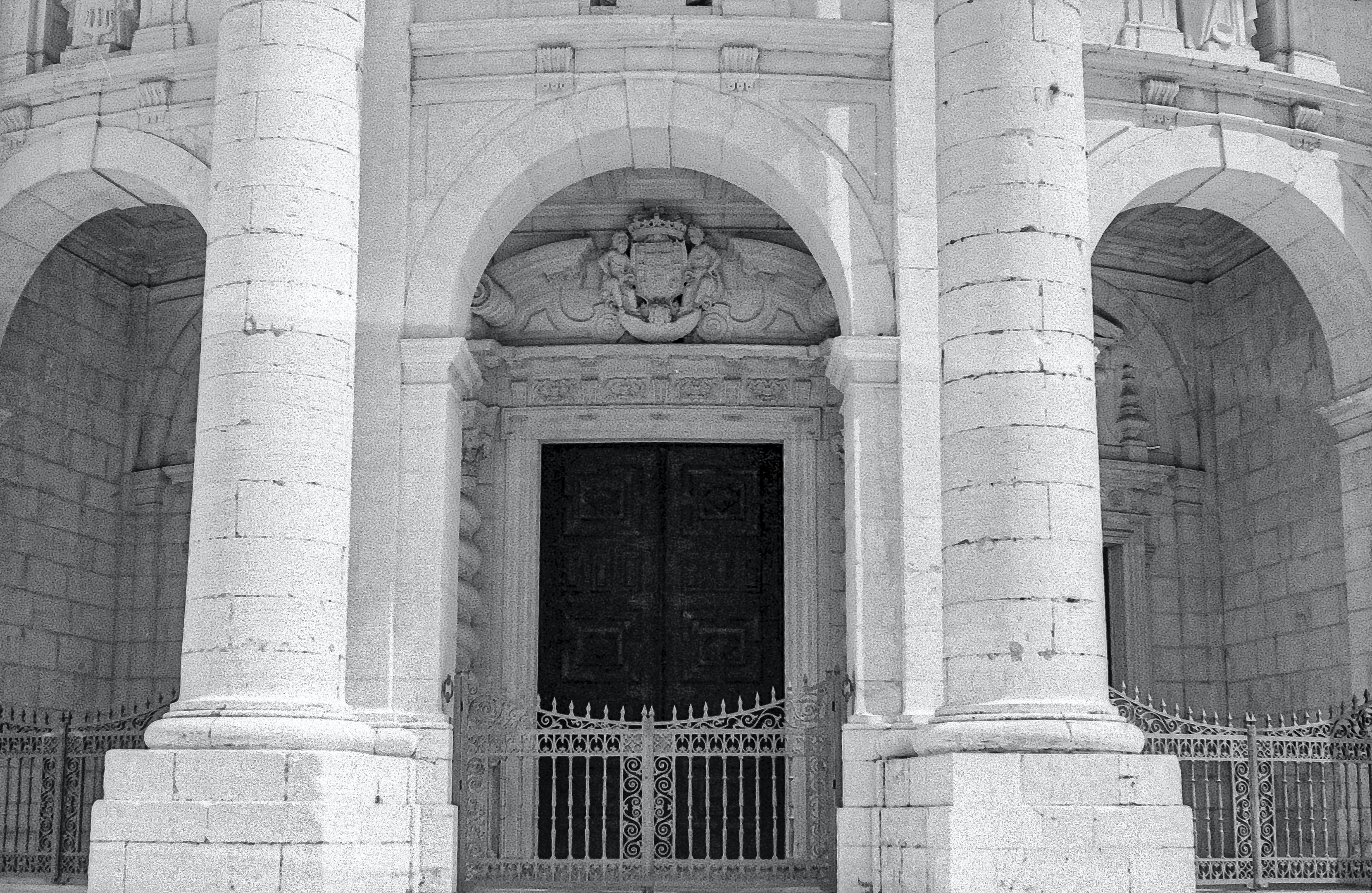 Santa Justa Elevator
Now, the Santa Justa Elevator or Elevador de Santa Justa is something else! It's like a big iron tower right in the middle of the city. I hopped in, and up I went! It's actually an old lift, built over 100 years ago. How cool is that?
Once at the top, the sights were amazing. Buildings, streets, and squares looked like pieces of a big puzzle.
I saw four church steeples, and countless people moving like ants below. Being so high up in the heart of the city felt like a dream.
São Jorge Castle
São Jorge Castle is like the guardian of Lisbon. Perched on a hill, its stone walls have seen so many stories. I walked through its gates and felt like I stepped back in time. There were gardens, old canons, and even some peacocks strutting about.
The view from its towers was beyond words. I counted ten neighborhoods, three main roads, and the shimmering river. The breeze carried tales of knights and battles. It was like being in a fairy tale.
São Pedro de Alcântara
São Pedro de Alcântara is a gem in Lisbon. It's like a big balcony overlooking the city. I remember the first time I went there. Kids were playing, and street musicians added tunes to the atmosphere.
The view was gorgeous. Hills rolled out with colorful houses, and the castle stood proud. I saw two gardens, five main streets, and even a tram chugging along. Sitting there, watching the sunset, I thought, "Lisbon is truly magical."
Conclusion
Phew! What a journey, right? Lisbon has been a rollercoaster of emotions for me. From the tranquil sunsets at São Jorge Castle to the bustling streets viewed from Santa Justa Elevator, each viewpoint added a new chapter to my Lisbon story.
But here's the thing: numbers and names, like the 14 viewpoints, don't do justice. It's the feeling.
The wind in your hair, the aroma of pastries (like those yummy Pastéis de Nata) wafting up, and the distant hum of trams. That's the real Lisbon.
So, next time you're in this amazing city, make sure you climb, walk, or ride to these spots. Your own Lisbon story is waiting to unfold. Safe travels and keep exploring!
FAQs: Discovering Lisbon's Best Viewpoints
What are the best viewpoints in Lisbon that offer stunning panoramic views?
São Jorge Castle, Miradouro de São Pedro de Alcântara, and Panteao Nacional offer truly panoramic vistas of Lisbon. From these points, you can see a 360-degree view of the city sprawling below.
Where can I find the most picturesque spots to capture Lisbon's skyline and landmarks?
Arco da Rua Augusta, Santa Justa Elevator, and Miradouro de Graça are ideal spots. They provide elevated views, highlighting the city's skyline and iconic landmarks.
Are there any viewpoints that provide a unique blend of historical charm and breathtaking vistas?
Absolutely! Belém Tower and Monastery of São Vicente de Fora seamlessly blend historical richness with awe-inspiring views of Lisbon and its surroundings.
Which viewpoints offer the best perspectives of the Tagus River and its iconic bridges?
LX Factory Rooftop and Miradouro Senhora do Monte are superb choices. Both provide expansive views of the Tagus River and its iconic bridges, including the 25 de Abril Bridge.
Can you recommend viewpoints that are accessible by Lisbon's famous elevators and funiculars?
Yes! The Santa Justa Elevator takes you directly to a viewpoint overlooking the city. Additionally, the Gloria and Bica funiculars provide access to viewpoints that showcase Lisbon's undulating cityscape.
Where can I experience a combination of urban cityscapes and natural beauty in Lisbon?
Miradouro de Santa Luzia is a perfect blend. While the viewpoint showcases the city's urban charm, the gardens filled with flowers and the sight of the sea adds a touch of nature's beauty. It's not too far from the city centre and you can marvel over the city.
Are there any lesser-known viewpoints that provide a more tranquil and off-the-beaten-path experience?
While many of Lisbon's viewpoints can be bustling, the Monastery of São Vicente de Fora's rooftop is a lesser-known gem, offering peace and tranquility alongside breathtaking views.
Which viewpoints are perfect for capturing the sunset over Lisbon's captivating landscape?
Miradouro Senhora do Monte and São Jorge Castle are splendid spots. Both offer expansive views of the city, making the sunset appear like a golden blanket over Lisbon.
What viewpoints allow me to appreciate both the historic architecture and modern skyline of the city?
Arco de Rua Augusta stands out. From its vantage point, one can admire the historic architecture of Baixa and, in contrast, the modern skyline of more contemporary parts of Lisbon.
Are there viewpoints that provide insight into Lisbon's maritime heritage and exploration history?
Belém Tower is your go-to. Standing at its top, you not only get panoramic views but also a sense of the maritime history as the tower once guarded the entrance to the city's harbor and witnessed countless explorations.