Yes, Lisbon is walkable and you can go on various self-guided walking tours around the city.
When I first set foot in Lisbon, I felt the rush of excitement that every traveler is familiar with: a mix of anticipation, curiosity, and just a hint of nervousness.
Navigating a new city is always a thrilling experience. Some cities can feel daunting, their vastness making you reliant on public transport or taxis, while others are so condensed you might feel you've seen everything in a day.
Lisbon, with its historic trams rumbling down narrow streets, its lively squares brimming with locals and tourists alike, and its picturesque riverside promenades, immediately posed a question in my mind: Could this city be the perfect blend of the two? Is Lisbon walkable?
Well, yes, Lisbon is a very walkable city. The idea of "walkability" isn't just about distances. It's about the experience of the journey: the sights, sounds, and scents that you encounter as you meander through alleyways or stride across grand plazas.
It's about feeling the heartbeat of the city through your feet, discovering hidden gems along the way, and connecting with its people and culture one step at a time.
As I embarked on my journey through Lisbon, every corner seemed to whisper tales of the city's rich past and vibrant present.
So, come with me as I share my walking journey through the city of seven hills, exploring whether the Portuguese capital truly is a walker's delight.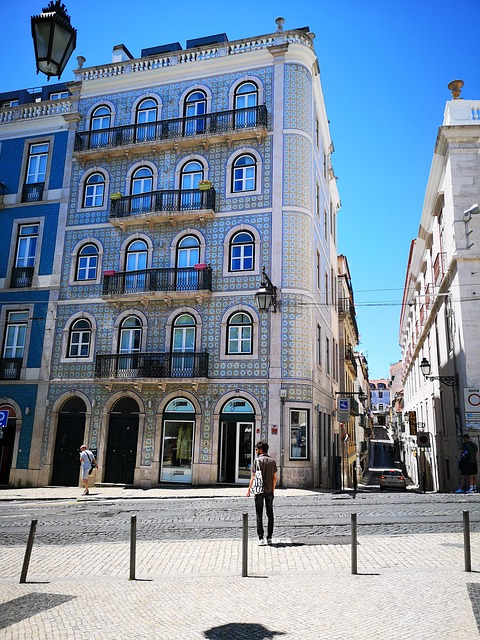 Things to Consider
Walking in a city is about more than just putting one foot in front of the other. It's an immersive experience, and how much you enjoy it can be influenced by a variety of factors. Here's what I kept in mind during my time wandering through Lisbon:
1. Safety:
No journey is enjoyable if you're constantly looking over your shoulder. I found Lisbon to be one of those cities where locals and tourists coexist harmoniously.
The cobbled streets were busy with people until late at night, and there's a sense of community that made me feel secure. Yes, like any major city, it's wise to be aware of pickpockets in crowded areas, but that's just being street smart.
2. Distance:
The scale of a map can be deceptive. Those tiny squares and steep streets can translate to quite a trek in reality. But in Lisbon, distances between major attractions are manageable. It's like the city is giving you a gentle nudge, encouraging you to explore just a little further, promising you a treat just around the next corner.
3. Weather:
The weather can make or break a walking experience. Lisbon boasts about 280 sunny days a year, which means the odds are in your favor for a sunny stroll. But do remember, it gets hot in the summer.
I packed a hat, sunscreen, and a bottle of water, especially when venturing out during midday. On those few rainy days? Well, there's something charming about Lisbon's cobblestones shimmering under the drizzle.
4. Terrain:
Hills. Oh, the hills! Lisbon's seven hills offer both challenge and reward. While they can test your stamina, the panoramic views you're treated to at the top are unbeatable. It's like the city reveals itself layer by layer, each elevation giving a new perspective.
Plus, these inclines have led to some innovative solutions - the city's funiculars and public elevators, like the aforementioned Santa Justa Lift, are a testament to that. Using them felt like blending a bit of history with my modern-day adventures.
5. Signage:
For the directionally challenged among us (I admit, I can be one of them!), clear signage can be a lifesaver. Lisbon's streets are well-marked, and I noticed plenty of helpful signs pointing the way to main attractions. And if ever I felt lost? The locals were always willing to point me in the right direction, often with a smile and sometimes even a personal recommendation thrown in.
6. Local Interaction:
One of the joys of walking is the chance to truly feel the city's pulse, and this often means interacting with its residents. I found that Lisbon's locals were friendly and approachable.
Whether I was asking for directions, seeking cafe recommendations, or just exchanging smiles, these interactions enriched my walking experience.
7. Footwear:
It might sound basic, but trust me, the right shoes can make all the difference. Lisbon's streets are often paved with beautiful, but sometimes slippery, cobblestones. I was grateful for my sturdy and comfortable walking shoes, which provided good grip and support.
8. Unexpected Finds:
Lastly, walking in a city is about serendipity. I loved stumbling upon local markets, quaint bookstores, and hidden courtyards. Lisbon is filled with these surprises. While I had my map and list of must-see places, I also allowed myself to get "lost" and discover places not found in guidebooks.
In essence, while Lisbon's layout, weather, and culture are certainly conducive to walking, it's these little considerations and preparations that can help transform a good walk into an unforgettable journey.
Why is Lisbon Walkable
So why did I find Lisbon to be a walker's dream? Here are my thoughts:
Compact City Layout:
The city's core, where many attractions are, is not that large. I could walk from one side to the other in about an hour. Lisbon's historic center is well connected with the other regions.
Pedestrian Zones:
Places like Baixa and Chiado are mostly car-free. Shops, cafes, street performers - I found it all while strolling.
Viewpoints (Miradouros):
With those hills come breathtaking views. After every climb, there was a reward. I remember Miradouro da Senhora do Monte – what a sight!
Sidewalks and Paths:
Lisbon has plenty. Especially along the river, there's a lovely pathway. Perfect for evening walks.
Culture and Vibes:
Everywhere I walked, I felt the city's pulse. From Fado music echoing in Alfama to the tiles (azulejos) that told stories on the walls.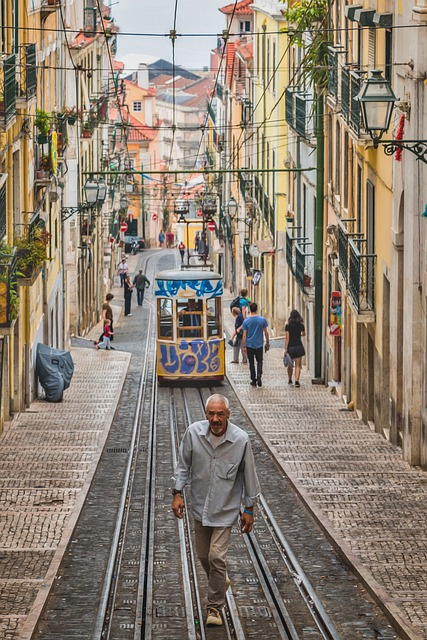 Places to visit on a walking tour of Lisbon:
Here are some self guided walking tours you can embark upon when you visit Lisbon.
1. Historic Alfama
The moment I stepped into Alfama, I felt like I'd traveled back in time. The oldest district in Lisbon, its charm is unmatched. Its maze-like streets took me on a journey filled with surprises at every corner.
One thing you'll notice right away: the sounds of Fado music. These soulful tunes are everywhere, pouring out of tiny bars and restaurants. I remember ducking into one of these places and being immediately enchanted by a singer's passionate performance. Fado, they say, is the heartbeat of Alfama.
São Jorge Castle was another must-visit. Perched high above the city, it's over a thousand years old! The climb was steep, but the views? Worth every step. From up there, I could see the Tagus River shimmering and rooftops stretching out in all directions.
Speaking of views, the Portas do Sol viewpoint became my favorite morning spot. There were cafes, street performers, and locals just soaking in the sun. It's places like these, where time seems to slow down, that make Alfama truly magical.
2. Downtown Baixa and Chiado
Walking into Baixa and Chiado, it felt like I had entered the vibrant heart of Lisbon. The two districts, though different, blend seamlessly and showcase the city's grandeur.
Baixa is all about wide boulevards and majestic squares and the beautiful nearby Lisbon Cathedral. Rua Augusta or Arco da Rua Augusta, for example, is a pedestrian's dream. Lined with shops and cafes, it leads straight to a massive arch that opens up to a view of the river. The triumphal arch at Rua Augusta is like Lisbon's welcome sign. I took an elevator to its top and, let me tell you, the panoramic city view is unforgettable.
Chiado, on the other hand, is the cultural hub. Beautiful theaters like Teatro Nacional D. Maria II and historic cafes such as A Brasileira, where poets like Fernando Pessoa once lingered, dot the landscape. I recall taking a coffee break and feeling the essence of Lisbon's artistic soul surrounding me.
Together, Baixa and Chiado felt like an open-air museum, telling tales of Lisbon's glorious past and its thriving present.
3. Vibrant Bairro Alto
Bairro Alto is a district of contrasts. By day, it's a sleepy neighborhood. Streets are quiet, and you can hear birds chirping. But once the sun sets, oh boy, it's a whole different story!
During my daytime walks, I appreciated its bohemian vibe. Quirky murals, art galleries, and vintage shops, like those on Rua da Rosa, beckoned me to explore. Each street seemed to have its own personality, which made wandering such a delight.
But it was the night that truly defined Bairro Alto for me. Streets that were silent during the day suddenly buzzed with energy. Every corner turned into a party. Locals and tourists alike huddled outside tiny bars, enjoying drinks and laughter. Fado houses played melodies that echoed through the night, while other spots pumped out pop and dance tracks.
Bairro Alto taught me that a place can wear many hats – serene by day and electric by night. It's the district where Lisbon truly comes alive after dark.
4. Riverside Belém
When I first arrived at Belém, it felt like I had been transported to an era of grand explorations and discoveries. The Tagus River caressed the shore, and the iconic monuments told stories of brave sailors who ventured into the unknown.
The Jerónimos Monastery, with its intricate details and gothic spires, was a sight to behold. I wandered its hallways, imagining the monks who once lived there, praying for the safe return of explorers. Just a short walk away stood the Belém Tower. Guarding the river for centuries, it was a symbol of Portugal's Age of Discoveries.
But no visit to Belém is complete without trying the famous Pastéis de Belém. These little custard tarts, sprinkled with cinnamon and powdered sugar, were heavenly! I swear, I could've eaten a dozen in one sitting.
5. Modern and Trendy LX Factory
Hidden beneath the shadow of the 25 de Abril Bridge is LX Factory, a world that feels both retro and futuristic. Once an industrial complex, it has now been transformed into a vibrant cultural space.
I was instantly drawn to the graffiti art and murals that adorned the old factory walls. Shops, like bookstores built within old printing presses, showcased Lisbon's creative spirit. There were rooftop bars, where I sipped on cocktails, and open-air restaurants serving dishes from all over the world.
Each Sunday, there's a flea market. Artisans display their crafts, musicians play tunes, and the atmosphere is just electric. LX Factory was, for me, where old met new in the most delightful way.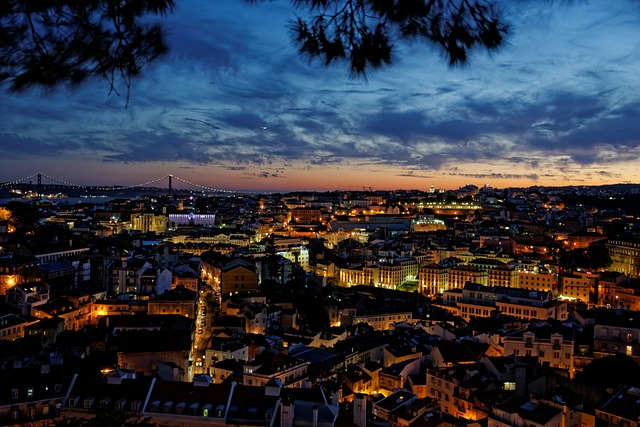 6. Green Oasis of Lisbon - Parque Eduardo VII
Need a breather from the city's hustle? Parque Eduardo VII is the place. Spanning over 26 hectares, this park felt like Lisbon's green lungs. Manicured hedges led me to a viewpoint that showcased the city's sprawling beauty.
One of the hidden gems I stumbled upon was the Estufa Fria. Inside this cool greenhouse, a world of ferns, waterfalls, and even birds greeted me. It felt like a tropical escape in the middle of Lisbon.
I often found families picnicking, joggers doing their laps, and folks simply lounging with a book. Parque Eduardo VII was that serene corner where the city paused and took a deep breath.
7. Tiled Streets of Lapa and Estrela
Wandering through Lapa and Estrela was like stepping into a living art gallery. Everywhere I looked, houses were adorned with azulejos - those traditional Portuguese tiles. Blues, yellows, greens; patterns and stories graced walls and pathways.
The Basilica da Estrela, with its dome and twin bell towers, was a sight to remember. Inside, intricate mosaics and painted ceilings showcased Portuguese artistry.
Just across the road was the Jardim da Estrela, a lovely park filled with ponds, ducks, and even peacocks.
As I walked, the clatter of trams and the distant hum of Fado tunes played a gentle backdrop. Lapa and Estrela, with their tiled beauty and soulful essence, were the perfect testament to Lisbon's timeless allure.
Where to Stay in Lisbon
When planning my Lisbon journey, the sheer range of places to stay left me a tad bewildered.
But with some research and friendly advice, I found areas that suited every kind of traveler.
Baixa and Chiado
These are your go-to districts if you want the hustle and bustle. Historical sites, shopping streets, and numerous cafes - it's the heartbeat of Lisbon.
I lodged near the Rossio Square, a lively hub where the energy of Lisbon is palpable. It felt like I was living in a movie, with trams ringing their bells and locals chatting away.
Alfama
This is Lisbon's oldest district, oozing charm from every brick and tile. Winding alleys, majestic churches, and spontaneous Fado performances make Alfama a dream.
Yes, the slopes might test your calves, but trust me, the views and ambiance are worth every step.
Bairro Alto
If night-time fun is your jam, Bairro Alto awaits. By day, it's calm, with a bohemian vibe. But as night falls, it transforms.
Streets filled with laughter, music, and the inviting aroma of local dishes made my evenings memorable.
Belém
A bit on the outskirts but oozing with serenity. Nestled by the river, it's home to some iconic spots.
I frequently visited the Jerónimos Monastery and indulged in the renowned Pastéis de Belém. Those creamy pastries were a daily treat!
Is Lisbon Safe?
Safety was paramount when I was considering Lisbon. And to my delight, I felt secure throughout my trip. As with any bustling city, there's a need for awareness.
Displaying pricey gadgets isn't wise, and it's always good to be conscious of your environment.
But on the whole, the welcoming demeanor of the locals and the family-friendly vibe made me feel right at home.
Areas to Avoid
While Lisbon radiates charm and friendliness, there are pockets where caution is advisable. Locals shared their wisdom with me:
Mouraria
A district steeped in history but with contrasting shades. Daytime explorations felt safe, but after sunset, some alleys felt a bit uneasy.
Intendente
A melting pot of culture and a district on the rise. There's an eclectic mix of vintage shops and trendy cafes. However, stick to the bustling parts, especially when the sun goes down.
Is Lisbon Safe to Walk at Night?
Lisbon at night was an enchanting experience for me. The streets of central areas like Baixa and Bairro Alto brimmed with life.
I'd often lose myself in the melodies of Fado in Alfama or something at the city center and then take a serene walk under the moonlit sky.
But some golden rules helped ensure safety:
Stick to illuminated paths.
Desolate lanes? Best avoided.
Your intuition is your best guide. If something doesn't feel right, trust that feeling.
With these in mind, I cherished every twilight moment in Lisbon, as the city unveiled a different, magical side after sundown.
Conclusion
Lisbon, with its blend of history, beauty, and charm, felt like a city made for walking. Sure, there were hills.
But after climbing them, there was always a beautiful view or a cool breeze waiting. And those little cafes?
They were perfect for resting my feet and having a pastel de nata (a yummy custard tart).
So, if you ask me, "Is Lisbon walkable?" My answer? Absolutely. Just wear comfortable shoes, grab a map, and let the city lead the way.
FAQs
Is it easy to walk around Lisbon?
Absolutely! Lisbon's neighborhoods are full of charm and are generally pedestrian-friendly.
However, remember that the city has some hilly areas, so a good pair of walking shoes will help!
If however, you do get tired walking, you can head over to a metro station and take the metro. You can travel to nearby locations from the train station.
Are there pedestrian zones in the city?
Yes, places like Rua Augusta in Baixa are pedestrian-only zones, making them perfect for leisurely strolls without worrying about traffic.
What's the best way to navigate the hilly areas?
While walking is great, Lisbon also has funiculars, trams, and elevators (like the Santa Justa Lift) that can help you tackle the steeper parts.
Are guided walking tours available?
Definitely! There are numerous guided tours available.
These tours often provide insights into Lisbon's history, culture, and hidden gems.
How safe is it to walk in Lisbon?
Lisbon is generally safe for pedestrians. Just be mindful of your belongings in crowded areas and always be aware of your surroundings, especially at night.
Is walking the best way to experience the city's culture?
While there are other ways to explore Lisbon, walking allows you to take in the city's details, meet locals, and discover tucked-away spots.
It's a fantastic way to immerse yourself in Lisbon's vibrant culture.
Are there parks and green spaces for relaxed walks?
Yes! Places like Parque Eduardo VII offer a lush, green escape right in the heart of the city.
Any tips for walking in the summer months?
Lisbon can get warm, so it's a good idea to wear sunscreen, carry a bottle of water, and maybe even don a hat.
Try to walk during the cooler parts of the day, like early morning or late afternoon.