The best way to get around Lisbon is:
Rent a car or bring your own
Travel on foot
Take the elevators
Use the metro
Get on the buses
Hop on trams
Enjoy the ferry
Ride around in the tuk-tuks
Try ride sharing
Take the taxis
Use Uber and other apps
Have fun on a segway or scooter
A city of hills, history, and heavenly pastries - Lisbon! When I first landed in this vibrant city, I was a bit lost. How do I get from one place to another? Trams, tuk-tuks, taxis... so many choices!
If you're feeling the same, you're in luck. I've journeyed, stumbled, and discovered the best ways to get around Lisbon.
So buckle up, here's your ultimate guide to navigating the magical city when you visit Lisbon.
Here's how to get around Lisbon city:
Rent a car or bring your own
Last year, I decided to take a trip to Lisbon. Let me tell you, renting a car was a game changer. Now, why would someone rent a car in a city known for its public transport? Surfing beaches! They are a bit far from the city center.
The day I rented the car, I managed to visit 3 beaches in one go. The freedom of having your own four wheels is unbeatable. For instance, I stayed at Praia de Carcavelos until 7pm. Without my car, I would've missed the breathtaking sunset, as it'd have been tough to make a round trip at that time.
Remember, there are places like Costa da Caparica that are around 15 km from Lisbon. With a car, it took me just 20 minutes. Easy-peasy!
Parking? It can be a challenge in the city. But by the beaches? There's plenty. I counted, and there were more than 50 spaces at Praia do Guincho. And hey, if you have your own surfboards, cars like vans or station wagons are perfect. I saw families with kids, surfboards, picnic baskets – you name it.
Travel on foot
My second day in Lisbon was all about walking. The city isn't just elevators and trams. The streets? They're like an open-air museum. Cobbled paths, colorful tiles, and lovely shops – they all tell a story.
Walking is ideal for places like Bairro Alto and Alfama. I must've walked 5 km that day. Sounds a lot, but with so much to see, it flew by.
Oh, and the views! For example, viewpoints like Miradouro da Senhora do Monte. On foot, you can find hidden gems. Little cafes, street art, and friendly cats – I stumbled upon them all.
But remember, Lisbon has hills. Loads of them. So, wear comfy shoes. I wore my sneakers, and they were a lifesaver.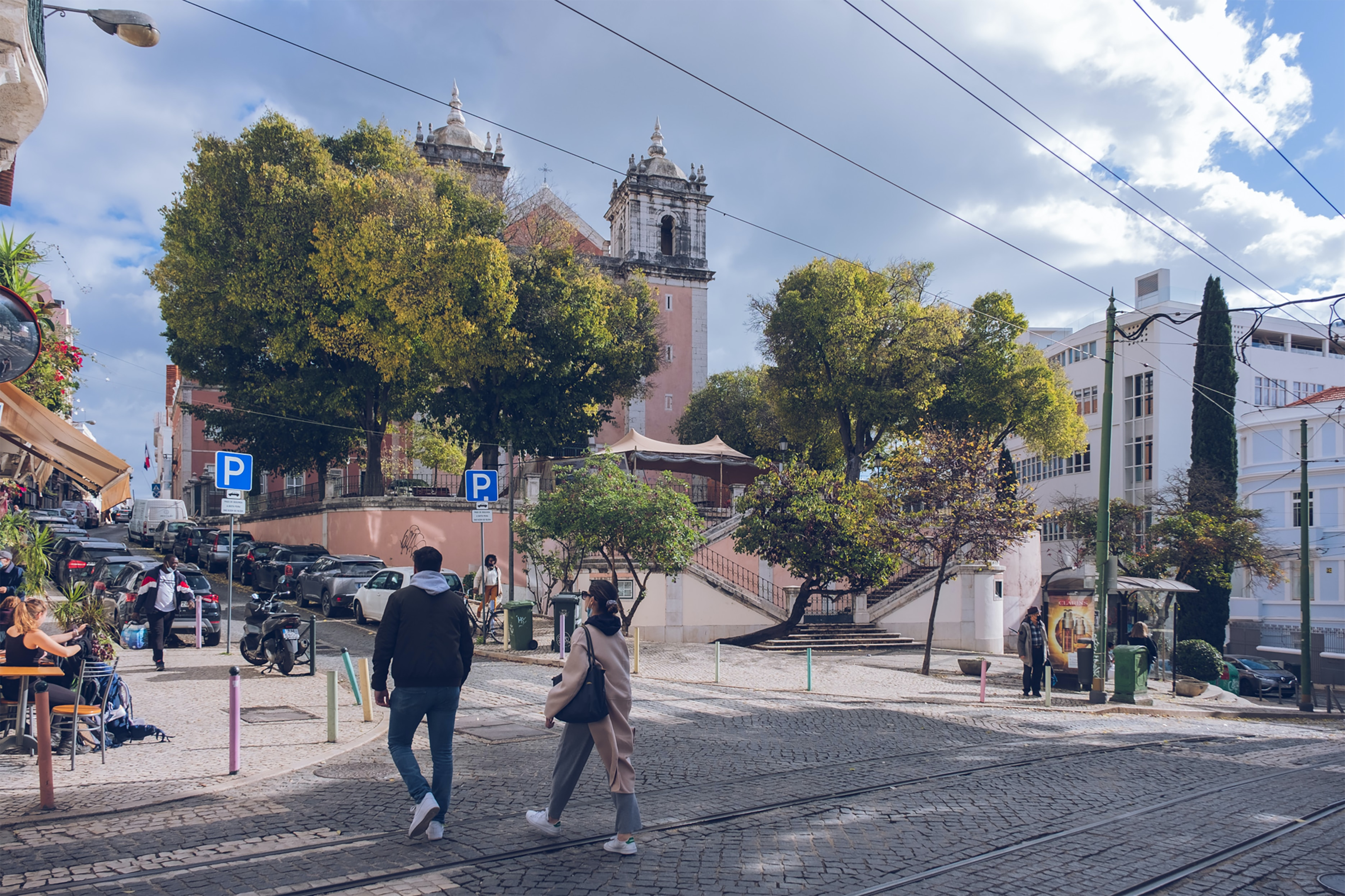 Take the elevators
Lisbon's got some cool elevators, and they're not just for fun. They're super handy! On my third day, I tried them out.
The most famous one? The Elevador De Santa Justa. Built in 1902, it connects the lower streets of Baixa with the higher Largo do Carmo. For just €5, I was on top, gazing at the whole city.
But there's more! There are public elevators, like the ones in Bica and Gloria. They help people get up and down the steep hills. They're like mini trains going up and down. And the best part? With a normal transport ticket, they're free!
I found them great, especially after a long day. Instead of climbing 100 steps, I just hopped on one and reached my destination in no time.
So, if you ask me, each way to get around Lisbon has its own charm. Whether by car, foot, or elevator, this city never stops surprising.
Use the metro
Lisbon's public transportation system is pretty good. The metro is a lifesaver in Lisbon. On my fourth day, I jumped right in. Let me share some metro stations that were super helpful.
Baixa-Chiado: This one's in the heart of the city. It's like a gateway to lovely streets and shops. I popped out and found myself near cafes and historic spots, like the Santa Justa Lift.
Oriente: Fancy some shopping? This station's your best friend. It took me straight to the Vasco da Gama shopping center. Also, there's the Oceanarium nearby, with cute fishes and turtles!
Alfama: Want to explore old Lisbon? Start here. I wandered through narrow streets and met some friendly locals.
Each station has its own magic. Explore a few, and you'll see what I mean.
Metro route map
I got a route map on day one. Trust me, it's a must-have. It's color-coded and super easy. Blue, yellow, green, and red lines - they're all there.
It showed me where to change lines, and how to get to key spots. For example, to get to the airport? Just follow the red line. Simple!
And guess what? There are free maps at every station. I picked one up, popped it in my bag, and off I went! Here's a guide so you can pick the right metro line for your travels:
Colors & Lines:

Blue Line (Azul): Connects Santa Apolonia to Reboleira.
Yellow Line (Amarela): Connects Odivelas to Rato.
Green Line (Verde): Connects Telheiras to Cais do Sodré.
Red Line (Vermelha): Connects São Sebastião to Aeroporto (Airport).

Getting the Map:

Physical Copy: Available for free at every metro station.
Online: Check the Lisbon Metro's official website. They have an updated map.

Key Interchanges:

Baixa-Chiado: Blue and Green Lines.
São Sebastião: Blue and Red Lines.
Marquês de Pombal: Blue and Yellow Lines.

Tips:

Lines start around 6:30 AM and run till 1:00 AM.
Peak hours are usually 7:30-9:30 AM and 5-7 PM. It's more crowded then.
If you're heading to the airport, use the Red Line. But remember to keep some spare time, just in case!
Tickets
Tickets are important. And in Lisbon, they're user-friendly. I bought a "Viva Viagem" card. It's a reusable card, and it cost me just €0.50. Bargain!
I loaded it with credit at the machines. They're in every station and have English options. For a single metro ride? It was €1.50. But there are also 24-hour passes for around €6.40. Great deal if you're traveling a lot!
Remember, keep your ticket till the end. You'll need it to exit the station too!
Get on the buses
I must say, Lisbon's bus network is impressive! Buses can take you places the metro doesn't, and they're perfect for short hops or longer trips. You can even take night buses in Lisbon if you need to.
Here are some of the bus routes in Lisbon:
Bus 728:

Route: This one's a gem. It connects the east and west ends, passing key spots.
Highlights: Belém, the Airport, Parque das Nações.
Tips: Great for a first-day overview of Lisbon.

Bus 744:

Route: Marquês Pombal to the Airport.
Tips: Need a quick route to the airport from the city center? This is your best friend.

Bus 758:

Route: Runs from Cais do Sodré to Quinta dos Barros.
Highlights: The Amoreiras shopping center, and the historic Lapa district.
Lisbon buses can be a bit slower because of traffic, but the views? Totally worth it. If you want a night bus, then there are two types you can take.
The Rede da Madrugada (lines 201-210) runs daily during the intervals when the daytime lines are not in service, whereas the Night Bus (lines 1 and 2) operates exclusively on weekends and the evenings before public holidays.
And the cool thing? You can use the same "Viva Viagem" card for the buses too!
Hop on trams
Oh, the trams! They're like time machines on rails. Vintage, yellow, and super cool to ride.
Here are some tram lines you should check out:
Tram 28:

Route: This is the superstar. It winds from Martim Moniz to Campo de Ourique.
Highlights: Alfama, Baixa, and Estrela. It's like a mini tour of the city!
Tips: It gets crowded. Try to catch it early morning or late afternoon.

Tram 15:

Route: From Praça da Figueira to Belém.
Highlights: Belém Tower and Jerónimos Monastery.
Tips: Perfect if you want to see Belém without the hassle of buses.

Tram 12:

Route: A short loop around the city center.
Highlights: Sao Jorge Castle.
Tips: A quieter alternative to Tram 28 for some parts of the city.
Trams are not just transport; they're an experience. Sit by the window, feel the breeze, and watch Lisbon's beauty unfold.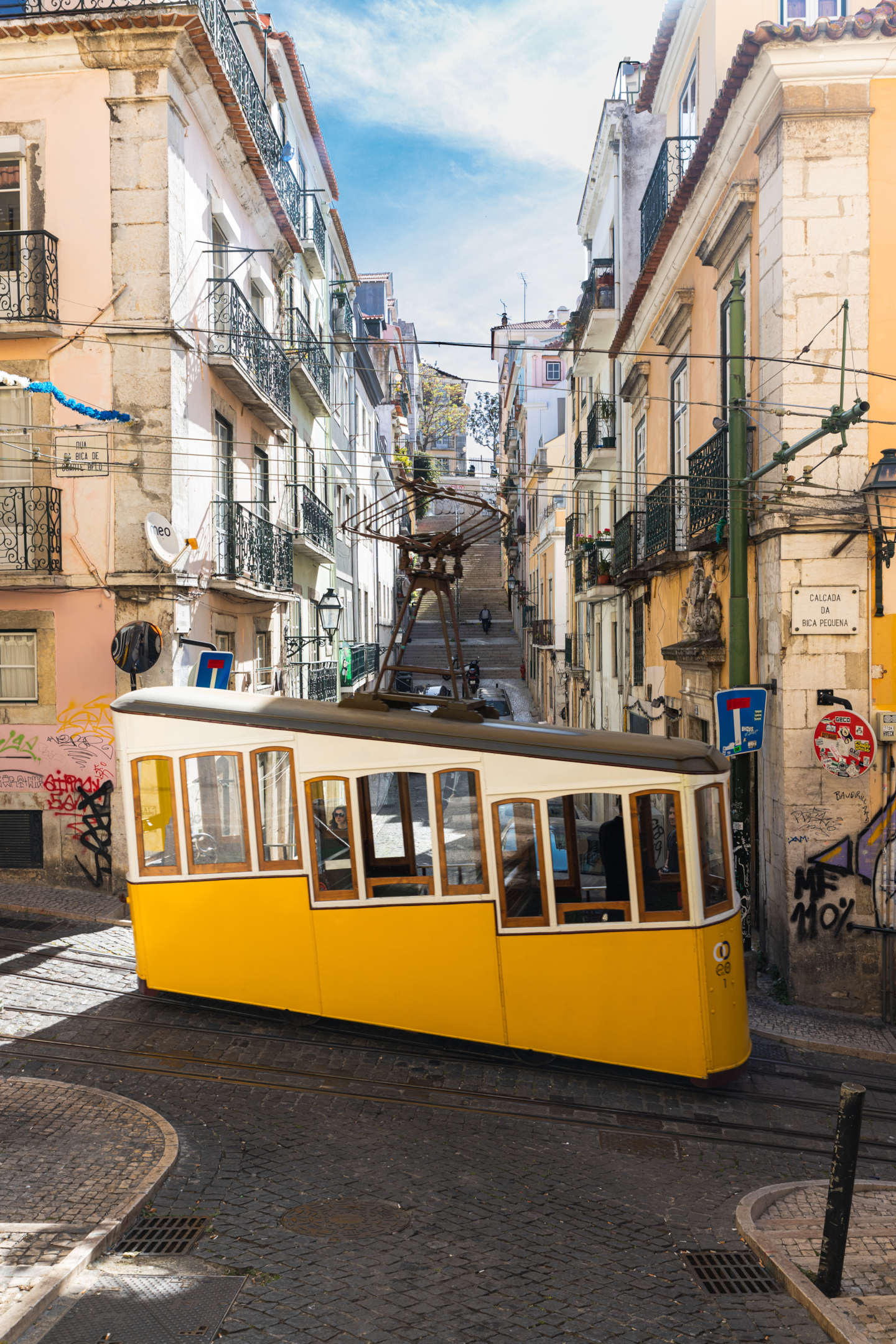 Enjoy the ferry
I'd heard about Lisbon's ferries, but experiencing them was another level of fun. The city sits by the river Tejo. It's wide, shiny, and absolutely beautiful.
One day, I took a ferry from Cais do Sodré to Cacilhas. It's a short trip, about 10 minutes. But oh, the views! I got to see the whole of Lisbon from the water.
The cityscape, the 25 de Abril Bridge, and the statue of Christ the King. It all looked so postcard-perfect.
For beach lovers, there's more. Ferries also go to places like Trafaria. From there, a short bus ride took me to the beach. Sun, sand, and the sound of waves. Perfect!
Ride around in the tuk-tuks
Now, let's talk about tuk tuks. These are small, colorful vehicles, almost like open-sided taxis. They zip and zoom through Lisbon's streets. I took one on a whim, and boy, was it a ride!
The driver was friendly and told me cool stories.
We weaved through narrow alleys, went up steep hills, and saw hidden spots. Places like little squares where kids played or old men sat chatting.
Tuk tuks are great for short distances. They can go where buses or trams can't. But a small tip? Negotiate the price before hopping in. It helps.
In all, Lisbon's transport options are as unique and charming as the city itself. Whether on an elevator with a view, a ferry by the river, or a tuk tuk in the alleys, every ride is an adventure.
Try ride sharing
When I first landed in Lisbon, I wasn't sure how to get to my hotel. But guess what? A local told me about ride sharing. It's like carpooling, where you share a ride with others going in the same direction.
Using apps like BlaBlaCar, I found drivers who were heading my way. It was cheaper than a taxi and more fun.
We chatted, listened to music, and even stopped for a quick coffee on the way. And the cool part? I made a couple of new friends!
I learned that with ride sharing, it's good to book in advance. Especially during busy times like festivals.
Take the taxis
Lisbon's taxis are everywhere. They're mostly cream-colored cars, waiting in lines at places like airports, any train station, and big squares. One night, after watching a Fado show, I went back to my hotel in a taxi. Taxis are quick and easy to get around here.
The drivers? Some of them told me amazing stories about the city. Like ghosts in Alfama or the best spots for pastéis de nata. Just remember: always check if they use the meter. And keep some cash handy, as not all taxis take cards.
Use Uber and other apps
Now, let's talk about Uber. It's pretty popular in Lisbon. I used it a few times, especially when I was late or had too many shopping bags.
The process was simple: I put in my location, requested a ride, and voila! A car would show up.
There are other apps too, like Free Now and Bolt. They work just like Uber. I downloaded them all. Why? Sometimes one app would have a better deal or shorter wait time. It's always good to have options!
Have fun on a segway or scooter
One sunny day, I decided to try something different: a Segway. Yes, those two-wheeled things you stand on!
There are shops, like Lisbon by Segway, that rent them out. After a quick lesson, I was rolling through the streets. It was SO much fun!
And scooters? They're everywhere! Apps like Lime and Bird let you rent electric scooters. I found them on sidewalks, scanned the QR code with my phone, and off I went. They're fast, fun, and perfect for short distances.
Just a tip: always wear a helmet. Safety first!
In Lisbon, it doesn't matter how you travel. Car, taxi, scooter, or Segway, every ride is a new adventure in this beautiful city.
Traveling around the city: Lisboa Card
The Lisboa Card is a pass offering free or discounted access to Lisbon's transport and major tourist attractions.
When I first planned my trip to Lisbon, a friend suggested the Lisboa Card. And am I glad I listened! This card is like a golden ticket to the city.
So what is it? It's a card that lets you travel for free on buses, trams, elevators, and even trains. But wait, there's more! It gets you free or discounted entry to lots of places, like museums, palaces, and monasteries.
I got mine for 3 days, but they have 24-hour and 48-hour options too. Every time I hopped onto a tram or visited a place like the Belem Tower, I'd flash my card and get in without any fuss.
The best part? I saved loads of money. Those euros helped me buy extra pastries and souvenirs. Yum!
Lisbon airport to city centre
Landing in Lisbon, the excitement was real. But how to get to the city center? Luckily, it was super easy.
I had a couple of options:
Metro: The airport has its own metro station. In about 20 minutes, I was in the city center. Quick, right? The metro was clean, and the signs were easy to follow.
AeroBus: This is a special bus for airport travelers. It's comfy, has space for luggage, and goes to key spots in the city.
Taxis & Ride-sharing: Just outside the airport, there were plenty of taxis. And apps like Uber? They work here too!
I chose the metro. It felt like I was diving straight into the Lisbon experience from the get-go.
Tips for getting around
Traveling around Lisbon was fun, and I learned some neat tricks along the way:
Wear comfy shoes: Lisbon is hilly. There are lots of ups and downs. My sneakers? They were lifesavers.
Stay alert on trams: They're cool but can be crowded. I always kept an eye on my bag.
Get a transport card: Cards like Viva Viagem or Zapping save time and money. No need to buy a ticket every time!
Ask the locals: Sometimes, I'd ask locals for directions or tips. They always had the best advice.
Plan your day: Some places close early or are busier at certain times. I'd check ahead to make the most of my day.
Enjoy the journey: Whether on foot, tram, or tuk-tuk, there's always something new to see. Don't rush; soak it all in!
Remember, in Lisbon, every journey is a chance to discover something magical.
Conclusion
Lisbon has a heartbeat of its own, and the journey around its streets is as thrilling as the destinations themselves.
From the old trams creaking up the hills to the sweet breeze during a ferry ride on the Tejo, every mode of transport offers its own unique flavor.
Remember, it's not just about the destination; it's about the ride, the sights, the sounds, and the stories.
So, whether you're scooting, walking, or riding, let Lisbon's charm sweep you off your feet.
FAQs
Is the metro system easy to use for non-Portuguese speakers?
Absolutely! The signs are clear, and there's English on the ticket machines. Plus, people are generally friendly if you need help.
Are taxis expensive in Lisbon?
Compared to other European cities, taxis are reasonably priced. But always ensure the meter is running to avoid surprises.
I've heard a lot about pickpockets. Any advice?
Like many tourist spots, it's wise to be cautious. On crowded trams or in busy areas, keep an eye on your belongings. A crossbody bag that zips up is a good choice.
Can I use ride-sharing apps like Uber throughout the city?
Yes, Uber and other similar apps operate in Lisbon. They can be a handy way to move around, especially if you're in a hurry.
Is walking a good way to explore Lisbon?
Definitely! The city is full of surprises at every corner. But remember, it's hilly. So wear comfy shoes and be ready for a mini workout.
Any must-try transport experience?
Oh, the tram 28 ride is iconic. It's like a moving postcard of the city. Don't miss it!