You should spend three days in Sintra to explore the city in a wholesome manner.
When you're ready to embark on an unforgettable journey, a visit to Portugal's enchanting town of Sintra is the perfect choice.
Just a quick train ride from Lisbon, this captivating destination offers guests stunning architecture and spellbinding natural beauty in abundance.
With its grand palaces and magnificent gardens, it can be difficult deciding how many days are necessary for your trip. With careful planning one can certainly make the most out of their stay here!
Summary - how to plan your Sintra itinerary:
Spend 1-3 days in Sintra to explore captivating attractions and hidden gems.

Plan your budget, transportation & accommodation for an enjoyable trip without surprises.

Visit between April and October for the best weather & fewest crowds!
How many days to spend in Sintra?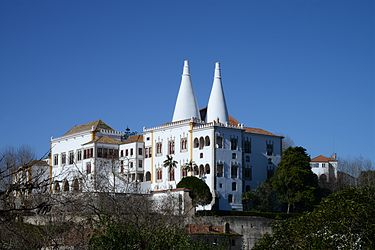 Image source: Wikipedia
You can spend anywhere between half a day to a week to explore Sintra.
How many days you decide to stay in Sintra depends on what appeals to you and how much time is available. Sightseeing in this mesmerising town of castles, palaces, and gardens can take between one to three days depending on the schedule you've made for yourself.
Appreciating all it has to offer requires more than a few hours. If time is limited, you can opt for half-day trips, but even then, there's a high chance that you may miss out on some attractions without dedicating enough time.
For those with limited time wishing to make a trip from Lisbon and yet experience everything possible, employing the help of an experienced guide can significantly ease things within a one-day frame. However, spending two or three days allows for relaxed exploration, ensuring no details slip away unnoticed during your visit.
Concluding when visiting Sintra relies solely on personal interests as well as what is feasible keeping one respective timescale into account.
Why should you visit Sintra?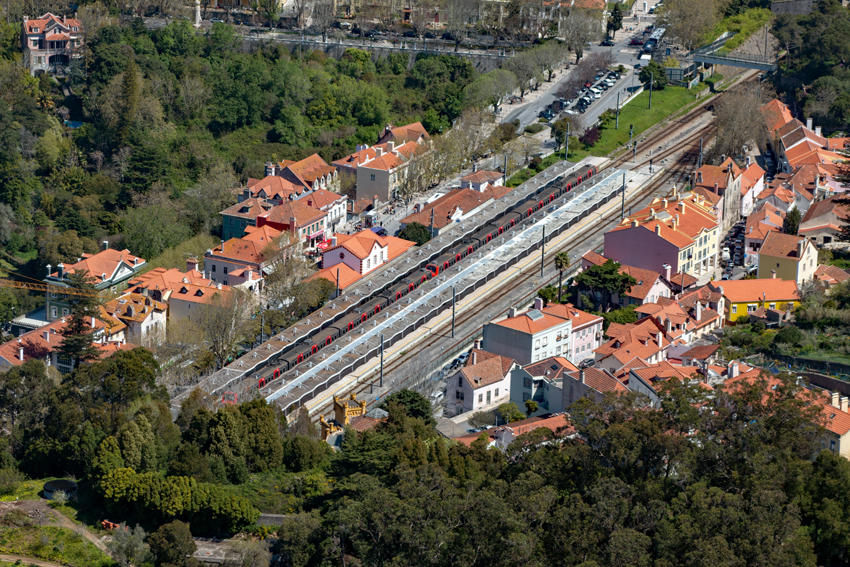 Image source: Wikipedia
Visit Sintra as it's a destination that can offer a one-of-a-kind fusion of captivating history, remarkable architecture and beautiful natural scenery.
It is recognised as part of the UNESCO World Heritage Site, making it an essential place to visit while in Portugal. My personal experience at Pena Palace was absolutely breathtaking. The view from the palace terrace, overlooking the town of Sintra and the Atlantic Ocean, is one that I will never forget.
There are several palaces/castles worth visiting such as Pena Palace, National Palace, Castle of the Moors, Quinta da Regaleira and Sintra Palace offering stunning views for those looking for something special. During my trip, I found Quinta da Regaleira to be an especially hidden gem, with its intricate architecture and mystical gardens.
Located near Lisbon and nestled within the splendid 'Sintra Mountains', guests have great flexibility when deciding the duration of their trip - whether it's just a day tour or a longer stay allowing a fuller enjoyment of all area attractions.
The historic center, with its breathtaking winding streets and interesting shops and restaurants, definitely makes this city stand out from others around Europe.
A pilgrimage to Sintra presents amazing opportunities to learn about its immense cultural heritage while also being able to absorb nature's beauty in every direction. No wonder why so many people decide not miss exploring this wonderful region during their stay in Portugal!
Various Sintra itineraries
When planning your trip to Sintra, there are various tour lengths you can choose from ranging from short half-day tours all the way up to week-long excursions.
When selecting what is right for you, it depends on your personal interests, the amount of time you have available, and the attractions you'd like to visit.
To help narrow down the best route for exploring Sintra, I will discuss each itinerary option in detail so that you can have an unforgettable journey.
Half-day trip to sintra
If you are making a half-day excursion to Sintra, the best way for sightseeing would be to visit either Pena Palace or Quinta da Regaleira.
At Pena Palace, marvel at its eye-catching colors and architectural styles while taking in the amazing views of Sintra and the surrounding environment.
Unfortunately due to limited time available during your day trip, it is not possible to fully appreciate both attractions within this short period.
If choosing between them, then one must definitely visit Quinta da Regaleira with its mysterious gardens grottoes plus Initiation Wells that will take your breath away.
Bear in mind that spending just a half-day on vacationing around Sintra tends to offer you only a small taste of the beauty of this town so returning for a longer visit is advisable if you are looking to immerse totally and experience the enchantments held by Sintra completely.
Day trip to Sintra
If you're planning your Sintra day trip itinerary, be sure to visit the iconic landmarks of Pena Palace, Moorish Castle, and Quinta da Regaleira. If you prefer, you can hire a Sintra day trip guide to accompany to avoid any hassle.
Your first stop should be at the enchanting Pena Palace with its unique architecture set against a lush parkland backdrop.
From there you can make your way up to unforgettable views from nearby Moorish Castle's fortress walls before finishing off by exploring all that is mysterious about beautiful Quinta da Regaleira – featuring gardens along with an impressive palace and chapel!
With this action-packed itinerary for just one day in Sintra, it will create some incredible memories of Portugal forever etched into your mind.
Two day trip to Sintra
For a two-day stay in Sintra, you will be able to take advantage of the wealth of attractions this charming town has to offer. Begin your day trip itinerary with visits to Pena Palace and Moorish Castle followed by an exploration of Quinta da Regaleira.
On your second day, make time for Monserrate Palace and its tranquil botanical gardens as well as Convento dos Capuchos which is situated within the beautiful Sintra Mountains.
With these two days at hand, you have ample opportunity to dive deeper into all that Sintra has to offer, from fascinating historic sites around its center to discovering some of its hidden gems tucked away among hills and mountainsides!
Three day Sintra itinerary
Spend three days uncovering the wonders of Sintra by exploring lesser-known spots and strolling around gardens and forests. For example, Villa Sassetti features a beautiful Mediterranean design while the Chalet of the Countess is an historic building situated in Pena Park.
If you love hiking, take advantage of your third day to traverse through the Sintra Mountains for some stunning views before completing your enchanting journey within this town. Spending all these days here will create long lasting memories that are both enjoyable and enriching!
One week in Sintra
Given a week to spend in Sintra, it is possible to explore the area at your own pace and discover all its beauty. Consider visiting Praia da Ursa near Cabo da Roca or taking an exciting tram ride through town for even more interesting sightseeing opportunities.
With seven days available, visitors can truly immerse themselves in the city's rich history and culture, and also take time to appreciate the stunning natural surroundings of this region of Portugal. This way you'll be able to create unforgettable memories during your stay!
A suggested 3 day Sintra itinerary: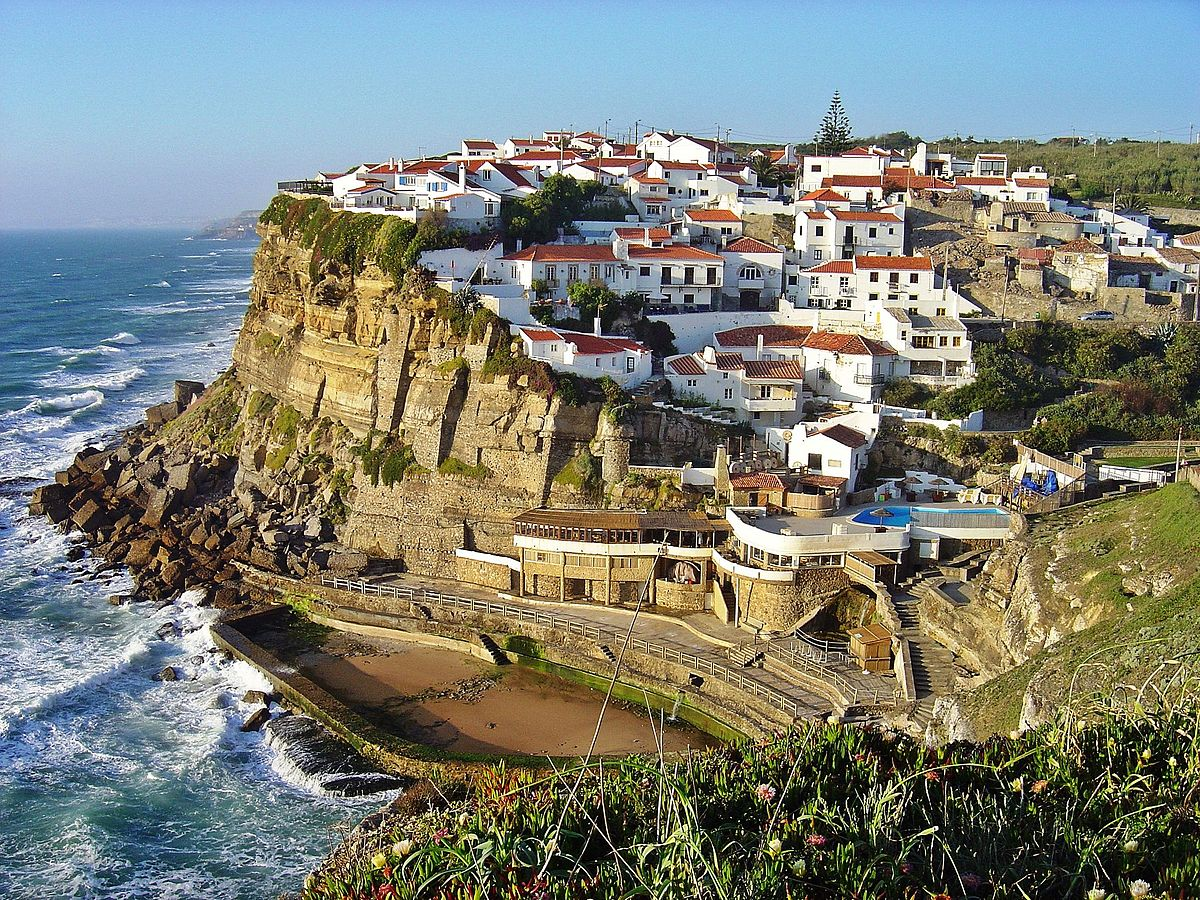 Image source: Wikipedia
If you want to make the most of your three-day Sintra experience, I have a perfect itinerary lined up for you. It will let you explore both renowned attractions and local hidden gems in order to give yourself an opportunity to create lasting memories from this magical town.
We suggest visiting Pena Palace - the iconic site, Moorish Castle and some lesser known places too during these 3 days. This way, it'll ensure that all visitors are satisfied with their exploration journey when leaving Sintra!
Day 1
Start your day in Sintra with a trip to Pena Palace where you can marvel at its architecture, grand interior and the stunning grounds of Pena Park. Spend around 1 hour 30 minutes here before continuing on to Moorish Castle for more incredible views across the countryside.
The vibrant colors of Pena Palace stood out against the lush greenery, and the breathtaking views from its highest points made the uphill walk absolutely worthwhile.
Take some time to explore Sintra's historic center, including the National Palace, which is full of quaint shops and restaurants offering traditional Portuguese food – perfect for dinner as your special day comes to an end!
Day 2
On your second day in Sintra, start by exploring the enchanting estate of Quinta da Regaleira. Get up close and personal with its luxurious palace, chapel and explore the intricate gardens that are filled with Initiation Wells, grottoes as well as towers to marvel at!
I was particularly enchanted by the Initiation Well, a spiral staircase that descends into the earth like a portal to another world.
Next on your list should be a visit to Monserrate Palace. Feast your eyes upon its stunning architecture while taking time out for some peace and quiet within their botanical park.
Don't forget about the Summer Palace either – give yourself around one or two hours here before moving on to Convento dos Capuchos, situated near the Sintra Mountains.
Here you can observe where Franciscan monks used to stay during days gone by - appreciating their quaint lifestyle is something not many get an opportunity to do so don't miss it! After visiting all these sites throughout today's exploration, make way back home for a great night rest.
Day 3
During your three days exploring Sintra, you may uncover hidden gems like Villa Sassetti, a structure that reveals architectural history. Close-by the Pena Park is The Chalet of the Countess of Edla where unique details can be admired in its design.
For those who enjoy an outdoor activity such as hiking, take advantage and immerse yourself into nature through one of their many trails located within the Sintra Mountains for some beautiful views.
Wrapping up this extraordinary journey and remembering all these magical moments from this enchanting town has been quite special!
Practical information for planning your Sintra itinerary

When planning your trip to Sintra, you should keep practicalities such as transportation, lodging and budgeting in mind. Taking the train from Lisbon is a convenient way for making it an easy day trip destination – with tickets costing less than 5 EUR return and only taking around 40 minutes of travel time.
Alternatively, there are plenty of guided tours available too that include pick up at accommodation sites as well as being taken directly to various attractions in the area.
Sintra has multiple options when it comes to finding somewhere suitable for staying overnight, including classic hotels situated near historic spots or even rural places located close by some main sights - just remember to make sure everything's reserved ahead so you don't miss out!
To save money while exploring here, consider buying into the Sintra Pass which offers access plus discounts on certain activities. Also factor in meals/transport costs depending on how long you plan to stay, since these can become costly expenses during any visit.
How to plan your budget for a Sintra trip?
To plan your budget for your Sintra trip, factor in the cost of lodging, food, attractions and transportation. Accommodations run from inexpensive guesthouses to upscale hotels.
Be sure to book early as this can help secure better rates and availability. Eating out ranges anywhere between casual cafes at an average expense per two diners of €35-45 or opt for a more luxurious experience with fine dining restaurants.
The Sintra Pass is also worth looking into if you are intending on visiting numerous sites, it offers a great discount compared to individual entrance fees! The Sintra Pass proved to be a great investment during my trip. It saved not just money but also time spent in ticket lines.
For those travelling by rail from Lisbon, no need to worry about expensive fares since return tickets come cheaper than 5 EUR each way! Bus and taxi fares should also be factored into expenses, so bear that in mind when allocating funds too.
How to get around Sintra?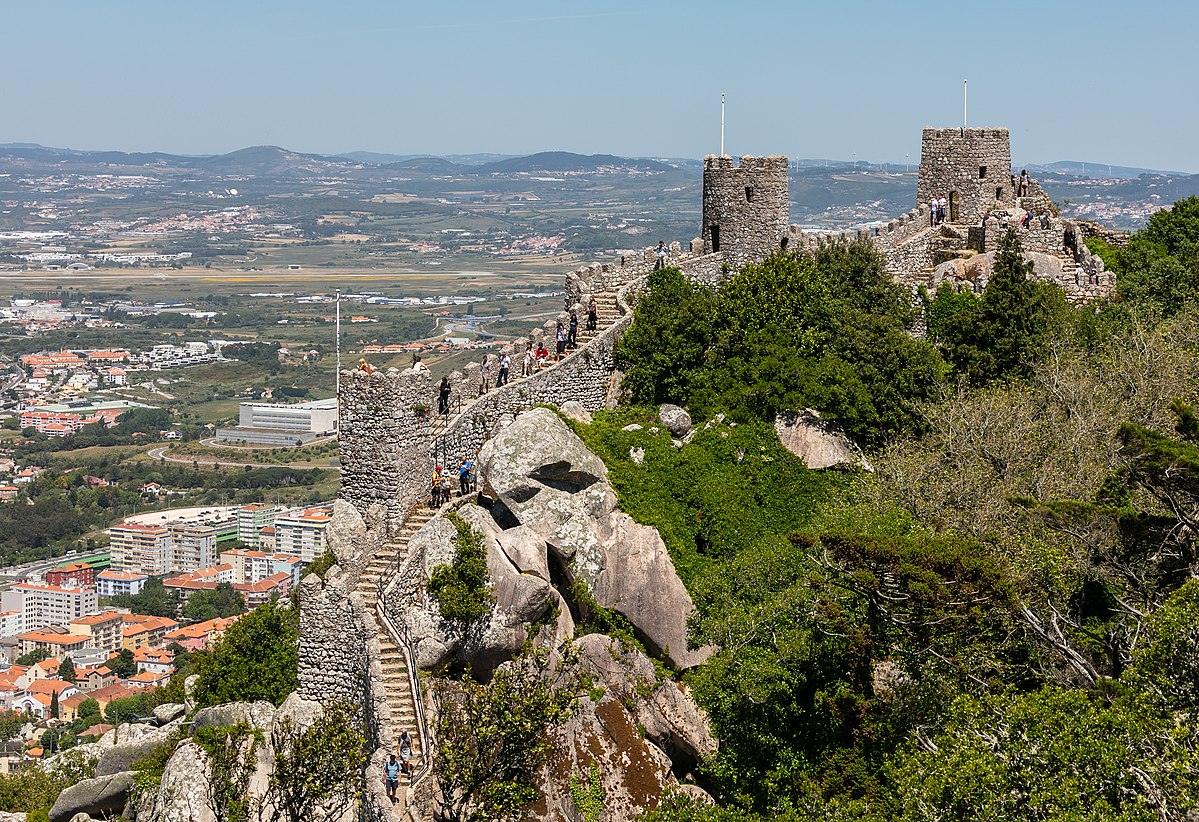 You can get around Sintra by bus or walking with ease.
Exploring Sintra's hills and valleys can be daunting, but there are several ways to traverse it. Buses like the 434 & 435 offer access to the Sintra station, downtown area, and attractions for 6.90€ with a day pass, or 11.50€ for unlimited riding on all buses around town for 24 hours.
If you prefer walking, some of its sights are at an acceptable distance from where city life is based – Steep roads may challenge your physical effort if not adequately prepared! Bike rentals present another possibility.
Electronic ones come highly recommended as they allow full appreciation of breathtaking views while helping you climb uphill easier! Whichever mode takes your fancy don't forget to take enough time to make sure that everything gets fully savoured during this fantastic journey.
Where to stay in Sintra?
Stay in the Sintra's historic center for an unforgettable experience. This central location provides easy access to must-visit attractions such as Pena Palace and Quinta da Regaleira. Immerse yourself in the enchanting atmosphere of this UNESCO World Heritage site.
When planning your Sintra visit, you'll want to secure the perfect accommodation based on your preferences and budget.
If being in the heart of town is important for you, then there are charming hotels within the historic centre that might be suitable such as The Sintra Boutique Hotel or Tivoli Sintra Hotel with easy access to all key attractions, restaurants and transportation hubs like buses and trains.
On the other hand, if a more peaceful setting sounds appealing, consider staying close to one of the major tourist spots in guesthouses or villas located around nearby mountains, which provides great access while providing serenity from the hustle bustle of city center.
To ensure availability, it's best practice to book ahead since this area often gets booked up quickly due to its popularity.
What is the best time to visit Sintra?
The best time to visit Sintra is in spring or autumn.
When planning your visit to Sintra, it is best to go in the spring or autumn, as the weather will be more moderate and there are usually fewer tourists. This allows you to appreciate all of what this quaint city has to offer with unhurried strolls around its gardens and forests.
Conversely, avoid traveling during the summer, when crowds can reach their peak size along with high temperatures. To ensure a most pleasant vacation experience, opt for visiting in either of these shoulder seasons rather than at full season times throughout the year!
Summary
Sintra, with its history-filled atmosphere and picturesque architecture set against the backdrop of breathtaking nature views, is a destination that truly captivates every traveler. During my stay, I found myself continuously enchanted by the blend of history, art, and nature that Sintra offers.
From Pena Palace to Quinta da Regaleira's mysterious gardens or short day trips to nearby towns such as Cascais, Sintra offers something for any schedule - from half-day tours up to weeklong stays.
Whichever option you choose will be an unforgettable experience guaranteed to make you yearn for your next visit!
Frequently Asked Questions
How many days do you need in Lisbon and Sintra?
To gain the full experience of Lisbon and Sintra, 5-6 days should be set aside. Spend three exploring the capital city before taking day trips to nearby attractions or villages such as Sintra. The remaining time could then be used to explore other parts of Portugal including Fatima/Batalha and Algarve regions.
Is it worth staying in Sintra?
Yes, it is worth staying in Sintra. This location is a must-visit, boasting an array of spectacular palaces and vistas steeped in centuries of history. Sintra's undeniable charm makes it truly captivating. You can check out this more elaborate guide on is Sintra Portugal worth visiting here.
Can I do Sintra in half a day?
Yes, you can do Sintra in half a day. If you have only a half day to spare, you could visit Sintra and get the full experience by prioritizing your stops. I recommend two must-see spots: Pena Palace and Quinta da Regaleira for an unforgettable journey.
How much time do you need in Sintra?
You need around three days in Sintra. If you're short on time, it's still possible to get a good idea of Sintra in just one day. I advise staying for two days or more if possible.
Three or four would give you plenty of opportunity to take in the famous Romanticist architecture and visit some key landmarks.
Spending a night there is also highly recommended so that visitors can truly immerse themselves into this beautiful town with all its attractions!
Also making your itineraries for other Portugal destinations? Check out my guides on these:
What are some must-see attractions in Sintra?
Some must-see attractions in Sintra are:
Pena Palace

Moorish Castle

Quinta da Regaleira

National Palace of Sintra
These are imposing structures full of beauty & grandeur! A day trip to the magnificent National place would be really worth your time.
So don't miss out on visiting these palaces which speak volumes about Portuguese heritage in terms of architecture, art and design- definitely something you shouldn't pass up! If you are also considering other locations in Portugal, some suggestions are Aveiro, Porto, and the Algarve region. Check out our guide on the best time to go to Porto here.