The best time to visit Lagos, Portugal is April, January and May for weather conscious people. However the cost at this time can be a lot more than the off season.
Are you eager to visit Lagos, Portugal in 2023 and uncertain as to when the best time would be? Worry not! I can help.
In this blog post, I will provide guidance through each season's climatic aspects, the most crowded months versus the least busy ones, varied seasonal experiences, and a detailed analysis of monthly weather patterns. This way, you can make an informed decision about the optimum time for your trip to take full advantage of all that this beautiful city has to offer!
Short Summary
Lagos offers a comfortable climate with mild temperatures & humidity levels.

April, January, and May are the busiest months to visit while October is least crowded.

Best time for younger people: June - Oct. Older travelers should visit in Sept/Oct for peaceful experience.
Weather in Lagos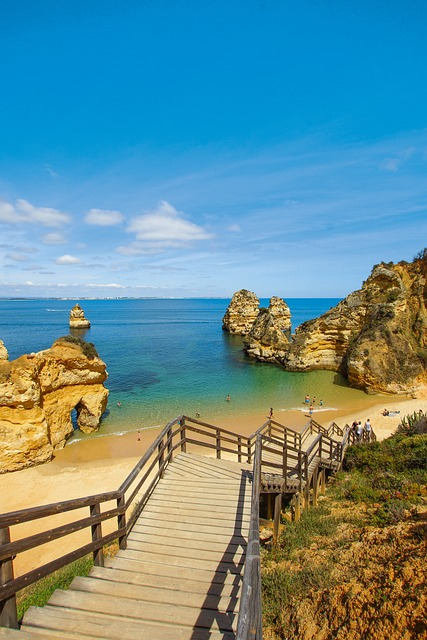 When planning your trip to Lagos, understanding the weather patterns and temperature is essential for choosing the best time of year. This region boasts a Mediterranean climate with typically hot summers that are dry and mild winters filled with rain showers.
To better assist in selecting when you should visit Lagos, let's look at some basic information about its yearly precipitation levels as well as humidity stats all throughout the calendar! Armed with this knowledge, it will be easier to pinpoint exactly when would be an ideal moment for heading off on your journey there.
Having experienced Lagos' weather firsthand, I can attest to its generally mild climate, characterized by hot, dry summers and cool, wet winters. It's an experience that's unique to the Mediterranean region and certainly added a refreshing dynamic to my trip.
Temperature
For the perfect time to visit Lagos, consider its hot summers, with temperatures rising up to 26°C (79°F) in July, August, and September, which are considered its hottest months. These provide optimum weather for beach activities.
On the other hand, winters have milder temperatures hovering around 15°C (59°F). Those who prefer cooler weather can always choose from spring or autumn when it offers comfortable range of temperature between 12-22 °C(53-71 ° F), making it an ideal time of year to pay a visit!
Precipitation
Visiting Lagos in the summer months of June, July and August is a great time for outdoor activities since rainfall during these times tends to be minimal.
On the other hand, when planning trips at any point within November - which experiences an average annual precipitation rate of 355mm - it's crucial that you pack appropriately and make allowances for possible rain showers.
Humidity
Lagos usually has varying levels of humidity that depend on the season. December is a more humid month than other times whereas May presents a much lower moisture content in comparison. The average humidity in the region is about 65-80% through the year.
This variation could affect your travels if you have trouble with high humidity conditions specifically. If humidity is a concern for you, consider May as it is the least humid month in the region.
No matter what time of year it is though, Lagos offers an agreeable climate for tourists to enjoy their stay and get the most out of their experience there.
What are busiest and least crowded months in Lagos?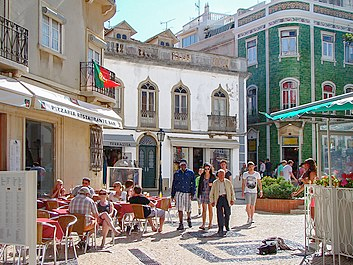 The busiest times of the year are April, January, and May while October is the least crowded. If you're visiting during peak months, be prepared for an energetic atmosphere with a thriving nightlife scene and plenty of events to enjoy.
On the other hand, if you want something more tranquil then October is your best bet as this month has significantly fewer tourists than any other season- allowing visitors who are after a calmer experience easy access to all that makes up culture life within the city's limits.
With fewer crowds taking away from its natural beauty, there's no better time than now to explore what Lagos has to offer!
Travel experience by season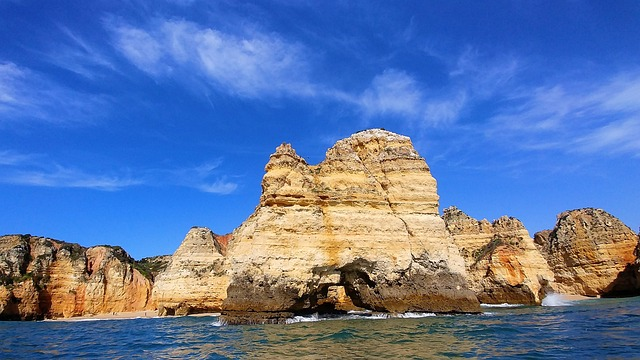 When it comes to Lagos, the type of peak season that matches your travel style depends on the weather conditions and activities you prefer.
We will evaluate what each one has in store for travelers: winter, spring, summer and autumn. Here I look into their advantages as well as any drawbacks they may have!
With this information at hand, visitors can make an informed decision about when it is best to visit beautiful Lagos.
I found winters in Lagos rather mild, with the city offering many opportunities for exploration and enjoyment. Visiting historical sites without overwhelming crowds was an enriching experience.
Winter (December to February)
During the winter season, Lagos offers many opportunities for exploration and enjoyment without being overwhelmed with crowds or expensive flights. The weather does cool down to an average temperature of 15°C (59°F), but there's still so much that can be done in this wonderful city!
Historical sites abound, offering insight into its past, local cuisine is plentiful providing delicious dishes worth trying, and cultural events provide plenty of entertainment to participate in. Be sure you bring a warm coat. Those evening temperatures can drop quickly, so be prepared!
Visiting during the colder months really has some advantages when it comes to exploring all that Lagos has to offer.
Spring (March, April)
Visiting Lagos in the Spring is an ideal time to take advantage of its pleasant temperatures, bright sunny days and beaches that aren't so crowded. You can make use of this great opportunity by engaging in outdoor activities such as hiking, biking or even water sports, all while taking a stroll through the wonderful city streets.
Although rain may be seen occasionally during these months, it does not greatly affect your experience, making it still an optimal visit!
With mild conditions across the lagoons, now is most definitely a fantastic time for you to go explore what wonders this vibrant city has to offer!
Summer (June to September)
During the summer months, Lagos is a great destination to visit. As the temperature rises, visitors can experience up to 26°C (79°F). With its warm weather, it's an excellent time for beach activities such as swimming in the sea or sunbathing.
There's also vibrant nightlife entertainment from around the world that brings life into this city during these times of high temperature.
So if you're looking for fun-filled days combined with hot climate then lagos should be your next summer vacation spot!
Autumn (October, November)
In the autumn season, Lagos is an ideal destination for those seeking a relaxing travel experience with mild weather and fewer tourists.
Temperatures are comfortable, providing ample opportunity to discover all that this city has to offer including its cultural attractions or just taking in the view along its coastline.
The rainy season makes touring somewhat unpredictable, but overall, it's a peaceful time of year which provides locals and visitors alike with great authenticity while exploring during low season conditions.
Average monthly weather in Lagos through the months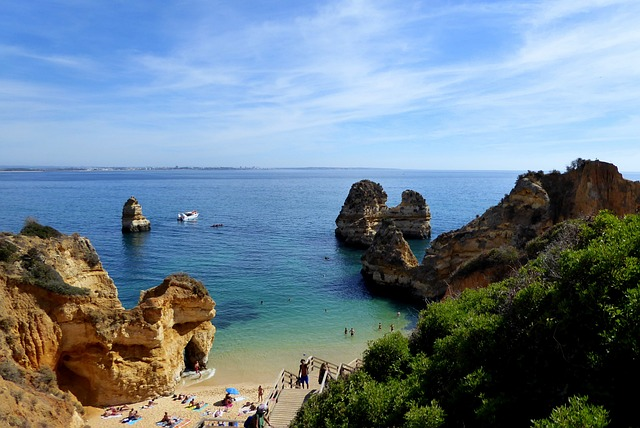 Exploring the average monthly weather of Lagos can help gain a better understanding of climate conditions. To aid in planning your trip according to your needs, I will provide information about temperature, humidity and precipitation levels for each month there.
Temperature is perhaps the most important factor when visiting any destination. Knowing what it looks like over an extended period can give you more flexibility with regard to scheduling activities or sightseeing during certain times of the year that may be preferable due to their relatively mild temperatures or less rainfall, respectively
You should take into consideration varying humidity averages as well, which are also indicated here, so you have all necessary data at hand in order to make wiser decisions when deciding how to spend your money.
Lagos in January
For those wanting to avoid the hustle and bustle of peak season, January in Lagos is ideal with a moderate chance of rain amidst an average temperature ranging around 61°F (16°C).
Warm clothing should be packed for cooler evenings as mild winters are common. Although unpredictable weather may occur during this month such as sunny days or cloud coverage. It still offers tranquillity compared to other times of year.
Lagos in February
The typical climate in Lagos throughout the month of February is comparable to that experienced during January. The weather brings a combination of sun and clouds, as well as some possibility for rainfall on average.
With an average temperature near 18°C (64°F), it is recommended to bring warmer clothing when travelling at night.
Due to fewer holiday goers visiting the area and mild temperatures, February offers wonderful opportunities to immerse yourself in local culture or take pleasure in its natural wonders, making this a great time!
Lagos in March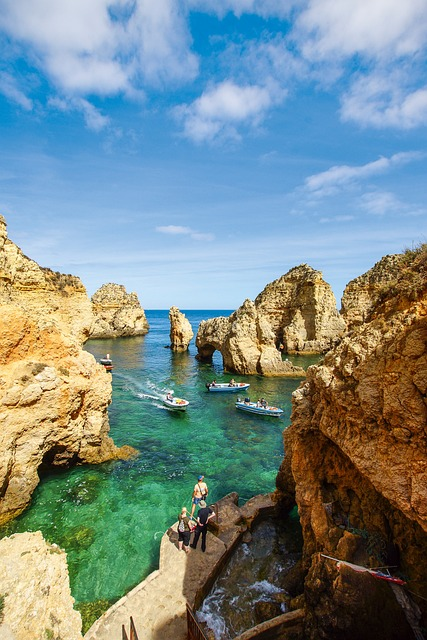 In March, the weather in Lagos becomes more temperate with daily highs climbing from 62°F to 65°F and overnight lows ranging between 9.5°C (49.1°F) and 18.8°C (65.84°F).
These perfect temperatures make it an ideal time for outdoor activities such as cycling or going to the beach while enjoying pleasant warm days and cool nights.
Lagos in April
The month of April in Lagos provides inviting weather conditions with temperatures averaging from 18°C (64°F) to 20°C(68°F). At night, the temperature is slightly cooler.
You should consider bringing a light jacket as temperatures can dip down to 13-15 degrees Celsius. This season presents an exceptional opportunity for travelers looking to explore and experience this beautiful city without encountering large groups or tourist seasons.
The warmth of this time of year makes April the ideal choice when visiting Lagos!
Lagos in May
Visiting Lagos in May offers visitors a pleasant climate for outdoor activities and beach days, with temperatures ranging between 22°C (72°F) to 15 °C (59 °F).
Intermittent rainfall is common during this month though, so having an umbrella or light rain jacket handy could be essential.
Despite the possibility of showers, it's still considered a great time to come explore all that Lagos has to offer, both its natural beauty and lively culture!
Lagos in June
Visiting Lagos in June is a great option, as the weather during this time of year typically brings temperatures between 25°C (77°F) and 29°C (84°F), making it ideal for beach activities, water sports and sightseeing.
Humidity levels tend to be lower at this time of year, which adds to visitors' comfort. So if you're looking for an enjoyable visit with lots on offer then June in Lagos should definitely be your chosen destination!
Lagos in July
July is usually one of the most scorching months in Lagos, with mean daily temperatures reaching 25°C (77°F) and humidity levels being an average of 75%. Despite this heat wave that descends every summer, July offers great chances for beach-goers to enjoy plenty of aquatic activities as well as raving nightlife.
When planning a visit, be sure not to forget sunscreen essentials and keep yourself hydrated!
Lagos in August
In August, the city of Lagos offers warmth with average daily temperatures hovering around 26°C (79°F) and nights at 22°C (72°F).
Sun-seekers will have plenty to enjoy in this month as there is a lot of sunshine during the day. Humidity tends to be high, but overall it's an excellent time to experience what Lagos has to offer.
The warm weather makes it ideal for beach trips throughout August. Given its lengthy 12 hours of sunlight each day, tourists can expect optimal conditions when visiting this part of Africa!
Lagos in September
For those travelling to Lagos in September, the weather should be pleasant with temperatures varying between 23°C (73.4°F) and 27°C (80.6°F).
Daily highs reach 25-29°C (77-84°F), making this an ideal month for outdoor fun or a trip to the beach. Though there may be short periods of rain during that time, it will not significantly disrupt any sightseeing plans people might have while visiting the city.
This allows full access to all its attractions without interruption from precipitation!
Lagos in October
The month of October in Lagos has a pleasant atmosphere with temperatures ranging from 22°C (72°F) to 17°C (63°F). Though the climate may be somewhat variable, overall it is peaceful and calming.
For those looking for an authentic experience when visiting Lagos and its surrounds, this can be an ideal time to go there.
Lagos in November
If you're looking to visit Lagos, November is a great time! With fewer tourists and comfortable temperatures ranging from 20°C (68°F) up to 12°C (54°F), the city offers visitors pleasant weather.
Although it's the wettest month in Lagos with average rainfall of 109mm, there are still plenty of enjoyable experiences awaiting those who choose this season for their journey.
So take advantage of these mild months and explore what amazing culture & attractions Lagos has to offer!
Lagos in December
In December, Lagos enjoys an average temperature ranging from 12°C to 16°C, offering a pleasant winter escape. The weather remains mild with occasional rainfall, creating a lush green landscape.
Visitors can enjoy quieter streets, as the tourist crowds thin out during this off-peak season, providing a more intimate and relaxed experience of this beautiful coastal town.
The best time to visit Lagos for younger people
For younger people, the perfect time to visit is between June and October, as it's more budget friendly. During this period of six months, the city offers many events with vibrant nightlife along beaches that make for an unforgettable experience.
Young tourists will find these activities more affordable during this window, which maximizes their trip without costing too much money.
The best time for older people to visit Lagos
The best time for older people to visit Lagos is the autumn season of September and October - these times are ideal those who seek an unhurried and calming journey.
During this period, mild weather as well as lower tourist numbers make it much easier for travelers to authentically experience local culture in peace while exploring all that this incredible city has on offer.
This is also a great opportunity to get closer with locals at your own pace and truly enjoy every second spent here!
Summary
If you're looking for the ideal time to visit Lagos, Portugal in 2023, then summer and autumn should be at the top of your list.
Summer is an exciting season that's full of energy with plenty of activities on offer such as beach trips or sightseeing around city streets while during autumn visitors are blessed with a peaceful atmosphere which brings out more authentic experiences.
Whether it's vibrant summers or relaxed summer days spent by its stunning beaches - there isn't any better place than Lagos!
Frequently Asked Questions
How many days do you need in Lagos Portugal?
With two days in Lagos, you can explore the old town and enjoy the stunning coastline. For beach holidays, 5 days is ideal to make sure you have enough time to swim at each beach.
Is Lagos worth visiting in Portugal?
Yes, Lagos is worth visiting. Lagos, a city in Portugal, is an amazing place to visit. It boasts breathtaking scenery of the ocean and its rocky cliffs, with Ponta da Piedade being particularly noteworthy!
Kayaking is one way that visitors can appreciate this magnificent coastal landscape up close. An unforgettable experience awaits those who choose Lagos as their holiday destination! Check out this more extensive guide on 'Is Lagos worth visiting', too.
What is the hottest month in Lagos Portugal?
The hottest month in Lagos, without a doubt, is August. With average temperatures ranging from 78°F at their highest to 66°F at its lowest.
What is Lagos Portugal best known for?
Lagos, Portugal, is a paradise for tourists seeking stunning beachfront scenery and activities. The Algarve Faro District location boasts pristine waters, white sand beaches with rocky formations up against towering cliffs providing breathtaking views.
It's the perfect place to soak in some sun or take on some surf while exploring coves and caves nearby nature-lovers will adore.