Yes, Lagos Portugal is worth visiting for its breathtaking beaches, the Lagos Marina, Ponta da Piedade, Benagil caves, historic buildings and churches.
Top places to visit in Lagos:
Beaches: Praia Dona Ana, Praia do Camilo, Praia de Porto

Lagos Marina

Ponta Da Piedade

Benagil Caves

Dr. Jose Formosinho Museum

Slave Market
You should surely cross these places off your Lagos, Portugal itinerary.
At a Glance: Why Visit Lagos, Portugal?
Lagos, Portugal, is an indispensable stop on any Portuguese itinerary. It's a unique gem with breathtaking golden beaches, dramatic cliffs, pulsating nightlife, and charming cobbled streets.
This city has it all, from beachside adventures to electrifying nightclubs, positioning Lagos as an ideal locale for an unforgettable holiday experience!
However, you may be wondering if it's truly worth your time. To assist you in making that decision, I've shared some personal insights from my experience on the most common queries below:
Immerse yourself in the mesmerizing beauty of Lagos' stunning beaches, mystical caves, and enchanting grottos!
Indulge in the city's vibrant nightlife, savor its succulent seafood, and soak in its rich cultural attractions.
An ideal destination for explorers of all ages - I suggest visiting during the shoulder season to avoid crowds and inflated prices.
Breathtaking Beaches
A visit to the golden beaches of Lagos offers an unparalleled way to spend your day. Praia Dona Ana and Praia do Camilo are two exquisite spots bordered by majestic cliffs, secluded coves, and crystal-clear waters that will leave you awe-struck.
Reclining in these spectacular settings with sun-kissed sand promises an unforgettable experience for anyone who ventures here!
Praia Dona Ana
Situated on the southern edge of Lagos, Praia Dona Ana is an undisputed gem. This beach flaunts a resplendent golden sand and crystal clear waters nestled between jaw-dropping cliffs, perfect for swimming or merely sunbathing.
The rock formations in this region also make it a prime spot for snorkeling and exploration, amplifying the allure of Praia Dona Ana!
Getting there is fairly straightforward too – you can either drive or catch a bus to this tranquil haven. The nearby bars and restaurants only enhance its appeal.
Praia do Camilo
The Praia do Camilo in Lagos is a non-negotiable for its striking rock formations and dramatic cliffs. It's a treasure trove for photographers, brimming with plenty of picturesque vistas. Be prepared, though, for the challenging ascent of more than 200 steps!
During peak season, this beach might get busy, so if you prefer a less bustling atmosphere, consider visiting during the shoulder season. The journey will be well worth it, as you find yourself entranced by the beautiful landscapes that beckon admiration.
Praia de Porto Mós
If you yearn to escape the city hustle and experience a tranquil beach, Praia de Porto Mós is your answer.
This serene spot offers ample opportunities for relaxation, whether swimming or sunbathing in its peaceful waters amidst picture-perfect surroundings.
Not too far, there's a fantastic restaurant right on the shore, serving delectable meals while offering guests breathtaking views of the surrounding landscape!
An excellent choice for those seeking a tranquil haven (especially families wishing to spend quality time), Praia de Porto Mós awaits your visit.
Praia da Batata
For those eager to explore the nearby historic center of Lagos, Praia da Batata is an excellent choice, thanks to its proximity.
With plenty of water sports on offer, and an eroded tunnel leading to Praia dos Estudantes that flaunts its man-made arch, thrill-seekers and surfers won't be disappointed!
It delivers everything needed for an enjoyable day out at one of Portugal's most vibrant destinations. This beach is truly incomparable!
Boasting captivating surroundings and bustling activity, why not venture to see what makes this spot so extraordinary?
Fascinating Lagos Marina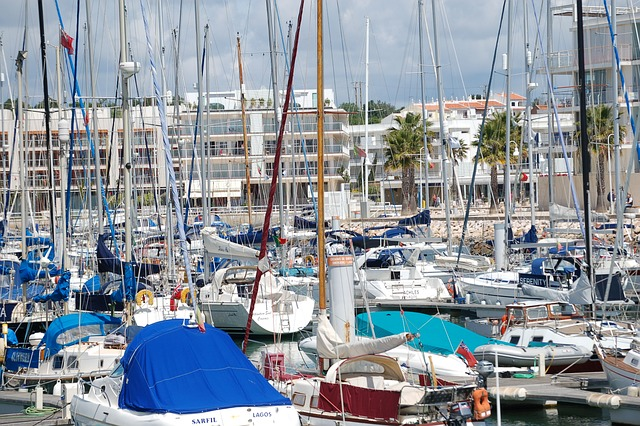 Having visited Lagos Marina, I can attest to the vibrant and pulsating atmosphere that it offers. The calmness that envelopes the marina as you enjoy a boat tour is an experience I'll never forget.
At Lagos Marina, you can explore the many exciting activities and places to eat. During daylight hours, take a pleasant stroll while enjoying one of its boat tours or having something tasty from a cafe or pub. When it gets dark, there's still much entertainment for visitors looking for an enjoyable night out.
Sample the delicious seafood on offer in any of its restaurants, watch as sunset lights up over beautiful harbour views during a peaceful evening sail by boat – anything that takes your fancy is possible at this charming destination!
Captivating Ponta de Piedade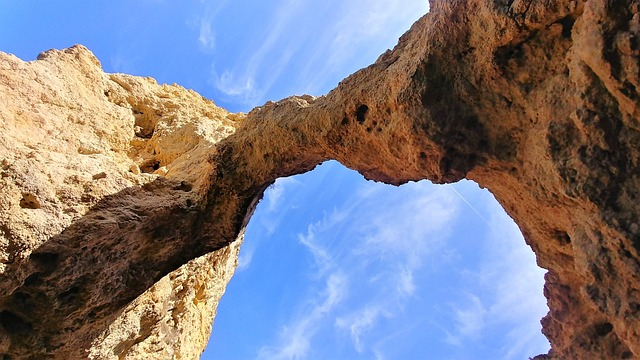 A must-see spot during your trip to Lagos is Ponta de Piedade's mesmerizing coastal area. Carved out by the Atlantic Ocean, this majestic site features remarkable cliffs, grottos and caves that are best enjoyed through boat or kayak rides.
Your tour will show you beautiful rock formations and sea arches formed from many years of ocean activity, simply an unforgettable sight! Take a camera with you so you can capture everything these spectacular views have to offer.
Beautiful Benagil Caves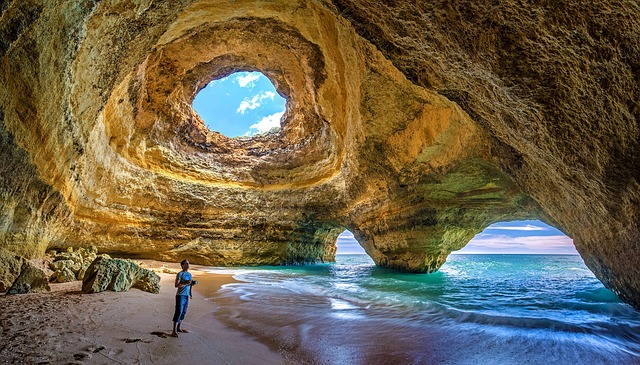 Lagos offers a great sightseeing experience: the Benagil Caves. Venturing into the Benagil Caves was like stepping into another world.
The sunlight reflecting off the rock formations and casting an ethereal glow across the caves is a sight that will forever be etched in my memory.
Tourists can explore these sea caves with their boats, SUPs, or kayaks, and they will be mesmerized by the natural sculptures of rock formations inside, and the light that reflects from their surfaces when sun rays hit them.
Don't forget to bring your waterproof camera along for capturing those stunning visuals! Every age group finds this attraction unforgettable once they experience it.
Educative Dr. José Formosinho Museum
The Dr. José Formosinho Museum, located within the Igreja de Santo António church in Lagos and its surrounding Algarve region, is an ideal destination for anyone interested in learning more about this area's culture and history.
This museum holds a collection of artifacts and religious art pieces, as well as exhibits focusing on traditional skills from antiquity to now that offer insights into the vast heritage found here, including everything from Roman relics to azulejos detailing local craftsmanship.
An exploration through these displays reveals a unique glimpse into past centuries, rich with cultures throughout Lagos and nearby areas. It's one stop not to be missed when exploring or vacationing around this spectacular region
Stunning Ponta de Bandeira & Governor's Castle
ocated in the old town of Lagos, Ponta de Bandeira is a 17th-century fortress that has been transformed into a museum. Close by is Governor's Castle, which consists of two impressive towers guarding an entrance to the city.
By exploring these sites visitors can time travel and learn more about the fascinating history embedded within this beautiful area. It's certainly worth taking some time to appreciate what remains from days gone by for those interested in understanding all aspects of life in Lagos during its formative years!
Historic Slave market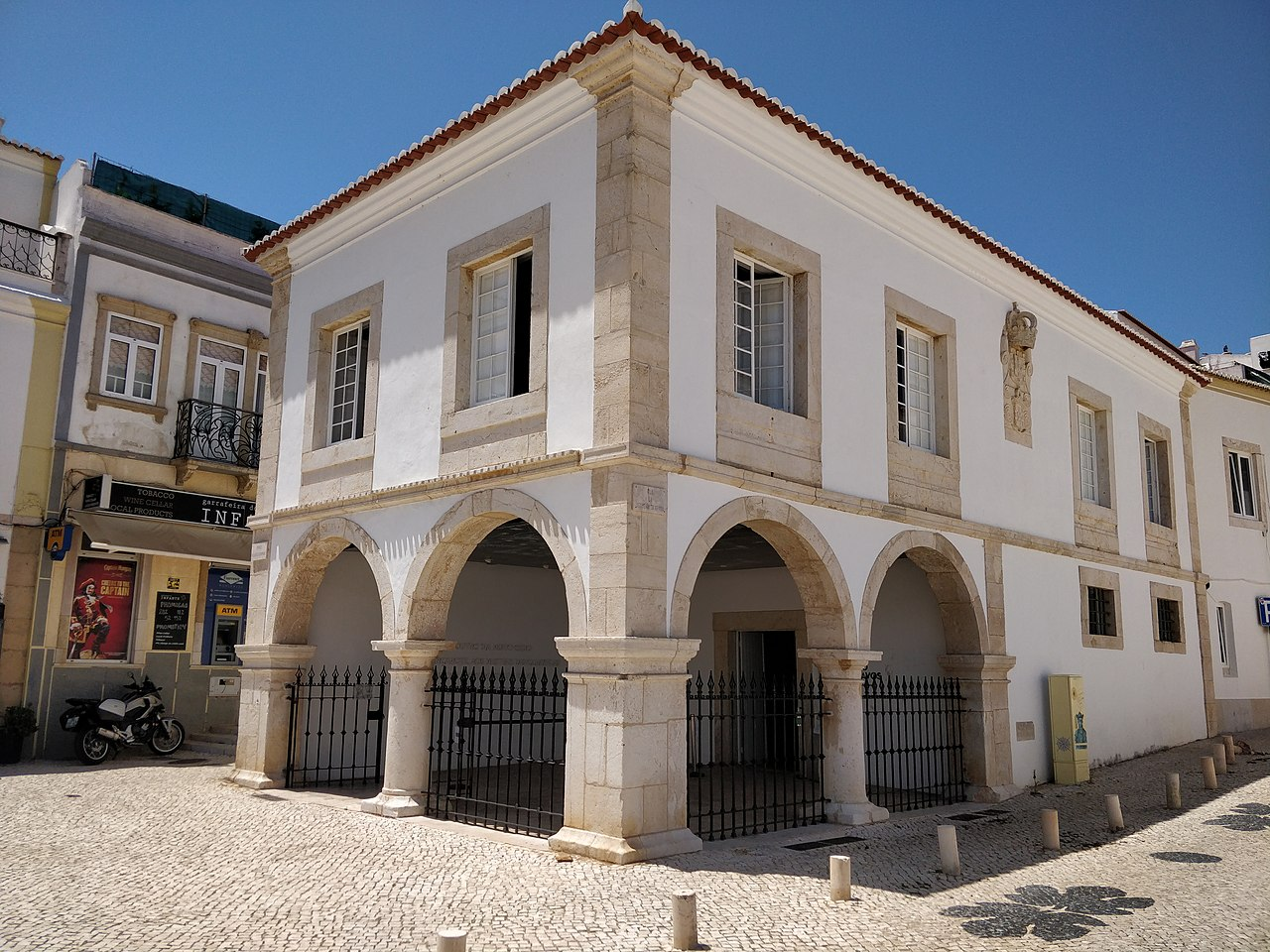 Image source: Wikipedia
Located in the old town of Lagos, a visit to the slave market or Mercado de Escravos museum offers an educational and powerful experience about this unfortunate part of Portuguese history. My visit to the Slave Market museum was an eye-opening experience.
In its former capacity as Europe's first slave market, today it serves primarily as a reminder for all visitors regarding the long-lasting repercussions from such events throughout African culture.
Through various artifacts and displays inside its walls one can gain better understanding into how these enslavements took place centuries ago through poignant insight into what would have happened during that time period.
Picturesque Igreja de Santa Antonio
The Igreja de Santa Antonio is a must-see when in Lagos. It boasts exquisite gilded carvings, an impressive golden altar and intricate azulejos that provide visitors with a peaceful atmosphere to admire the artistry of its creation. Accessible from inside the Dr José Formosinho Museum, guests can investigate all parts of this religious site and find hidden gems too.
It is impossible not to be moved by such stunning craftsmanship. Every area within has been designed as though it was sculpted for eternity, a testament to why so many people are captivated by the grandeur of this beautiful church while visiting Lagos!
Enchanting Whale & Dolphin watching
Are you wishing to get a closer look at some of the sea's most magnificent animals? Then consider going on a whale and dolphin watching boat tour in Lagos.
Witnessing majestic whales and playful dolphins in their natural habitat was one of the highlights of my trip to Lagos. The sight of these magnificent creatures leaping out of the water was a breathtaking spectacle.
Professionally guided with marine biologists, these outings will grant you both an instructive journey as well as many amazing memories while observing various creatures in their native environment.
Don't forget your camera since it'll help capture all those incredible sightings!
Superb nightlife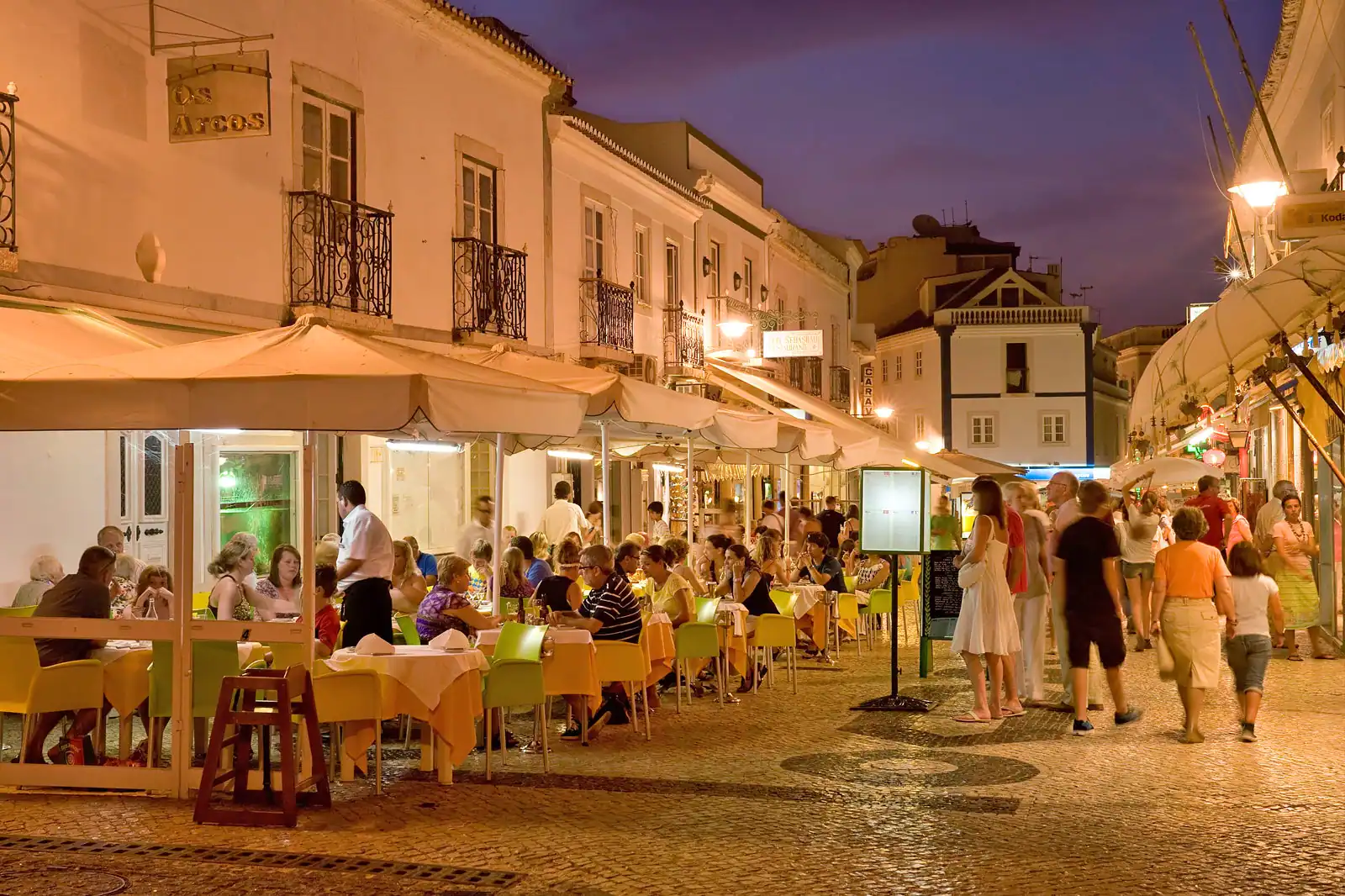 Source: https://in.hotels.com/go/portugal/best-nightlife-lagos
If you're looking for a vibrant evening atmosphere, Lagos has it all. Whether it's the lively clubs playing chart-topping music or casual marina bars offering delicious drinks. This city is sure to provide an experience that matches your preference and vibe!
For those who enjoy letting loose on the dance floor or having a relaxing chat with friends over cocktails, Lagos nightlife promises something perfect for any occasion.
Thrilling kayaking experiences
For an adventure-packed getaway, kayaking around Lagos' cliffs and caves is the perfect way to explore its breathtaking scenery. With guided tours, boat trips and rentals easily available from local companies, you can paddle through secret inlets whilst admiring impressive rock formations up close.
This thrilling experience will bring your beach holiday to life, something all thrill seekers should consider!
Charming shops and restaurants in the Old Town
Walking around the charming old town of Lagos, visitors can find plenty to explore with its cobblestone streets and abundance of shops. Restaurants offer a wide selection for everyone's tastes from traditional Portuguese meals to global cuisine as well as fresh seafood dishes.
When in the historic area, make sure not miss out on stopping by local markets where you will be able to get yourself some nice ingredients such as freshly caught fish or locally grown produce that will add something extra special to your stay.
Memorable day trips
Lagos provides a great jumping-off point for day trips to close by places like Sagres, Burgau and Praia da Luz. Every one of these areas features its own unique attractions ranging from the dramatic landscapes in Sagres all the way to the cozy appeal found in Burgau as well as unforgettable seaside views at Praia da Luz.
With numerous activities available throughout this region, called the Algarve, Lagos stands out as an optimal starting spot for discovering it first hand.
Bustling fish market and seafood tours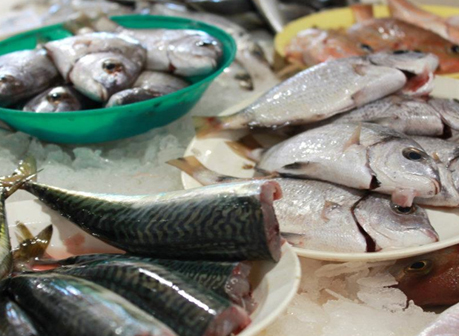 Image source: https://www.goodtimeslagos.com/lagos-fish-market/
For seafood aficionados and those interested in the fishing history of Lagos, a visit to its fish market is an absolute must.
Watching the fishermen unload their catch of the day, and then tasting the freshly cooked seafood, was a treat for the senses.
Here one can sample delectable local fare as well as benefit from guided tours and cooking workshops that provide insight into the area's longstanding traditions related to seafaring.
These exclusive experiences grant tourists a glimpse into Portugal's iconic culture, which makes this city so unique compared with other destinations around the world.
Vibrant culture tours of Lagos and Sagres
To have a truly immersive experience in the culture, art, and traditions of Lagos and Sagres located in southern Portugal, why not sign up for one of the several cultural tours available?
These guided journeys provide travelers with an opportunity to see various historical sights as well as participate in food-and-wine tastings. hese tours offer them a comprehensive understanding of this unique area.
Don't miss out on the amazing chance to uncover authentic Portuguese history; come discover what makes these two cities so special!
Exquisite wine tasting
For those with an interest in wine, the Algarve countryside near Lagos provides a unique opportunity to explore local wineries and sample some of the area's best offerings. Wine tasting tours are available that will give you insight into how these wines come about as well as a relaxed atmosphere for enjoying them.
Whether you're already knowledgeable on fine wines or simply wish to test something different. This is certain to be an enjoyable experience that won't disappoint - it's great for both experts and novices alike!
Unforgettable walking trips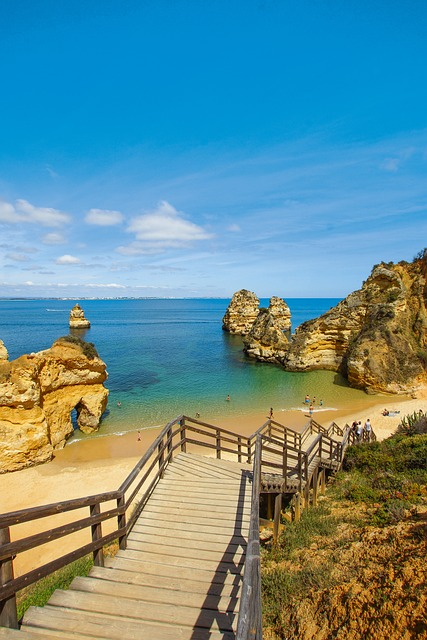 As someone who has explored Lagos extensively on foot, I can assure you that putting on your walking shoes and taking in the city's unique topography is a rewarding experience. From meandering along cobbled streets in its old town to tackling dramatic cliffs, there's something for everyone, no matter what your fitness level or interests are!
If you want an easy stroll, delve into the city's history. If it's adventure that takes your fancy, then behold natural beauty alongside stunning coastlines.
Perfect surf
Come and experience the amazing sensation of surfing in Lagos with its many beaches catering to everyone, from those just starting out to more advanced surfers. The gorgeous sunny weather combined with consistent swells makes it an ideal location for all your board riding needs!
Don't miss this incredible chance to try some wave-riding fun at one of Lagos' numerous stunning sandy shores - you'll be glad that you did.
Who should visit Lagos, Portugal?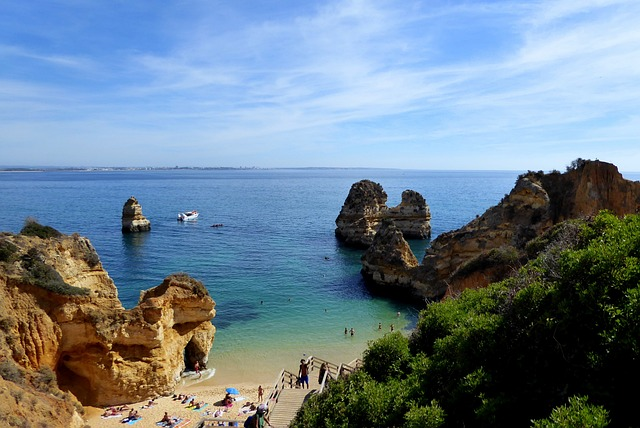 Anyone can visit Lagos and the place has something for everyone, a fact I discovered firsthand during my visit. The stunning beaches were a joy to relax on, the diverse cultural landscape was a treasure trove of traditions, and the food was an extraordinary experience that tantalized my taste buds.
There are also plenty of exciting activities around town so you can take your pick depending on whether you're looking for rest or exploration! Beautiful beaches await those visiting this gem of Portugal as well as many other wonders that will surely surpass expectations.
When to visit Lagos?
The best times to visit Lagos are April-May or September-October. Why not plan an unforgettable trip to the exotic destination of Lagos, Portugal and visit its stunning beaches during this season?
These months offer warmer temperatures and sunny days but are less crowded than peak season when prices tend to be higher. So you can get great value for money as well as enjoy this beautiful city in a much more relaxed atmosphere. You can check out this extensive guide on the best time to visit Lagos to make a more informed decision.
What's the best place to stay in Lagos?
Visitors to Lagos can easily find accommodation that suits their needs. From deluxe beach resorts and city hotels to cosy guesthouses or self-catering apartments.
Whether you would like a place close by the antique old town, near the vibrant marina, or have your toes touching golden sand, there's something in Lagos just perfect for you!
No matter where No matter where you choose to stay, all of this wonderful city's sights are within reach.
The best place to eat and drink in Lagos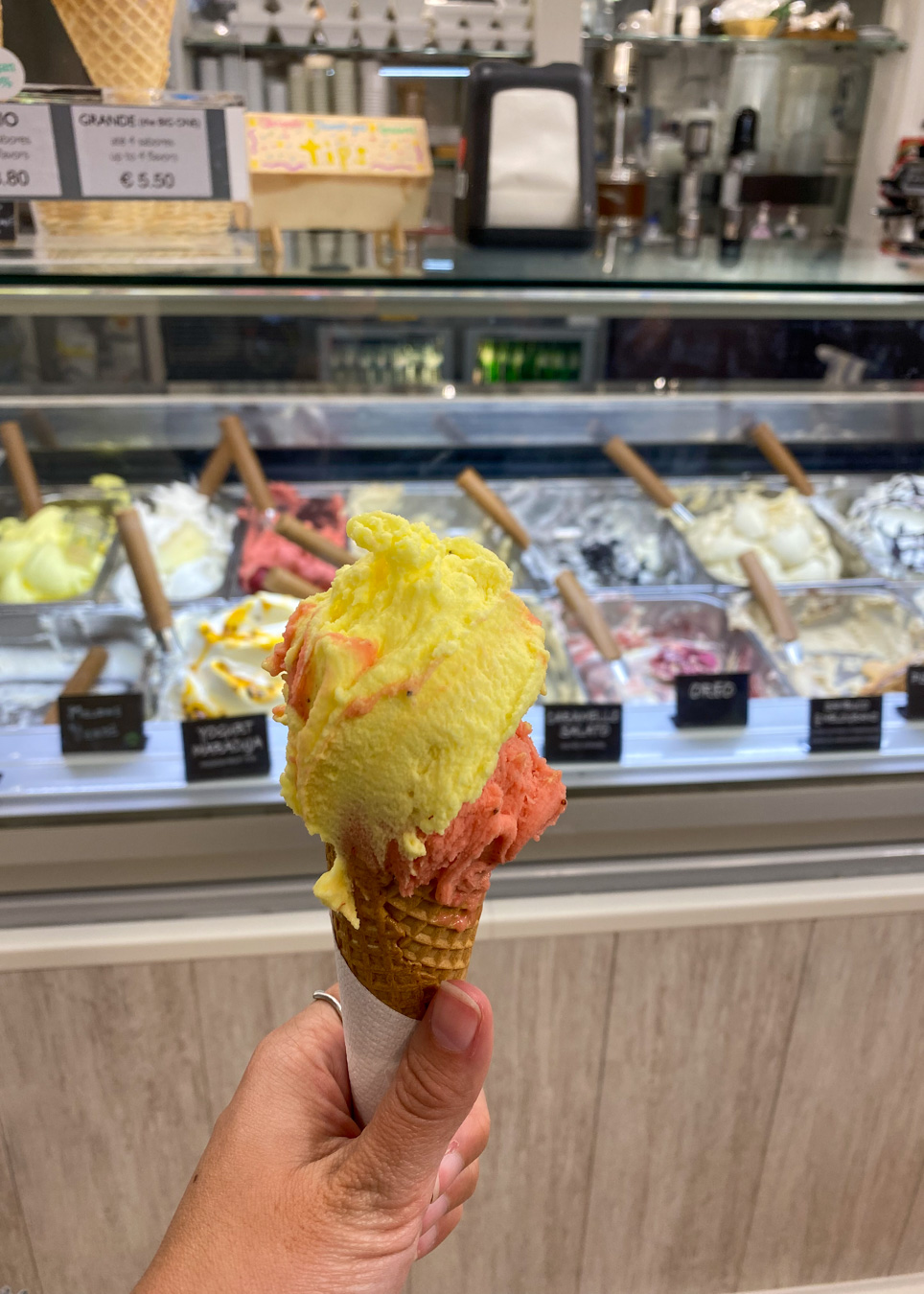 Image source: https://packedforportugal.com/wp-content/uploads/2022/05/PlacestoEatLagos-03.jpg
The best places to eat in Lagos are:
Seaside Cafes: Enjoy fresh seafood with a view at charming cafes along the coastline.

Fish Markets: Delight in authentic local flavors by trying the catch of the day at bustling fish markets.

Town Center: Savor a fusion of traditional Portuguese cuisine and international delights.

Waterfront Promenade: Experience trendy eateries with stunning ocean views for a contemporary dining experience.

Local Eateries: Sample regional specialties and traditional dishes at hidden gems throughout the city.

Fine Dining Restaurants: Indulge in upscale dining experiences featuring exquisite culinary creations.

Food Markets: Explore lively food markets offering a variety of street food and snacks to tantalize your taste buds.

Dessert and Pastry Shops: Treat yourself to delectable sweets and pastries at local bakeries and confectioneries.

Food Festivals: Plan your visit during food festivals to relish a wide selection of flavors and culinary delights.
In Lagos, the culinary scene is vast and appetizing.
From international flavors to traditional Portuguese delights and a variety of seafood dishes, this city's eateries and cafés have something for every taste!
To really immerse yourself in its gastronomy scene, why not go on a food tour? This way you can enjoy some of the tastiest wines around as well as sample iconic meals from different regions.
Things to know before you go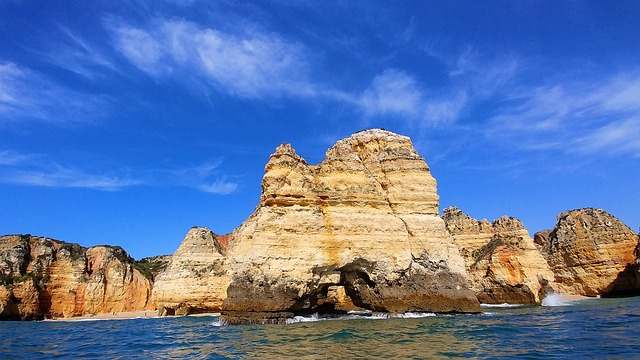 Some of the things you must know before you go are some basics of the Portuguese language and transport.
My trip to Lagos was smooth because I planned ahead. Understanding the local customs, learning some basic Portuguese phrases, and getting acquainted with the local transport system all helped me enjoy a hassle-free vacation.
To maximize your experience in this fascinating city, be sure to investigate its attractions, methods of transportation available and basic cultural norms. With a well-prepared itinerary before heading off on vacation – relaxation awaits!
All these details will ensure that your stay in Lagos runs smoothly and provides memories galore.
So, should you visit Lagos?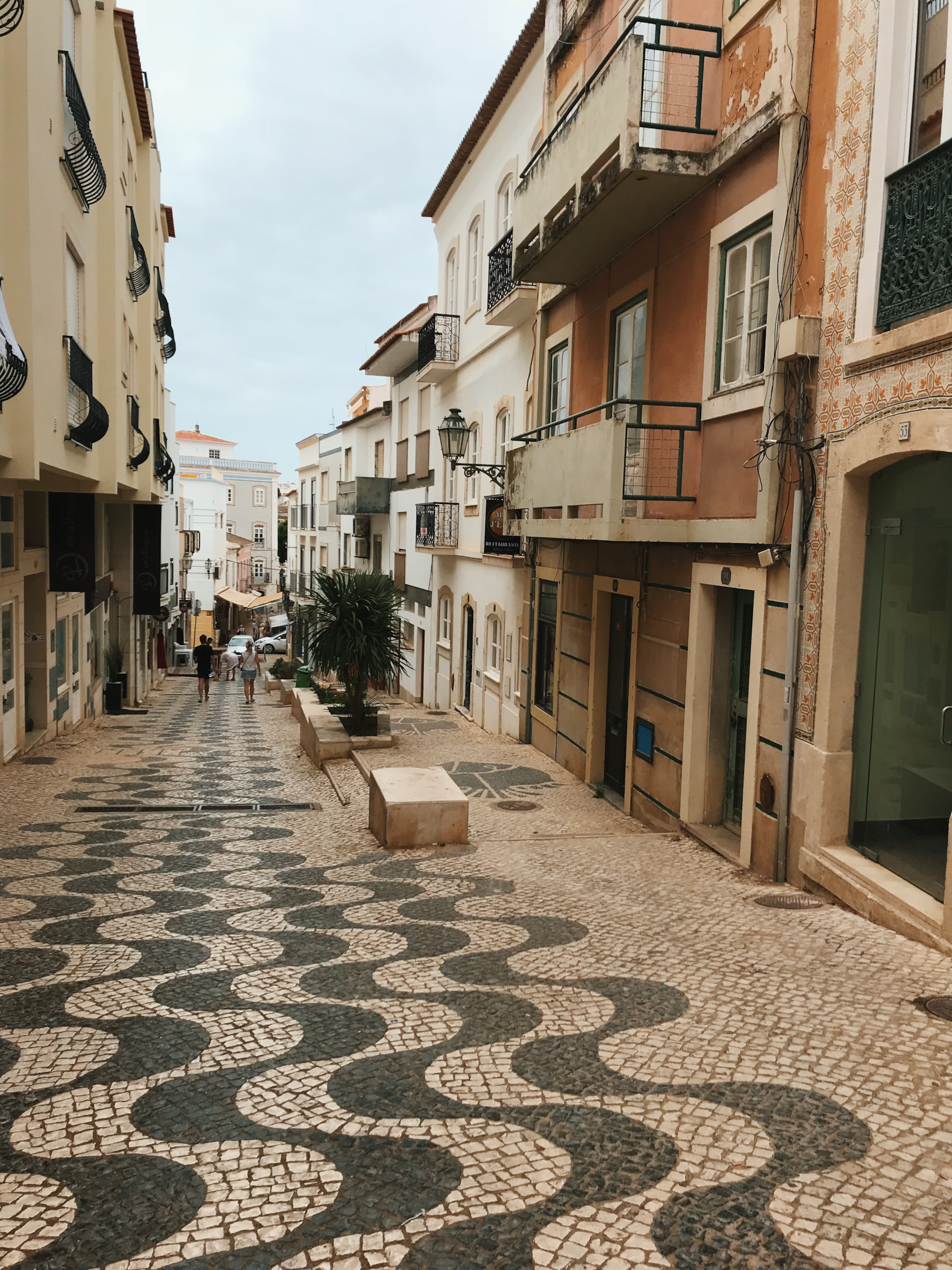 Yes! Well, Lagos in Portugal should not be missed as it offers a wide range of attractive beaches, a long history and fun activities for all types of visitors.
Those visiting this coastal city will have the opportunity to appreciate its stunning shoreline and become acquainted with Portuguese culture. Feasting on mouthwatering food and experiencing an electrifying nightlife scene are sure to please any palate or preference!
The authentic character of Portugal combined with breathtaking beauty makes for an unforgettable visit – take advantage by exploring what Lagos has to offer.
Frequently Asked Questions
How many days to spend in Lagos?
For those wanting to experience the beauty and allure of Lagos, a 3-5 day stay is highly recommended. During this time frame you will be able to discover the antique areas of town, soak up rays on one of its scenic beaches, engage in interesting activities as well as partake in delectable meals from around the area.
In other words, no matter how many days you spend here, there's always something new and exciting waiting for exploration! With such rich culture and experiences available, it would be impossible not to take advantage during your visit.
What are the best day trips from Lagos?
Visiting Lagos provides the chance to explore beyond its boundaries and discover various attractions in areas such as Sagres, Cabo de So Vicente, Monchique mountain or Carvoeiro. These nearby destinations offer amazing experiences which allow travelers to immerse themselves in the beautiful Algarve region.
You can create a unique itinerary with all these options available for an unforgettable trip around this stunning area!
How to travel to Lagos?
Getting to Lagos is a breeze when traveling from Europe, with Faro Airport providing easy access. It's well connected to many international locations making it the perfect gateway into the Algarve and beyond. Check out this guide on the best time to visit the Algarve to make an informed decision.
There are plenty of transportation options upon arrival in town that can help you explore everything at your own speed, some even within walking distance! So come experience all this area has to offer while taking advantage of convenient travel arrangements via Faro Airport for an unforgettable trip.
Is Lagos in Spain or Portugal?
Nestled in the Barlavento area of Portugal's Algarve region, Lagos is a coastal gem well-known for its attractive beaches and lively nightlife. It is positioned at the mouth of the Bensafrim River as it meets with the Atlantic Ocean, creating an idyllic atmosphere that attracts visitors from far and wide.
Is Lagos Portugal a nice city?
Lagos, Portugal, is an amazing destination that has something to offer everyone. From its lovely coastal scenery and pristine beaches to the buzzing nightlife scene, it's a great place for travelers looking for adventure or relaxation.
The city boasts plenty of bars, eateries and nightclubs which all contribute to making Lagos come alive at night! Whether you're in the mood for thrilling fun or peaceful calm, this vibrant Portuguese town has it all.
Is Lagos Portugal walkable?
In Lagos, Portugal, there is an ideal coastal route that can be taken and enjoyed. Starting in the town itself and leading to multiple beaches plus wonderful vistas along the way makes it well worth doing.
What are some must-visit beaches in Lagos?
If you're planning a trip to Lagos, be sure not to miss out on its lovely beaches - Praia Do Camilo, Praia De Porto Mós and especially the breathtaking Praia Da Batata and Dona Ana.