Yes Faro, Portugal is worth visiting for the unique culture, rich history, serene islands and thrilling nightlife.
The top places to visit in Faro are:
Cidade Velha

Se Cathedral

Copela Dos Ossos

Museu Municipal

Centro Ciência Viva do Algarve

Cuevas de Benagil
Located in the Algarve region of southern Portugal, Faro is an undiscovered paradise. It boasts a unique culture and history, along with stunning beaches that make it well worth visiting. If you're looking for an unforgettable trip filled with fun activities to explore and rich experiences, then add "Faro Portugal" to your travel bucket list!
Short Summary
On my last trip to Faro, I was blown away by the stunning historical landmarks and vibrant nightlife. I still remember dancing the night away at a local bar, and the locals couldn't have been friendlier.
During my stay, I got to experience the unique Capela dos Ossos and took a boat trip in Ria Formosa Natural Park to explore Faro's natural beauty. I can still recall the sense of serenity that came over me while watching the sunset over the park's tranquil waters.
Enjoying delicious local food was a highlight of my trip. I still dream about the fresh seafood I had at a small, family-run restaurant in the Old Town. And for the shoppers out there, Faro offers diverse shopping experiences and activities for all ages!
Why you should visit Faro, Portugal:
Enchanting Old Town (Cidade Velha)
Exploring Cidade Velha, or Faro's Old Town, is an absolute must on any trip to the city. This historic area with its cobbled streets and towering 9th century defensive walls takes visitors back in time to experience a truly unique atmosphere.
As you meander through the narrow alleys of this old town, there are plenty of fascinating tourist attractions that can be admired such as the Arco da Vila, an ancient gate structure, and the Largo de Sé (the main square) which contains some very important landmarks like the Bishop's Palace, the cathedral and even the Bone Chapel! Art lovers will feel right at home visiting many museums dotted throughout here too!
At night when darkness falls upon it, Faro's city centre becomes vibrant, providing guests with lots of entertainment from cozy bars and upscale clubs to live music venues, so one really gets a full dose of Portuguese culture.
Picturesque Se Cathedral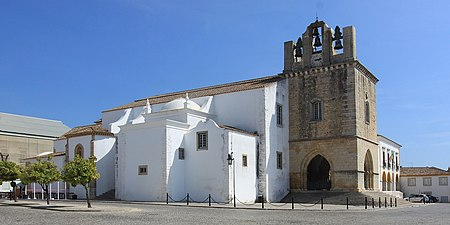 Image source: https://en.wikipedia.org/wiki/Faro_Cathedral
The historic Faro Cathedral is a must-see attraction, displaying remarkable architecture including Gothic, Renaissance and Baroque styles. Climbing the ancient bell tower provides visitors with stunning panoramic views of Ria Formosa Natural Park and red roofs of Old Town, which makes it an unforgettable experience.
Inside, there are many places to explore, such as its cloister garden and chapels, plus the upper choir chambers that host the Museum of Faro's Cathedral on the top floor. These are all for those seeking history lessons about the city's heritage. All these elements meld together into one magnificent monument that's not easily forgotten!
Enigmatic Capela dos Ossos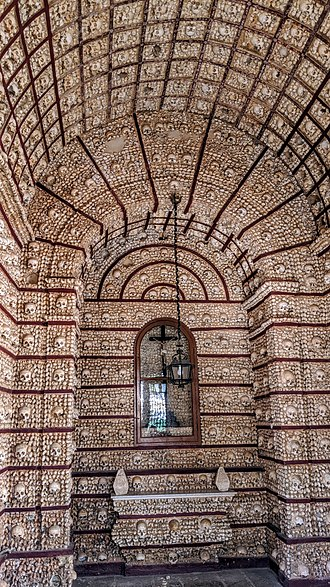 Image source: https://en.wikipedia.org/wiki/Capela_dos_Ossos_(Faro)
My visit to the Capela dos Ossos (Bone Chapel) in Central Faro was a rather spooky but unforgettable experience. This eerie chapel, which features more than one thousand monks' skulls and bones, served as a grim reminder of life's impermanence. It's not your typical tourist spot, but I found it incredibly intriguing and thought-provoking.
Fascinating Museu Municipal
For just €2, you can explore the Museu Municipal and its many artifacts from prehistoric times to medieval ages. Here lies an impressive mosaic of Oceanus, a bust sculpture featuring Emperors Hadrian & Agrippina, as well as some 9th-13th century Islamic relics.
Don't miss out on seeing Faro's nearby Roman ruins either! During summer months it is accompanied by a quaint artisanal market which brings Portuguese charm alive within the monastery grounds.
Delve deeper into this city's rich history and experience firsthand all these remarkable items collected in one spot for your viewing pleasure - now that's truly priceless!
Visitors to Faro will be delighted by the Centro Ciência Viva do Algarve, which provides a wonderful opportunity for children of all ages to learn about science and technology through interactive exhibits.
From marine life observation up close to experimenting with solar cooking, the museum presents an entertaining way for youngsters to explore their environment - at just €2.50 entry fee per person! Kids can spend hours enjoying this educational experience in one day while discovering more about our world around them.
Serene boat trips in Ria Formosa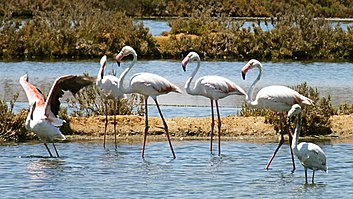 Image source: https://en.wikipedia.org/wiki/Faro,_Portugal
Exploring the Ria Formosa Natural Park is an unforgettable experience when visiting Faro. This extensive wetland ecosystem spans over 60 km along the coast of the Algarve and shelters a great variety of wildlife, among them flamingos, sea horses in huge numbers and various species of migrating birds.
A boat excursion through this park gives you many chances to explore its barrier islands, watch dolphins swim by, or take a beautiful evening tour across the lagoons to fully appreciate their serenity and natural beauty around you.
You can also visit Ilha da Culatra e Ilha do Farol where traditional food awaits accompanied with wonderful views on behalf of Ria Formosa's setting, which makes it into more than just another landscape, but rather an adventure that will forever stay carved in your memory once experienced from far-off Faro.
Pristine Cuevas de Benagil
Located off the Algarve coast is the stunning Cuevas de Benagil, an impressive sea cave open to visitors by boat or SUP tours. Forged over 20 million years ago through erosion, these caves were only discovered in 1947 and opened to tourists since 1974.
This majestic site testifies for nature's raw power while offering a remarkable sightseeing experience - regardless of whether you go on board or paddleboard around them. Both options will take your breath away with its beauty and grandiosity!
Exotic islands of Faro
My trip to the Islands of Faro was a perfect escape from city life, making it one of the best reasons to visit the Algarve. I spent a tranquil day on Ilha Deserta, enjoying the pristine beaches and abundant wildlife. I also got to visit the historic lighthouse, Cabo de Santa Maria, and was treated to awe-inspiring views over the Atlantic Ocean and surrounding islands.
Exploring Around you can find Praia de Faro on Ilha Deserta beach along with tranquil shores on Ilha da Culatra - thus making them ideal for sunbathing sessions all while taking pleasure at just being there surrounded by nature's splendour.
Complete your visit while admiring unbeatable sights towards unforgettable moments discovered here amongst beautiful harbours found across throughout each Faro island spot!
Breathtaking Ilha Deserta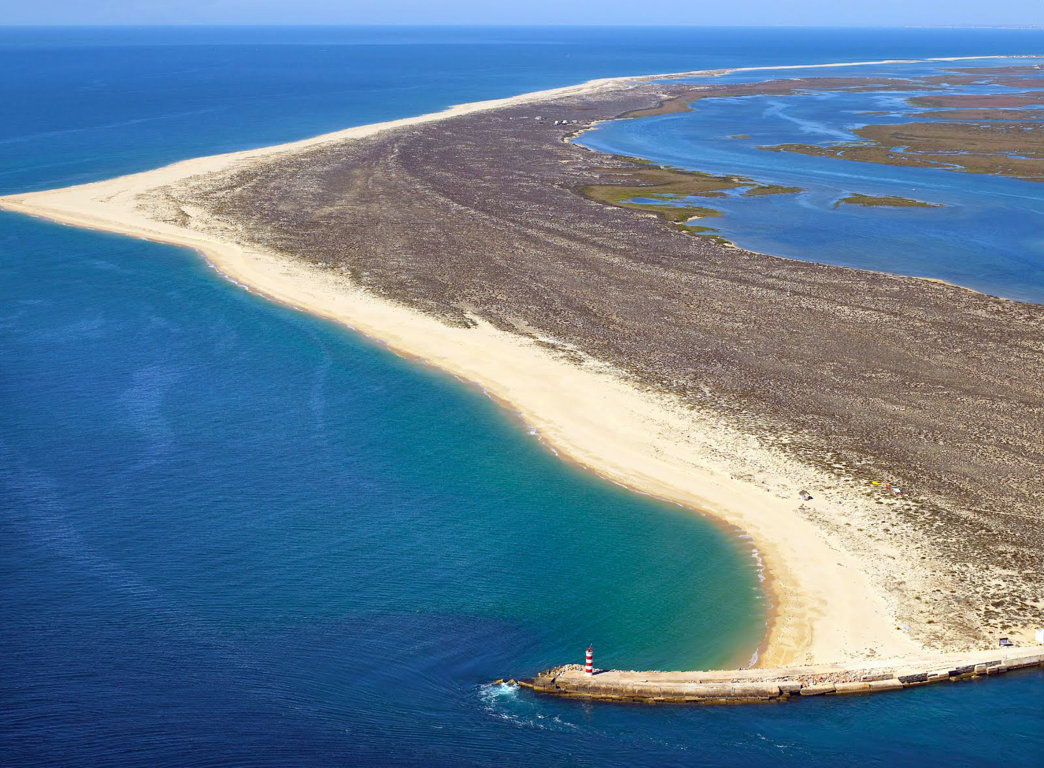 Image source: https://www.algarvetips.com/beaches/faro/ilha-deserta/
For anyone yearning for some seclusion and tranquility, Ilha Deserta is an ideal choice. This island with its pristine beaches provides peaceful vibes that make it perfect for those searching to unplug from the frenetic pace of everyday life.
To get there, you can take a ferry ride from Faro city, which makes reaching this isolated retreat easy and convenient.
While on the Island, explore all its flora & fauna taking walks along nature trails or refresh yourself in crystal clear waters while soaking up lots of sunshine. Ensure not to miss out dining at the Estaminé restaurant, one among the top seafood spots here!
All in all, Ilha Deserta is undoubtedly what one needs when wanting some restful moments away surrounded by beautiful sands and endless waves lapping against shorelines - simplicity personified just as expected!
Magical sunset walks at Faro Marina
A stroll around Faro Marina at sunset is an incredibly special way to wind down your day in the city. Watch as the sky transitions into a variety of spectacular colors and feel yourself relax with every step you take along its banks.
A nearby Fado performance may even provide an extra ambiance of traditional Portuguese culture! Enjoy this tranquil atmosphere that makes up one of Faro's unforgettable experiences while admiring some truly stunning views - it's definitely not something you want to miss out on!
Affordable restaurants
If you're looking for a culinary adventure in Faro, then look no further. The city offers an exquisite array of both traditional Portuguese dishes and international cuisine that won't break the bank - ranging from cozy family-run restaurants to modern eateries with amazing atmospheres.
A local favorite is Taberna Modesto located in the Old Town which serves delicious fare within its inviting environment while Chelsea Coffeeshop provides more worldly options coupled with perfect coffee drinks.
The food scene found throughout Faro exemplifies all of what this vibrant metropolis has to offer. Diversity through flavor – there will be something here sure to tantalize even those who are picky about their meals! Make sure not to leave without experiencing some Algarve region delicacies on your trip into town!
Historical churches and buildings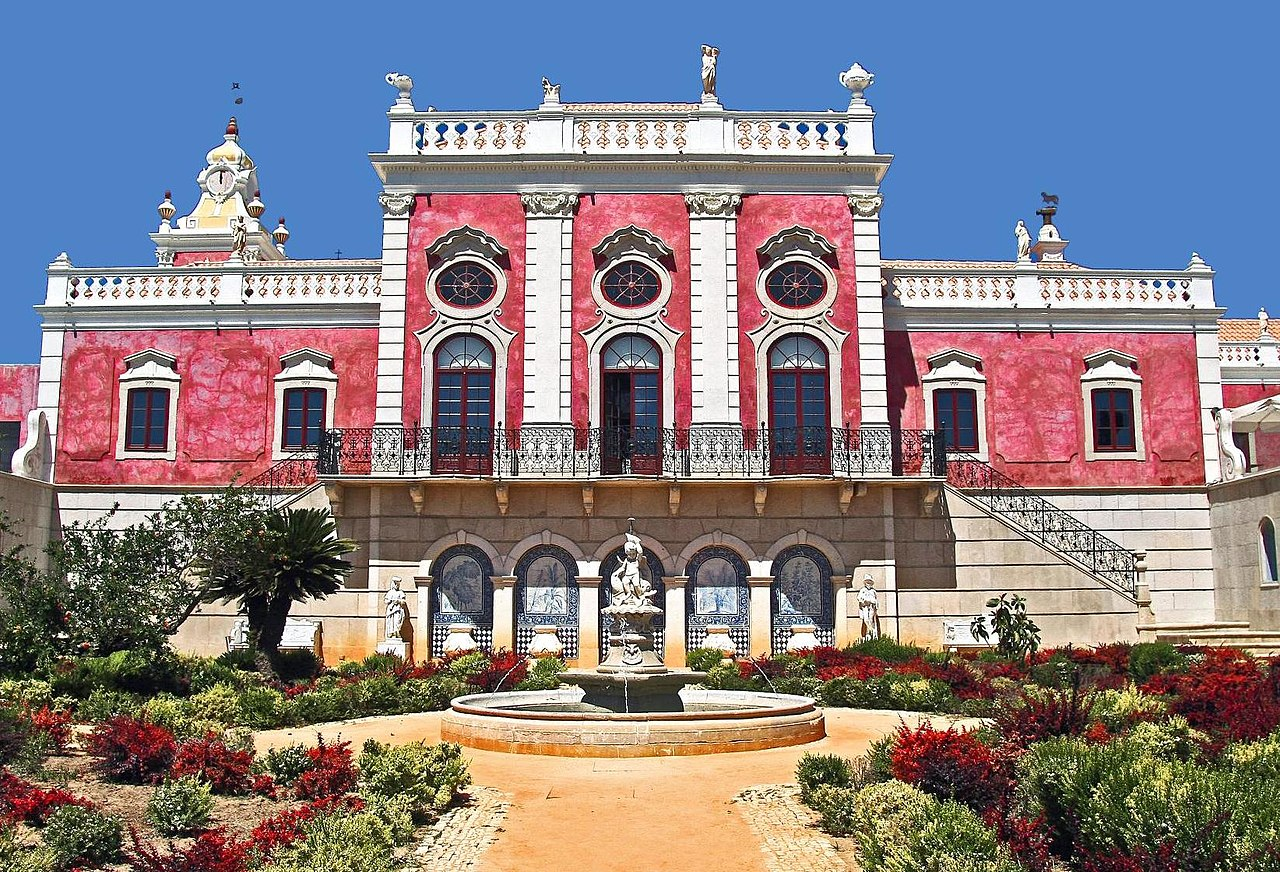 Image source: https://en.wikipedia.org/wiki/Faro,_Portugal#/media/File:Pal%C3%A1cio_de_Est%C3%B3i_-_Portugal_(8291585643)_(cropped).jpg
Faro is a place of immense historical importance, with churches and buildings that showcase its intriguing cultural past. The city walls encircling the Cidade Velha were built in Moorish times and offer an insight into how Faro has evolved over time.
Two places worth seeing are Igreja de Santa Maria which offers gorgeous vistas at sunrise, while visitors can also admire Igreja do Carmo – constructed from remains of 1200 monks! Exploring Faro's ancient structures gives one a captivating look back through history to understand more about this remarkable location's heritage.
Rich culture
Faro is a vibrant destination to experience the unique culture of Portugal. Stroll through its Old Town, appreciating diverse artwork and galleries that celebrate this city's history and local talents.
For an even more immersive cultural experience, be sure to attend one of Faro's famous Fado performances near the tourism office—a chance to savor soulful Portuguese music while taking in all Faro has to offer during your leisure evening out exploring its streets.
Ideal base for traveling to the Algarve
Faro serves as the perfect place to begin your explorations in the Algarve region and Southern Portugal due to its convenience of location. From here, visitors can easily access other key destinations by direct train or bus services.
Whether you'd like a lively vacation at Albufeira or Lagos, or plan for an out-of-the-way journey exploring parts of this unique part of Europe – Faro has it all covered with affordable accommodation choices that make staying here even more ideal!
There are plenty of attractions around the area, which makes Faro a great base from which travellers will enjoy discovering everything the Algarve Region and Southern Portugal offers.
Exciting array of day trips
Set in the south of Portugal, Faro has a variety of day trips available that fit everyone's budget and interests. Boat tours to Ria Formosa Natural Park, Ilha da Culatra or Praia da Barreta will give you amazing views along with an opportunity to explore the region's remarkable coastline as well as opt for dolphin watching if interested.
In addition to its stunning natural surroundings, Faro serves as a gateway to Algarve towns such as Tavira, Olhao, Lagos and Alvor, where visitors can get acquainted with varied cultures, their histories, and the beautiful settings around the Algarve coast.
Faro provides travelers boundless chances enabling them experience nature whenever they wish aside from discovering regional history while admiring breathtaking view at any time there is something special even within reach distance like Ria Formosa Nature Parks etc. for anyone planning trip towards southern Portugal.
Exclusive shopping experiences
Faro is a great place to go shopping, offering an enjoyable experience for everyone. Whether it's local boutiques, large brands or malls you're looking for - there's something that will suit any taste and budget in Faro.
The city has the charming souvenir shops of its Old Town as well as more modern centres like the Forum Algarve. Allowing visitors the chance to take home traditional Portuguese handicrafts, designer items or unique gifts from this vibrant destination with friendly locals!
Where to stay in Faro?
You can stay in luxurious hotels such as Hotel Faro and Eva Senses Hotel with stunning rooftop terraces, right in the city centre. There are also more budget-friendly solutions like Stay Hotel Faro Centro while those seeking somewhere close to Faro Airport should try out the 3k hotel.
Faro is an ideal place to stay when exploring the Algarve region, offering a range of accommodation options suitable for all kinds of travelers.
Whether it's luxury or low prices you seek in this destination filled with charm and beauty, there's something available that suits your needs!
Best restaurants in Faro
You can pick from Kaira Sushi, EPICUR - Wine Boutique & Food, Namastey Restaurante indiano or My'o Meu restaurants in Faro. Faro is a city with numerous food choices to satisfy your hunger. From traditional Portuguese restaurants to cosy local bistros and modern eateries, there's something for all palates in Faro.
The gastronomic highlight of my trip was dining at EPICUR - Wine Boutique & Food. Their fusion of traditional and modern cuisine was an absolute delight. The dish that stole my heart was the Seafood Cataplana, a mouth-watering blend of fresh seafood in a delicious sauce. And of course, the wine selection was impeccable.
You will certainly find an enjoyable dining experience here. Other noteworthy spots include Pigs and Cows, Mavala Osteria Italiana, Marisqueira Gimbras or Shiraz Restaurant Faro plus many other great venues such as Santa Maria – Petisca Ria restaurant of the 100 Temperos establishment that promise fabulous flavours during your stay in Faro.
Nightlife in Faro
When the sun goes down, Faro comes to life with a vibrant nightlife offering plenty of entertainment for visitors. There is something for everyone, from live music venues and chic clubs such as Boheme and Anchor, to Prestige Dance Club if you feel like dancing into the early hours!
For those looking for something more relaxed, there are cozy bars playing traditional Fado tunes - perfect spot to unwind after an exciting evening in Faro's energetic atmosphere. Whatever your preferences may be, explore all that this charming city has to offer when it comes to nightlife activities!
Cons of visiting Faro
When visiting the captivating city of Faro, one should bear in mind that there are some potential drawbacks. During peak summer months, it can become very busy and may lessen your ability to appreciate all the notable sights. Transportation within as well as outside this destination is rather restricted, which might make sightseeing without a vehicle somewhat difficult.
Overcrowded in summer
Faro in the summertime, from July to August, can be quite busy due to a high influx of tourists. However, one might choose to visit during the shoulder season months (April-June or September-October) for an atmosphere that is less crowded and provides more accessible pricing at attractions than what would otherwise be available.
For those wanting some restful holiday time while still experiencing Faro's beauty without all the hustle & bustle, this alternative window offers tranquillity and added convenience when it comes to activities like visiting sights, etc.
Limited Public Transport
Exploring the Algarve region can be made simpler with a rental car, as public transport in Faro may not offer all that much convenience or frequency.
Taking advantage of bus and train connections is an option, but they could prove inadequate for those who want to move around freely. Thus renting a vehicle is often seen as the most suitable solution when it comes to traveling through Faro's surroundings.
Is Faro worth visiting compared to other Portuguese cities?
Faro in Portugal stands apart from other cities due to its tranquil environment, awe-inspiring sights and delectable cuisine. It serves as the entryway to the Algarve region. So visiting Faro is an interesting experience that will make you feel welcome.
From its ancient Old Town filled with impressive monuments, to its lively culture and stunning beaches, there truly is something for everyone here in Faro.
Unlike more populous areas such as Lisbon or Porto, which boast a greater variety of tourist activities by nightfall, this place should not be overlooked if relaxation surrounded by beautiful scenery appeals most! I highly recommend opting for a holiday at Faro when travelling through Portugal because of all the singular attractions situated around & unique landscapes only present here.
So, should you visit Faro?
Yes, you should. Faro is a hidden gem in Portugal, boasting an abundance of alluring history and culture, as well as awe-inspiring beaches. With its old town area full of captivating charm plus its many remarkable tourist attractions and natural scenic beauty, Faro should not be ignored when considering your next trip to this country. So why not gather up some essentials for the journey ahead and explore these incredible features that this destination has to offer?
Frequently Asked Questions
We've made a list of commonly asked questions and their answers to help you plan your trip to Faro. The details are still here, but the order or expressions may have been altered, just keep in mind that I remain committed to providing all relevant information about visiting this stunning destination!
Where is Faro?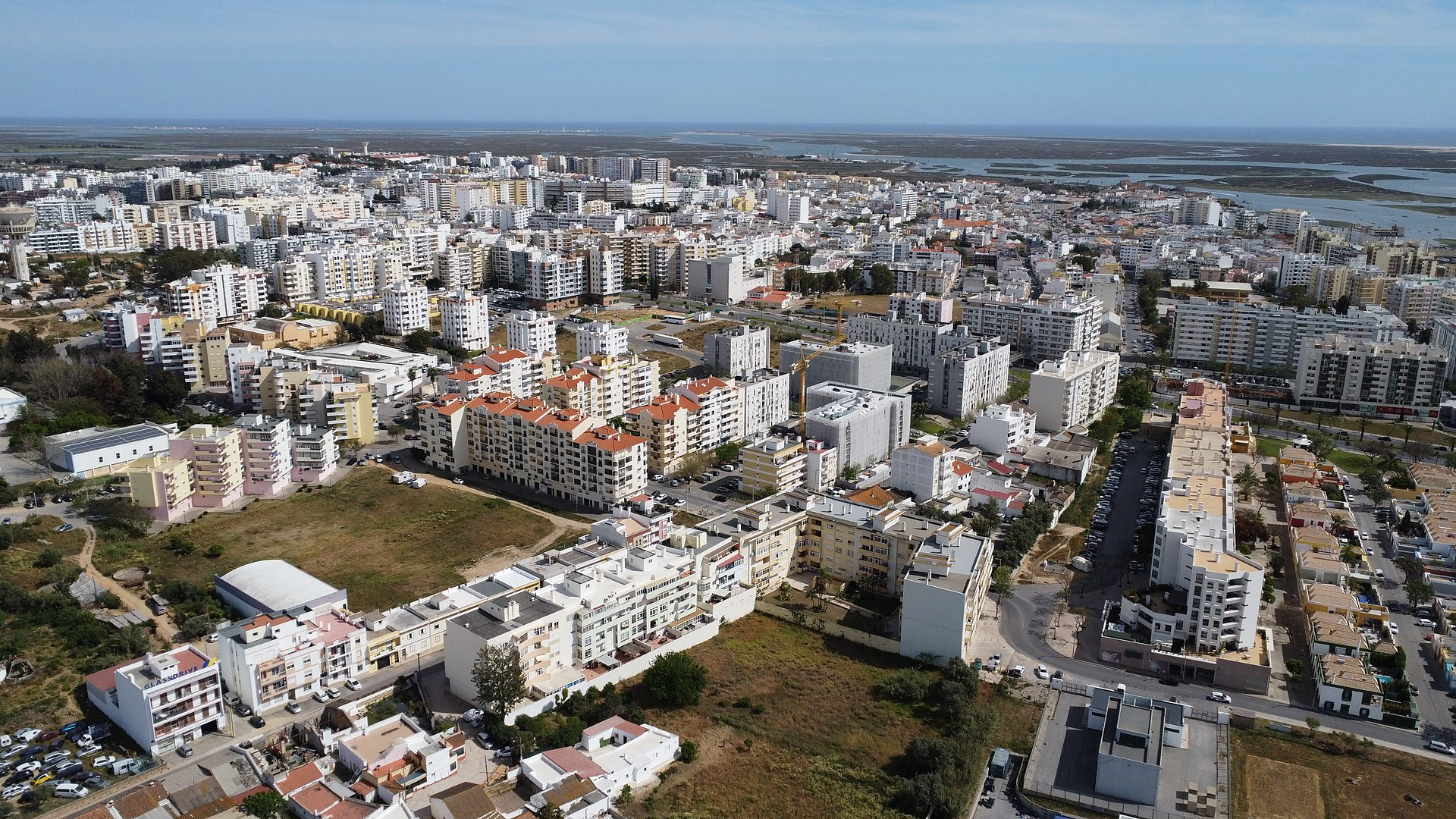 Image source: https://en.wikipedia.org/wiki/Faro,_Portugal#/media/File:Vista_aerea_de_Faro,_Portugal_-_12.04.2023.jpg
Faro is situated in the Algarve region of Portugal, along the Atlantic Ocean. It is referred to as "Faro Portugal" and draws travelers who seek an idyllic getaway with its sandy beaches. Take this chance to visit one of Europe's most desirable travel spots for yourself!
The city has earned itself fame largely thanks to its stunning coastline boasting miles upon miles of picturesque golden sands fringed by brilliant blue waters – perfect for those warm summer days spent leisurely exploring or relaxing under the sun.
What is the weather like in Faro?
Faro enjoys Mediterranean climate featuring mild winters and hot summers. The city enjoys an abundance of sunshine year-round, which makes it the perfect spot to soak up some rays during your holiday. Temperatures don't usually dip below 10°C, even in winter, so Faro can be enjoyed at any time!
What are the best beaches in Faro?
Faro is home to some of the most beautiful beaches, such as Praia de Faro Beach, Ilha Deserta, and both Ilhas da Culatra and de Faro. These breathtaking spots offer visitors golden sands under their feet combined with warm water in vibrant blues that make for a calming day-trip away from city life.
Whether you're seeking an opportunity for leisurely lounging or adventure packed exploration, these are exactly the right places! From swimming among peaceful waters to soaking up sun rays on idyllic shores – it's all here at the beaches around faro.
How to get from Faro to Lisbon by train?
You can take thethe Comboios De Portugal train service to travel from Faro to Lisbon. This fast and convenient trip takes approximately 3 hours 20 minutes, with ticket prices ranging between €20-€30 for a one-way fare.
It's an ideal way of getting from Faro to Lisbon quickly without having any hassles!
How to get from Faro to Lagos?
Getting from Faro to Lagos can be done in two ways - by taking a train which takes approximately 2 hours or renting a car for the journey, estimated at 1 hour.
Is it better to visit Faro or Lisbon?
Lisbon is an ideal choice when compared to Faro since it's a much larger city with lots of attractions and activities. Being far more vibrant than Faro, Lisbon offers tourists plentiful restaurants as well as exciting nightlife options that make staying for days worthwhile. If you are wondering 'Is Lisbon worth visiting', head over to the link.
It also possesses some stunning beaches which are among the best in Portugal, making this destination highly attractive! In contrast, there simply isn't enough variety or things to do at Faro due to its absence of many tourist-friendly areas.
In my opinion, both Faro and Lisbon have their unique charm. While Lisbon is a vibrant city with many cultural attractions, Faro offers a tranquil environment that's perfect for relaxation.
How many days in Faro is enough?
Spending around 4-5 days in Faro would be ideal to take your time and enjoy the sights. Over 4 or 5 days, you could explore all of its attractions such as the city's beautiful historic old town and spectacular beaches. Also recommended is taking an excursion to Ria Formosa Natural Park, reachable with just one day trip from there, alternatively opt for a boat tour out on nearby islands!
Which is nicer Porto or Faro?
When comparing Porto and Faro, it's clear that the former is ideal for those seeking more historical attractions and intact architecture. UNESCO-endorsed, this city takes the prize when talking about these two cities in Portugal. You can check out the reasons to visit Porto here.
Is Faro worth visiting compared to other Portuguese cities?
Faro is a destination that must be explored, as its beauty can't be ignored. With peaceful vibes and stunning scenery, it offers mouthwatering meals one won't find anywhere else in Portugal. Faro should not go overlooked!