Yes, Madeira is worth visiting in 2023 for its stunning landscapes, mild climate, rich culture, and outdoor activities, offering a delightful experience for travelers.
If you are looking for the perfect destination that boasts remarkable scenery, an immense cultural heritage and a wealth of extraordinary experiences, then Madeira is sure to satisfy all your needs!
This stunning island set in the Atlantic Ocean provides travellers with everything they could possibly need, from complete relaxation to thrilling adventure.
There's no question: Madeira definitely warrants a visit, so let me explain why it has been deemed one of those must-visit destinations.
From golden volcanic beaches through to lush forests, there isn't a shortage of landscape beauty here, making it easy to be captivated by its charms.
Not only this, but local hospitality awaits when exploring, as do tantalising culinary delights and plenty of activities suitable for everyone, including surfing, mountain biking, or even just taking in nature at a leisurely pace. It really does have something for every type of traveller.
Short Summary
Experience the beauty of Madeira: amazing landscapes, vibrant Carnival celebrations and unique beaches.

Enjoy delicious food & drink, cultural experiences and dolphin/whale watching for a budget price!

Visit this paradise island to experience its inviting atmosphere - you won't regret it!
Reasons to visit Madeira
Good weather
When it comes to visiting Madeira, one of the great advantages is its amazing climate. This paradise in the Atlantic Ocean offers warm summers and mild winters that make it perfect for a year-round getaway—both those escaping cooler climes or wanting some sun!
The comfortable temperatures also allow visitors to experience plenty of outdoor activities regardless of when you come visit.
Take a dip in natural pools, gaze at beautiful waterfalls, and explore all around this incredible island, thanks to its superb weather conditions! You can enjoy Madeira anytime with the certainty that your stay will be filled with delightful experiences, no matter what the season brings.
During my visit, I was especially impressed by the peacefulness of the early mornings on the island. The sunrises over the Atlantic Ocean are breathtaking and provide an idyllic start to the day.
Amazing landscape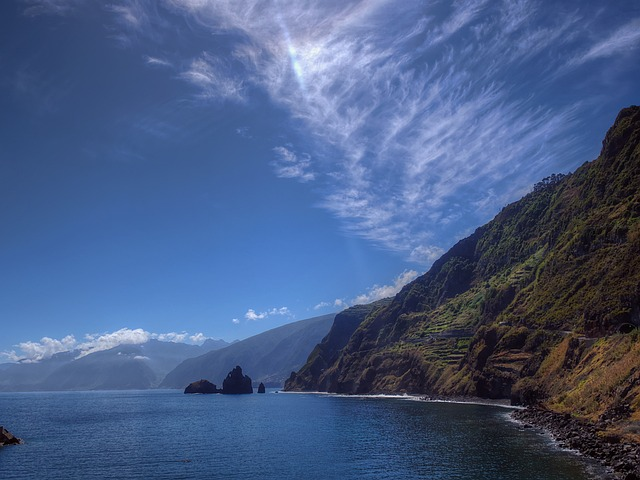 The incredible natural scenery of Madeira is a sight to behold, with its towering mountains, exotic flowers and lunar-like landscapes, and is one of the reasons to visit Portugal for sure.
Nature lovers will find plenty of activities on the island from exploring Monte Palace Tropical Garden or Palheiro Gardens to taking hikes through Vereda dos Balces forest for amazing views at Miradouro das Flores viewpoint.
Visitors can enjoy some local flavor thanks to bananas brought in from mainland Portugal's plantations. Whether it's discovering sandy beaches along the coastline or strolling around lush forests, Madeira has something beautiful for everyone, surely leaving an indelible impression behind!
Exquisite carnival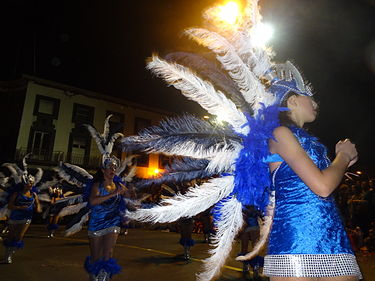 If you're looking for a great destination to visit, look no further than Madeira. Not only does the island boast stunning landscapes and beaches, it's also renowned for its vibrant annual Carnival festivities that take place 40 days before Easter!
This celebration is heavily inspired by events from other Canary Islands but has plenty of unique attractions in itself, including traditional parades with incredible costumes, palm trees, and more tropical decorations.
The atmosphere during the carnival will definitely draw visitors near as there are numerous activities within walking distance which makes exploring this colorful event easier than ever.
If music or dance moves your heart, don't miss out on an opportunity to experience life on the island while indulging in some truly amazing cultural experiences at Madeira's Carnival!
Delicious food
One of the best reasons to visit Madeira is for its unique cuisine. An array of flavors await in this idyllic island paradise, with dishes such as tuna steak topped with fried maize, bolo do caco garlic bread and Espada – a white fish delicately served alongside deep-fried banana and passion fruit.
Not forgetting espetada too. Large chunks of meat cooked over coals using salt, bay leaves and garlic. Of course no trip would be complete without trying some renowned madeira wine – an incredibly flavoursome fortified type that comes directly from the source itself!
All in all, it's easy to see why food lovers consider Madeira their dream destination.
Scenic hiking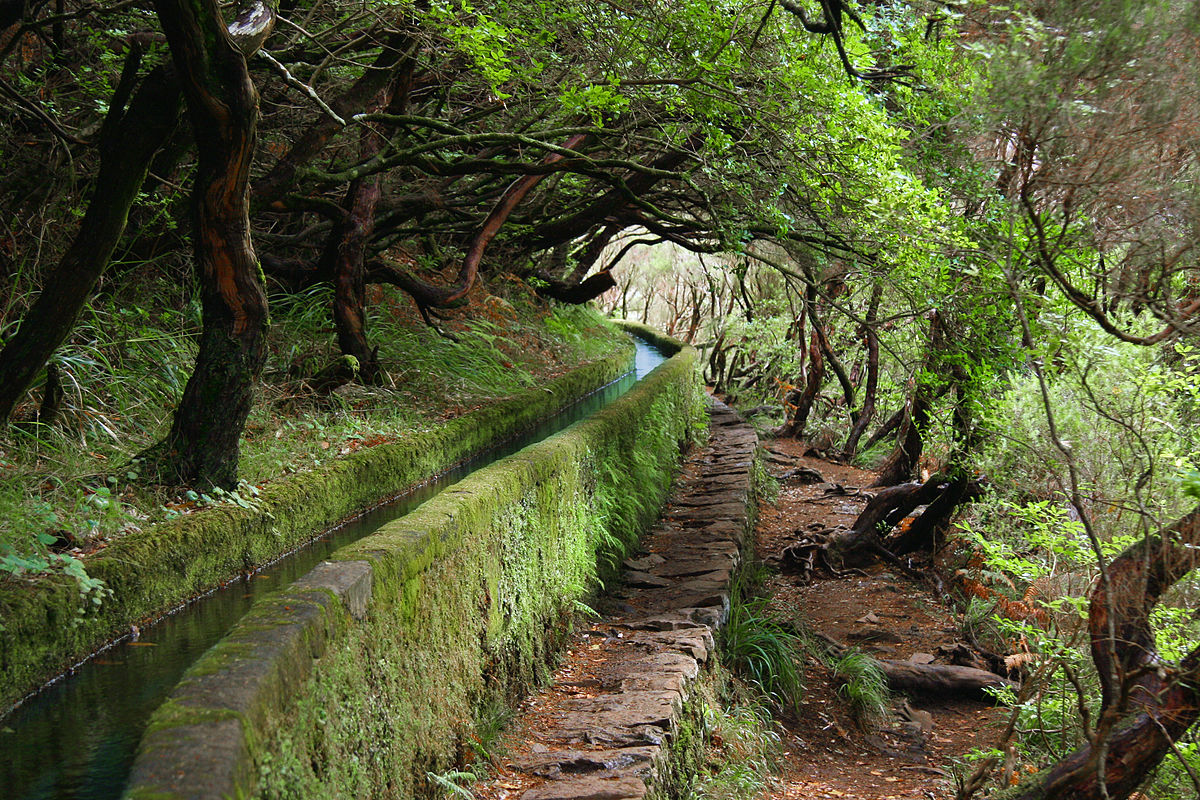 For all nature lovers who love to hike, Madeira is an absolute dream. This island offers plenty of trails and levada walks, these are old irrigation channels that guide you through stunning lush forests with diverse wildlife like birds and wildflowers.
One well-known route for hikers in the area is the 25 Fontes Hike, which takes around three hours and includes multiple beautiful waterfalls as well as tough sections during its path.
Other notable routes, such as PR6 Levada das 25 Fontes or PR10 Levada do Furado, have similarly captivating landscapes but offer different difficulty levels, so there's something for everyone on this lovely island!
My hike on the PR10 Levada do Furado trail was a memorable experience, as it offered stunning views of the lush, verdant landscape and the unique opportunity to spot local wildlife.
Incredible beaches
Madeira is renowned for its stunning beach havens, which cater to all types of visitors. From volcanic black sand beaches and natural pool formations to golden-sand shores at Porto Santo Island—a short ferry ride from Madeira proper—it's an ideal destination for a day trip or memorable staycation.
Other standouts on the island include Calheta Beach, Porto Moniz, Garajau and Faj dos Padres. Each offering different vibes depending on what your perfect beach experience entails!
With so many unique options available across this incredible island oasis, there's something special waiting just around the corner in Madeira.
Best island destination (award)
Madeira has been a multiple-time winner of the World Travel Awards for Best Island Destination, and its unsurpassed beauty is enough to see why.
The island offers wonderful weather year round with captivating views, delightful cuisine offerings that make it stand out among other places in terms of gastronomy, gorgeous beaches and their vibrant Carnival celebrations all contribute significantly to Madeira's success as one of the world's top visited islands.
With so much greatness going on here at Madeira, you can be sure your experience will always be memorable!
Reasonable rates
For those hoping to experience a vacation on the cheap, Madeira is an ideal destination. From free attractions and flights at great prices to cost-effective hotels, visitors can get everything they need for their island escape without going over budget.
Whether you are travelling alone or with family in tow, it's possible to enjoy all that this incredible location has to offer while sticking within your financial constraints.
Accommodation options, suitable even for strict budgets, make up part of what makes Madeira such an attractive tourist spot – there's something here no matter how much money you have available!
Dining choices also come in many variations, ranging from luxury eateries through mid range restaurants down low cost fast food outlets ensuring affordable culinary experiences as well during a visit.
So why not take advantage of what's made just right financially speaking and head out today?
Stunning Funchal
Funchal, capital of Madeira Island, is a marvelous location where ancient customs and contemporary vibes are masterfully combined with stunning nature.
Wander through quaint old streets lined by vivid houses and bustling shops or take a cable car for an extraordinary view over lush botanical gardens.
Don't miss out on visiting the famous museum dedicated to local football superstar Cristiano Ronaldo either, be sure to taste some delicious Madeira wine in the fishing village of Câmara de Lobos too!
There's no shortage of experiences that Funchal offers, making it an essential stop during any trip across this lovely island archipelago.
Pleasant Levada walks
A holiday in Madeira wouldn't be complete without experiencing the amazing Levada walks. These paths, used centuries ago for irrigation, give visitors a special look into the island's history and horticulture techniques.
As hikers explore these trails through vibrant forests and stunning scenery, they can fully appreciate Madeira's alluring beauty.
The routes of varying difficulty suit everyone so that even novices are able to discover this remarkable feature of life on Madeira Island.
Beautiful Camara de Lobos
Camara de Lobos, a picturesque fishing village located close to Funchal in Madeira, is world-renowned for capturing the heart of famous British Prime Minister Winston Churchill who painted its beautiful scenery.
With vivid colored homes and traditional boats docked at harbor side, it's no surprise that visitors can't help but feel relaxed strolling through these cobbled streets or sampling local delicacies here.
Whether you're curious about history, looking for new flavors, or just wanting to spend some time by the sea, Camara de Lobos has something special on offer! My visit to Camara de Lobos was unforgettable. The charm of the brightly colored houses, the smell of the sea, and the fresh fish in local restaurants, as well as the friendliness of the locals, left a lasting impression on me.
Rural charm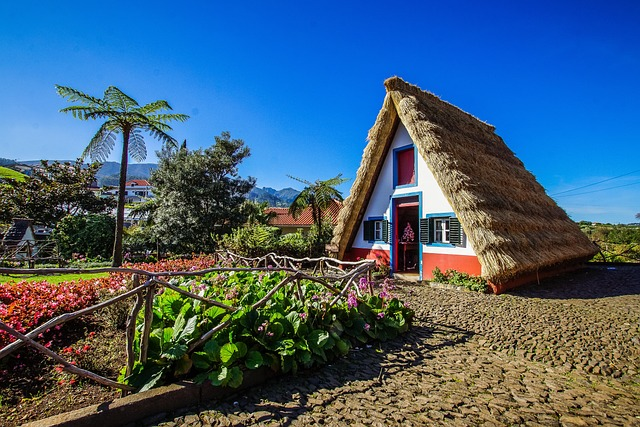 If you're yearning to escape the hustle and bustle of urban life, Madeira's northern region offers a tranquil atmosphere with traditional houses, natural swimming pools, and breathtaking scenery. This is an ideal place for those looking to relax in nature while taking in local sights.
Take some time to traverse through its mountainous interior or admire one of its laurel forests before refreshing yourself by dipping into one of many crystal-clear natural pools found on this part of the island. Afterward, indulge your soul with calming vibes that will surely leave you feeling refreshed and rejuvenated after visiting charming Madeira!
Volcanic beaches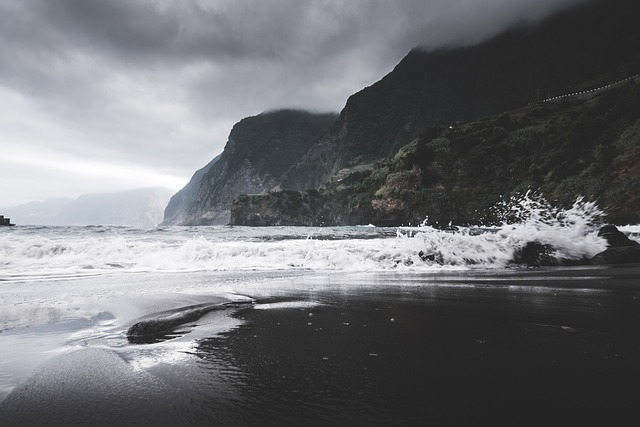 For those yearning for a beach getaway with some unique features, Madeira's volcanic shorelines are the ideal choice. Featuring dark sands and remarkable rock formations, these beaches offer an unforgettable experience no matter what activities one desires to enjoy, from sunbathing to snorkeling!
I remember my afternoon at Prainha de São Vicente, a hidden gem where the volcanic sand was a unique sight and the sun's reflection on the black sands was truly mesmerizing.
Seixal Beach is among the most beautiful spots of its kind in Madeira. Boasting ebony sand accompanied by tranquil blue water. There are Seixal Natural Pools, which are amazing lava-rock tidal pools that people can venture out on and explore – it's quite thrilling!
If you're looking for something different when it comes to seaside destinations, then do not pass up a chance to visit Madeira's volcanic shores!
Diverse flora and fauna
Those who love nature will find a perfect spot in Madeira, boasting its distinctive flora and fauna. The island offers so much for those longing to be surrounded by the natural world, from blooming gardens with colorful flowers to endemic species unique only to this special place.
Get familiar with such plants as Azorean or Canary Laurel, Canary Holly, Tree Heathers, and indigenous Mahogany Trees. Admire remarkable Strelitzia, Aloe Proteas and Anthurium all over the landmass of Madeira that guarantee an unparalleled adventure for every lover of Nature.
With exceptional biodiversity comprised of diverse elements plus exclusive Madeiran specimens, it is no wonder why everybody just can't resist exploring Madeira's glory!
Enthralling dolphin and whale watching
If you want an extraordinary experience of coming face to face with marine life, Madeira is the perfect place for it. Boat tours are offered throughout the year and can offer unforgettable encounters with dolphins and whales in their native habitat situated in the North Atlantic.
The period which offers increased sightings ranges from April to October. Hence this location stands suitable for all types of visitors - be it amateurs or pro-wildlife enthusiasts. Whale watching tours in Madeira should not be missed out on anyone's list!
Exquisite cultural experiences
This beautiful island of Madeira is full to the brim with a diverse selection of cultural experiences. From captivating traditional folk performances and local crafts, such as basket weaving or pottery-making, there's something for everyone here.
I spent an entire afternoon in the Old Town of Funchal, watching traditional folk dances and trying my hand at pottery-making, which was an enriching cultural immersion.
Or why not explore some historical sites that have played an important role in this area? There really is no shortage of things to discover when it comes to experiencing all that Madeira has on offer! For those looking for culture-rich activities during their stay, they will be spoiled by what awaits them in this charming paradise.
Where to stay in Madeira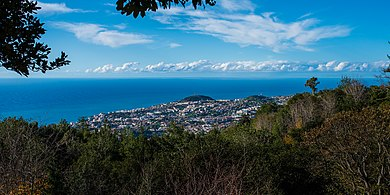 In Madeira, stay in Funchal, Madeira's capital, for the most convenient access to attractions, restaurants, and amenities. Alternatively, explore charming coastal towns like Porto Moniz or Calheta for a more tranquil experience.
Madeira is home to a wide variety of accommodation that suits all budgets and tastes, from luxury hotels to charming guesthouses. Whether you're looking for the high-end option or something more economical, visitors can find exactly what they need while exploring the many things this island has in store.
Among its best lodging options are the Savoy Palace, with impressive ocean views, and Reid's Palace, offering afternoon tea on their grand veranda overlooking impeccable gardens; both are five-star choices.
If your budget leans towards cheaper alternatives instead, there are plenty of guesthouses throughout Madeira waiting to welcome guests warmly during their stay here.
No matter where you choose to rest at night, whether it's one of these top-of-the-line accommodations or any other lodging in Madeira, nothing will stop you from having a comfortable and enjoyable experience as long as you come prepared!
Where to eat and drink in Madeira
In Madeira, try the traditional dish "Espetada" (grilled meat on skewers), "Bolo do Caco" (garlic bread), "Lapas" (limpet seafood), and indulge in the famous Madeira wine and "Poncha" (local cocktail).
A trip to Madeira is a real treat for foodies, with a wealth of restaurants and bars offering something for everyone. For those wanting an unforgettable experience, Galaxia restaurant on the rooftop provides diners with exquisite cuisine under the stars.
Alternatively, more relaxed spots serve up traditional Madeiran fare, as well as poncha cocktails and glasses of iconic Madeira wine - so you'll have plenty to choose from when it comes time to satisfy your hunger!
A must-try is the local delicacy 'Espetada' – succulent beef skewers seasoned with garlic and salt, which I savored at a small eatery in Funchal.Regardless of what dining destination you opt for in this amazing island paradise, a delight awaits!
Verdict - is Madeira worth visiting?
It is highly recommended to visit the Madeira Island due to its astounding scenery, one-of-a-kind encounters and a hospitable atmosphere. The archipelago's amazing climate, varied plant life and wildlife, remarkable beaches as well as an energetic Carnival make it ideal for tourists who want a fulfilling trip.
Henceforth, take your bags with you on this journey of exploration into the wonders of the Madeira Archipelago – made up exclusively of enchanting lands of paradise that are waiting to be uncovered!
Summary
Madeira is a stunning island filled with an array of activities and attractions for tourists. From the natural beauty that can be seen along its levada walks, to its tasty traditional dishes and lively Carnival celebrations.
There's something here to delight every traveler. This destination has wonderful climate conditions and fascinating flora and fauna, which makes it an ideal place for a holiday whatever your interests may be!
For those seeking relaxation, adventure, or both, Madeira will provide plenty of unforgettable experiences you won't find elsewhere. With so much on offer, it's no wonder why visitors from all corners keep coming back time again – making this lovely Mediterranean paradise quite simply irresistible!
Frequently Asked Questions
How many days should I spend in Madeira?
You should spend a week in Madeira, ideally. Staying in Madeira for a week gives you the opportunity to see and experience all that this beautiful island has to offer.
With more time available, one can enjoy its magnificent scenery, partake in outdoor activities or taste local delicacies, something which will give any traveler an authentic holiday experience. It's possible to visit nearby islands such as Porto Santo and Desertas with just a day trip away!
What is so special about Madeira?
Madeira is a spectacular volcanic archipelago with a mild climate and exotic landscape, located off the coasts of Morocco and Portugal. It is famous for its delicious Madeira wine, produced in multiple varieties, the production of which was managed by Jesuit priests centuries ago.
Definitely worth a visit!
Is Madeira a good place to go?
Yes, Madeira is a superb destination to spend your vacation and it has been recognized as Europe's Leading Island Destination in 2020 according to World Travel Awards, an accomplishment that the island achieved for the sixth time within seven years.
The remarkable cliffs of Madeira, coupled with its promise of delightful sunshine, can make anyone excited about exploring here.
Various outdoor activities are available: from mountain biking and hiking to kayaking or surfing, there is something enjoyable for everyone! I especially enjoyed the challenging yet rewarding mountain bike trail that led me to some remote parts of the island, offering views that took my breath away.
A mild weather along with amazing landscape makes this location ideal if you're looking forward to having some rest while also experiencing memorable moments away from cold temperatures during wintertime.
Is Madeira too touristy?
Despite its increasing popularity, Madeira remains an undiscovered paradise for many. The island can become a bustling holiday destination in some areas during peak seasons. Yet it remains largely tranquil and serene throughout the year.
Is it worth it to go to Madeira?
Madeira, an island with its year-round stunning landscapes and incredible nature, offers a great destination for outdoor activities like kayaking, biking or hiking, as well as cultural experiences exploring local cuisine.
With delicious food and friendly people, Madeira's mild climate makes it the perfect place to enjoy all year long!