Yes, Aveiro is worth visiting for the Moliceiro boat tours, Art Nouveau architecture, museums, churches, canals, bridges, local cuisine and the fact that it is close to other major destinations.
If you're planning your Portugal trip itinerary and the question, 'Is Aveiro worth visiting' comes to mind, this article is just the one for you.
Discover Aveiro in Portugal, a beautiful Portuguese city boasting captivating canals, invigorating art and one-of-a-kind architecture. This charming destination on the country's west coast is ideal for exploring its various attractions that make it an essential stop for all travelers.
In the below sections, I've summarized exactly why you should consider visiting Aveiro and why you might want to miss it.
Short Summary
Explore Aveiro's unique art, architecture & culture.

Enjoy Moliceiro boat tours and stroll along the canals for a picturesque experience.

Visit museums, churches & taste local cuisine, perfect for a chill getaway!
Why you should visit Aveiro:
Fascinating Moliceiro Boat Tours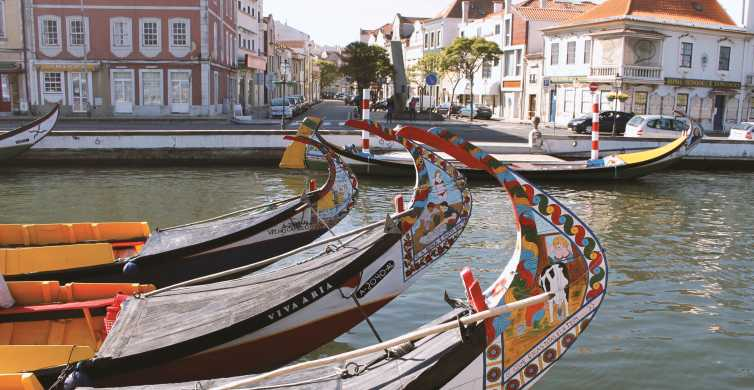 Image source: https://www.getyourguide.com/aveiro-l2459/aveiro-traditional-moliceiro-boat-tour-t393116/
If you are looking to explore Aveiro, there is no better way than by taking a traditional Moliceiro boat tour. These brightly painted vessels were once used for seaweed farming but now offer great views of the city while cruising its canals.
During your 45-minute journey, not only will you enjoy some spectacular vistas, but also learn about salt production that has shaped much of Aveiro's history – all at an affordable cost of €13 per person! Be sure to bring sunscreen on hot days and be ready with your camera when the tour begins.
Captivating Art & Architecture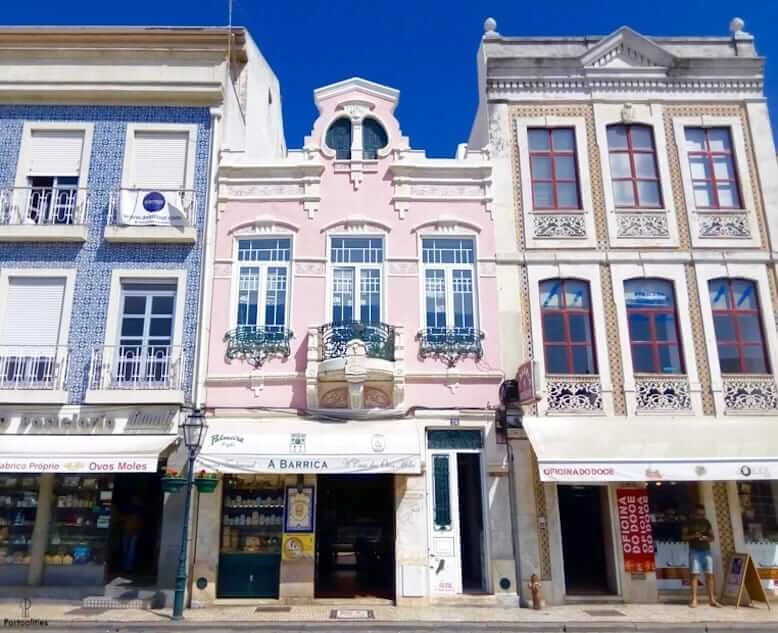 Image source: https://www.centerofportugal.com/tour/art-nouveau-tour-aveiro
Aveiro, a city full of fascinating Art Nouveau architecture that will surely wow you with its extravagance. Famous examples such as the Cooperativa Agrcola Building and House of Architect Silva Rocha demonstrate this distinct style from the late 19th century. Not only is it renowned for stunning tile artwork, but also there are modern pieces found in craft shops throughout Aveiro.
During my visit, the Baroque architecture of Aveiro's cathedral, the Sé de Aveiro, particularly caught my eye. Its majestic presence in the cityscape left a lasting impression. The Salinas de Aveiro, a testament to the past salt production legacy, offered a fascinating glimpse into the life of salt workers. Walking through the site, I could almost picture how people once lived in and around Aveiro's borders long ago
Art Nouveau and other museums
The Art Nouveau Museum, located on Rua Dr. Barbosa de Magalhes with entrance for only 1 euro, offers an insight into Aveiro's superb artistic legacy and its marvellous architecture of the same genre. It's a great place to explore about the Art Nouveau buildings and the rich heritage of the city.
There's also Museu de Aveiro or Aveiro museum containing works from Princess Santa Joana as well as other Portuguese baroque art pieces to appreciate. In the Vista area, there is a variety of options to explore. In the neighborhood of Alegre, one can find giant kilns and workshops dedicated to ceramics, which are a must-see when in town. Just outside of Aveiro lies the city of Ílhavo.
The Maritime Museum displaying real fish species like cod living inside their aquarium – another enjoyable trip worth taking if possible while visiting this stunning city that holds many museums concerning its rich history and culture!
Igreja da Misericórdia de Aveiro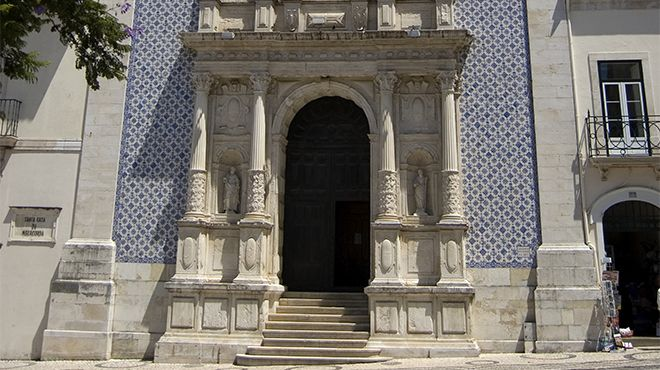 Image source: https://www.visitportugal.com/pt-pt/content/igreja-da-misericordia-de-aveiro
If you're a fan of architecture, don't miss out on the iconic 16th-century Igreja da Misericórdia de Aveiro. Nestled in close proximity to the city hall square in Aveiro, this baroque beauty is adorned with eye-catching azulejo tiling that beautifully captures its historical significance and cultural importance for visitors.
Exploring this ancient church offers an important window into both religious history as well as understanding why so many travel enthusiasts flock to visit Aveiro each year!
Enthralling Canals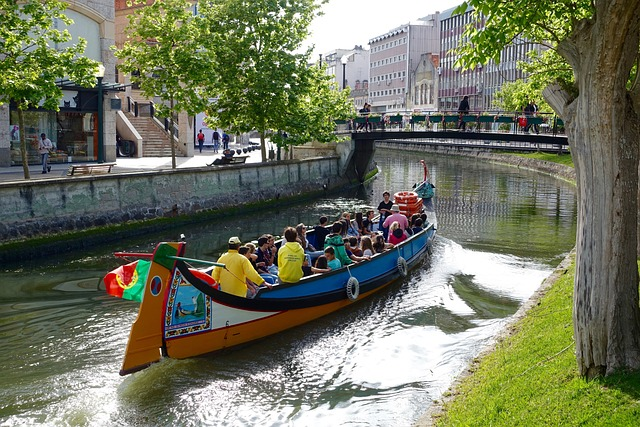 Visitors to Aveiro in Portugal, often called the "Venice of Portugal," are sure to be amazed by its beautiful canals and colorful bridges. Boats known as Moliceiros navigate around these waterways - it's almost like stepping back into a different era!
To the south, you'll find historic structures while old fishermen's houses fill up the north part of town. As you take this all in, don't forget about spotting those charming boats that sail past – what an incredible view!
Beautiful Bridges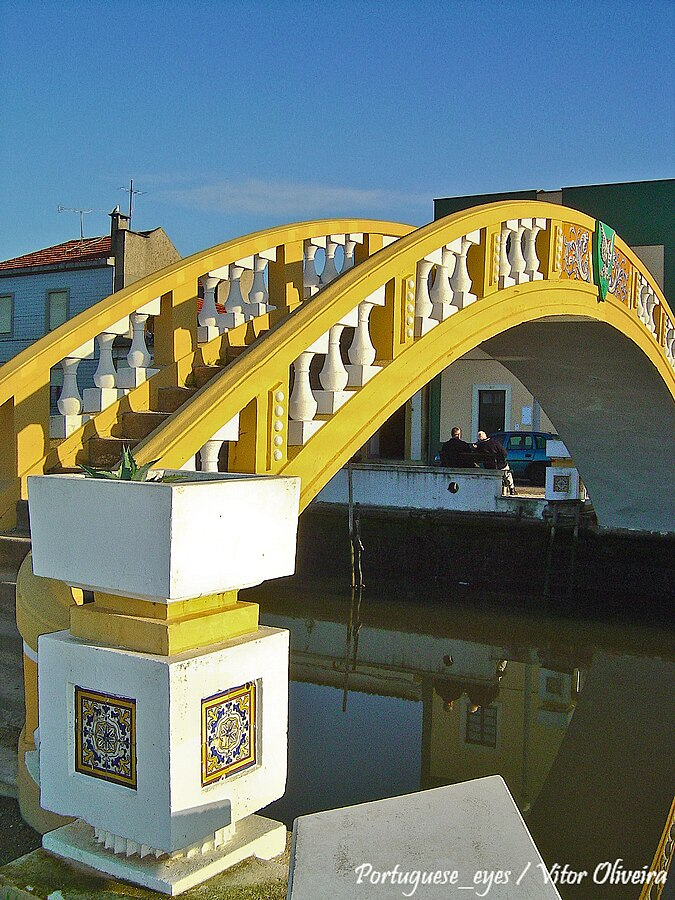 Image source: https://commons.wikimedia.org/wiki/File:Ponte_de_Carcavelos_-_Aveiro_-_Portugal_(5397883216).jpg
As you tour Aveiro, why not pick up a ribbon from the stores near the river and join in with an endearing practice by tying it to one of its bridges?
Carcavelos Bridge, Aveiro's oldest bridge, was a sight to behold. The tradition of attaching ribbons is alive and vibrant. I added my own ribbon to the mix, the wind making it flutter among the others - a sight that added a touch of whimsy to the ancient stone bridge
Leisurely Walks and Cycling Trips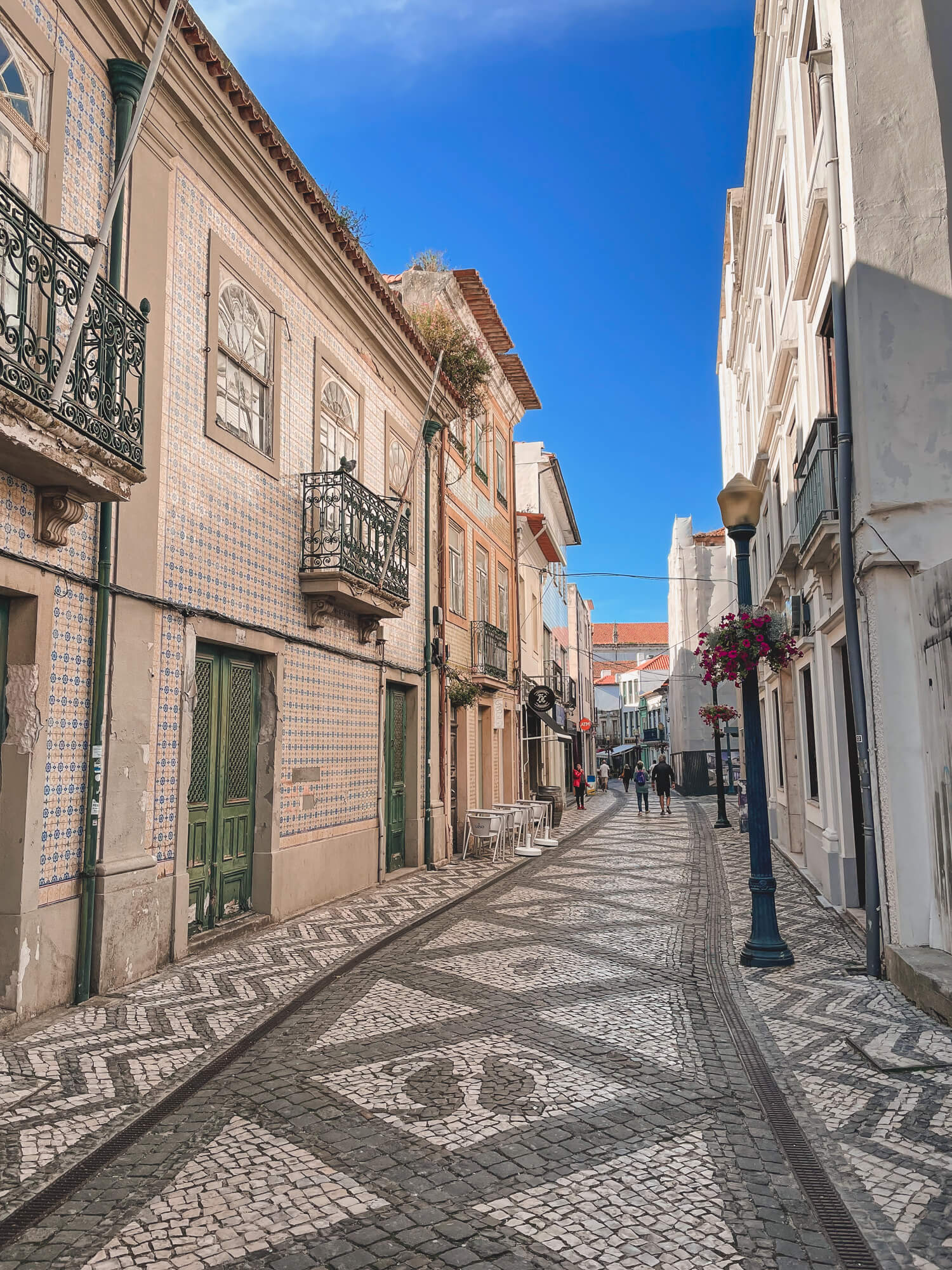 Image sourcehttps://sightsbetterseen.com/wp-content/uploads/2022/01/cobblestone-streets-aveiro.jpg
The charming cobblestone lanes of Aveiro make for excellent exploration on foot or by bike. You'll discover a host of vibrant architecture, stunning artwork and meet friendly locals as you stroll the city streets.
If you want to cover more distance in less time, consider renting a bicycle - it's an ideal way to uncover many hidden gems within the town limits!
Whether exploring at your own pace or pedaling around looking for secret spots, there are plenty of reasons why these pleasant avenues will entrance you during your stay in Aveiro.
Exquisite Local cuisine & Traditional sweets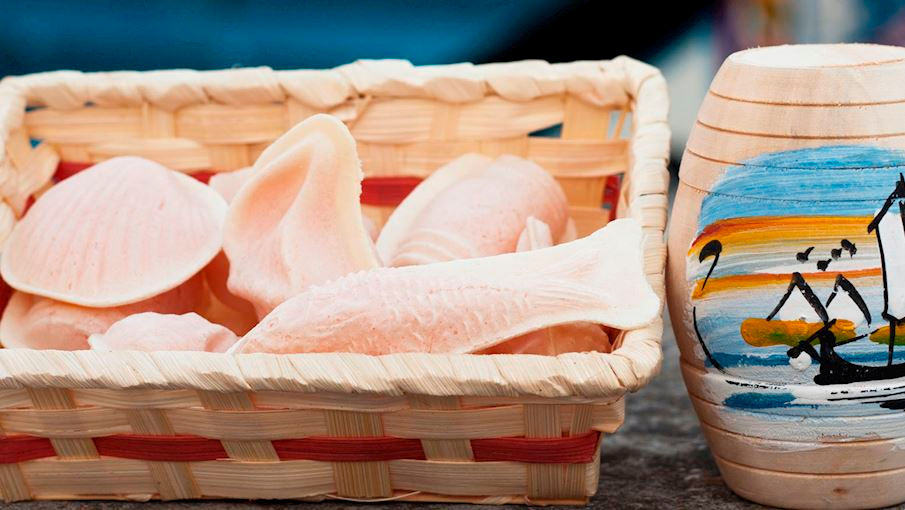 Image source: https://www.tasteatlas.com/best-dishes-in-aveiro
Take a tour of Aveiro's diverse culinary delights, including traditional sweets like the famous ovos moles de aveiro – an egg yolk and sugar pastry that first appeared in convents. Make sure to stop at Confeitaria Peixinho for some delicious samples!
Or why not try two popular local drinks – Galo (a latte-like coffee) or Meia de Leite (similar to cappuccino). Also explore other specialties such as eel stew which are unique to this region. Allow yourself time here, so you can savor all these delicacies from Aveiro!
Convenient proximity to other major destinations in Portugal
Aveiro, located conveniently on the west coast of Portugal, is a great starting point for discovering some amazing attractions and destinations. You can easily reach Costa Nova's mesmerizing beaches or explore Ria de Aveiro, with its historic richness.
Plus, you are only an easy ride away from other popular Portuguese towns such as Porto, Amarante and Lamego. With so many opportunities to experience classic Portuguese culture in one place like Aveiro, there isn't any reason why someone should miss out on visiting this region.
Charming Costa Nova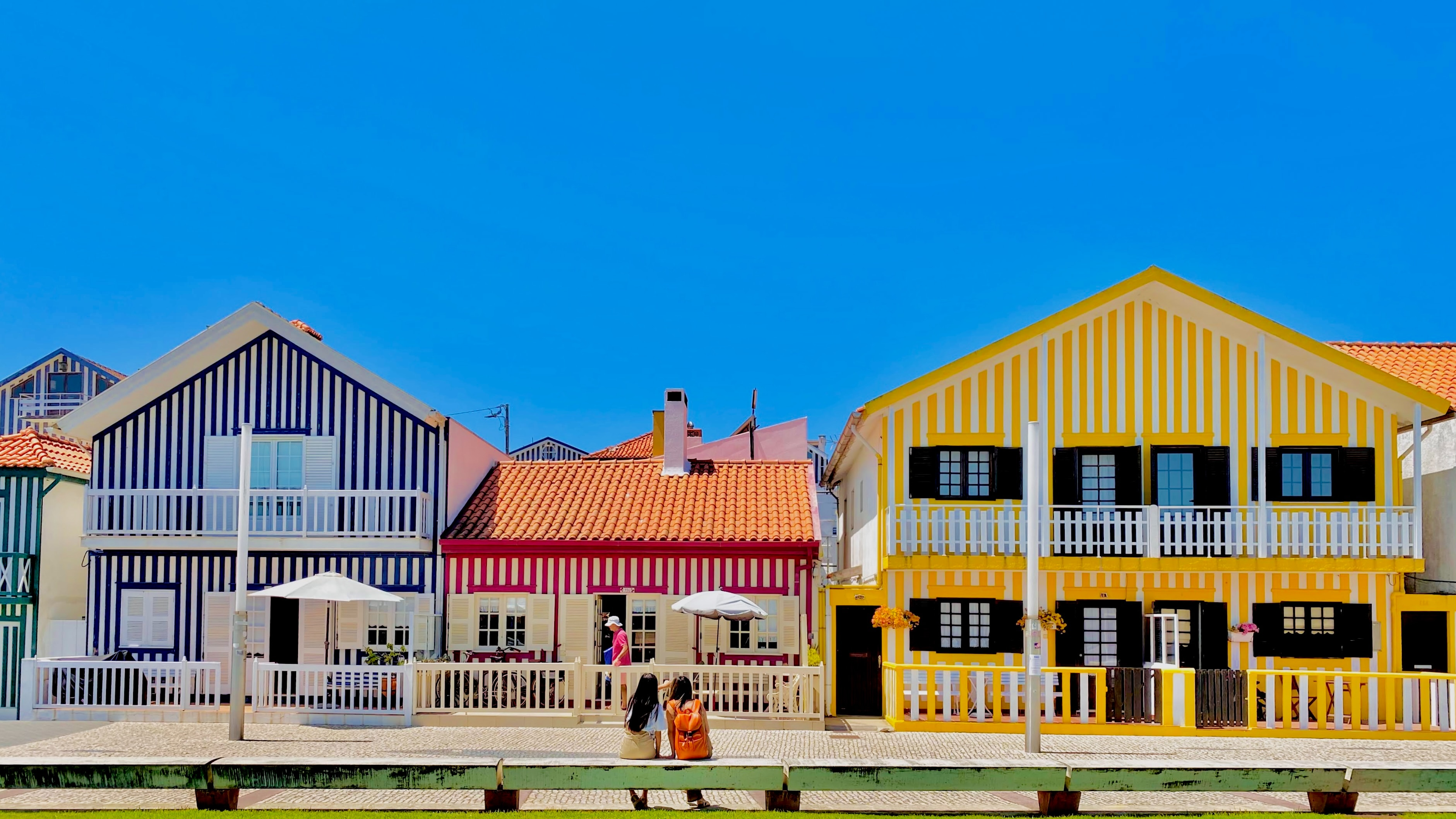 Costa Nova was a day trip that filled me with joy. The colorful striped houses looked like they were lifted straight from a postcard. Walking along the sandy beaches with the Atlantic Ocean waves breaking beside me, I felt a sense of tranquility that stayed with me long after my trip.
You won't want to miss out on experiencing this picturesque Portuguese coastal retreat during your trip to Ria de Aveiro Lagoon - something that shouldn't be missed!
What is the best time to visit Aveiro?
The best time to visit Aveiro is between late spring to fall, for a more enjoyable experience and fewer people. The mild temperatures in this period are ideal if you want to take your time while appreciating its beauty.
With temperatures reaching from mid-50s Fahrenheit up to mid-70s, sightseeing around the picturesque streets of Aveiro's canals would be much pleasurable during these times.
Where to stay in Aveiro
Aveiro offers a variety of lodging options to suit any traveler's needs, from luxurious hotels to more budget-friendly apartments.
For the ultimate location in the heart of town, try seeking out an accommodation near Aveiro's central canal or city center, where you can take leisurely strolls around and enjoy many restaurants nearby.

Hotel Moliceiro is a great four-star hotel that has mesmerizing views of the lagoon, while other worthwhile establishments such as Hotel Aveiro Center are smaller but still offer great amenities with its three star status.

When on a tight budget, there is Ponto de Abrigo (Shelter Point) which provides reasonable rates for those who want savings yet not sacrificing comfort.

Both Costa Nova and Praia da Barra meanwhile provide ideal locations if one wishes to be close by oceanside settings when visiting this Portuguese City.
Whichever place you decide upon for your stay in Aveiro will surely give you peace after days filled with exploring all it has to offer!
Where to eat in Aveiro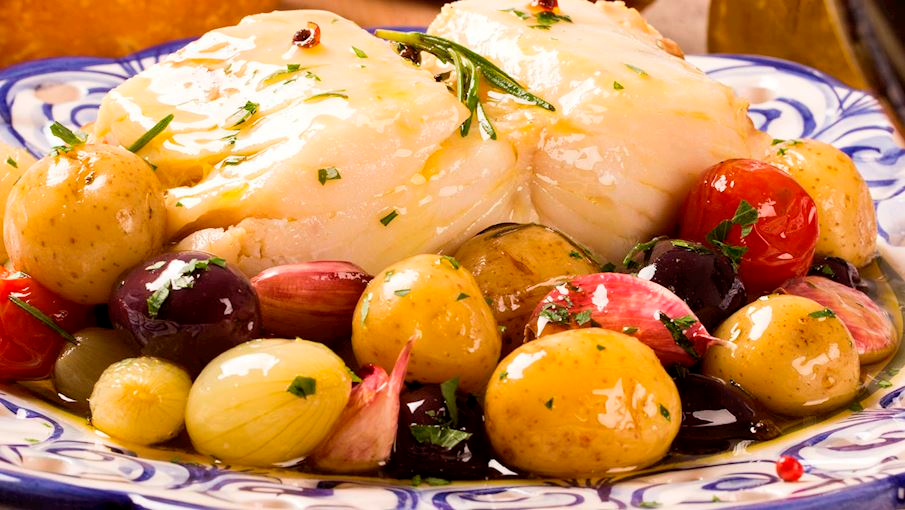 Image source: https://www.tasteatlas.com/best-dishes-in-aveiro
The best places to eat and for sampling the local flavors, are the Restaurante O Bairro at Largo da Praça do Peixe 24 that serves up delicious seafood dishes and Porta 35 where one can have an appetizing lunch by trying their gourmet burgers.
Aveiro's vast culinary scene offers a broad range of eatery options, including vegan places as well. With such a plentiful selection on offer, you are sure to be delighted!
Why you might not want to visit Aveiro
Aveiro is likely not the right place for those hoping for an energetic vacation. This city's focus on leisurely activities like walking, admiring art and visiting beaches makes it a less suitable destination for travelers looking to be in more of a bustling atmosphere.
Though Aveiro has its share of quiet moments, it wasn't a deterrent for me. In fact, I found it refreshing. It gave me more time to appreciate the city's architecture, its picturesque canals, and enjoy the laid-back vibe. For those seeking hustle and bustle, this might be a bit off-putting. For me, however, the quieter pace was part of Aveiro's charm.
Limited activities
For those who enjoy a more laid-back holiday, Aveiro is the ideal spot for its focus on art and culture, lovely canalside promenades along with some beachside rest. This city has lots of galleries, museums, and other cultural activities that will definitely suit their tastes. If you are seeking an action packed trip, this might not be what you are looking for.
Is Aveiro worth visiting? My verdict: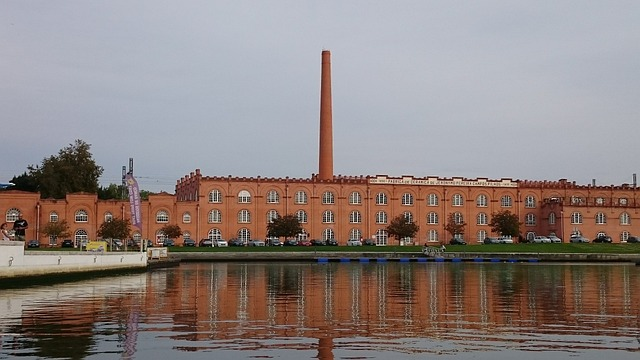 Absolutely. I was enchanted by Aveiro's beautiful canals, unique architecture, and rich history. I was especially charmed by the friendly locals and the mouth-watering seafood. All of this, combined with the fascinating museum visits, boat rides, and beach outings, makes Aveiro an utterly special place full of charm.
Travelers will be delighted with the variety of local food available here. Plus, since it's located along Portugal's western coastline, there is easy access for tourists hoping to explore other areas too!
Despite not being ideal for everyone due mainly to its relaxed atmosphere and art-inspired elements (like the above mentioned architecture), those who appreciate history and picturesque surroundings may find themselves falling under the spell of all what makes Aveiro an utterly special place full of charm.
FAQ
To aid with the planning of a visit to Aveiro, I have put together an overview containing answers to commonly asked questions. Keep reading for details and additional info about your trip.
How to get to Aveiro from Porto?
You can explore Aveiro as a day trip from Porto - it is easy and convenient, with several transportation options available. The fastest and most cost-effective option to reach Aveiro is by train.
Tickets can be bought ranging from €3.55 for the slower regional trains to €15.10 for the faster Alfa Pendular (AP) trains. This fast journey takes about one hour so it's an ideal way of visiting this beautiful destination near Porto!
If you prefer travelling in your own car, the drive will take approximately 1hr 20minutes, but bear in mind that traffic could make the time longer! To help you make the decision on whether you should make this trip, check out this guide on is Porto worth visiting?
How to get from Lisbon to Aveiro?
The most efficient way to travel from Lisbon to Aveiro is by car or train, although you can travel in a few different ways. If you take the latter option, it will take slightly longer than with a car and your journey should last around 2.75 hours.
To start off this trip via rail transport, one needs to get either on Lisbon's Metro at Airport station until they reach Oriente station. Alternatively, they could board the Carris city bus number 744 for their destination of Oriente railway stop which is where trains depart towards Aveiro city centre every day.
The regional service operates regularly and will usually make the journey in about 3 hours, making it an ideal method of getting between these two places quickly yet conveniently!
How much time do you need in Aveiro?
It is recommended that visitors stay at least three or four hours in the city, if you wish to get a better understanding of Aveiro and its surrounding towns. During this time, they can take full advantage by visiting some of its key sights and attractions.
If more insight into the culture and history are desired (such as a trip to Costa Nova), an overnight (or two) should be considered for an even richer experience!
Is one day in Aveiro enough?
One day in Aveiro can be enough if planned well. For travelers who are planning on travelling between Porto and Coimbra, it is recommended to take a night in Aveiro as this city lies conveniently along the major train route going north-south.
For those with only one day, there will be enough time to explore such famous sights as Art Nouveau architecture and ride Moliceiro boat tours. It all depends on your personal interests and ideas about traveling whether you'd spend more than 24 hours in Aveiro or not.
What is Aveiro Portugal known for?
Aveiro, Portugal, is a fascinating destination due to its Art Nouveau architecture and scenic canals. It has even been called "The Venice of Portugal" for this reason.
People come here just to admire the 28 buildings scattered around that feature elements from Art Nouveau design style or go on boat trips along the waterways. There's also an open-air museum dedicated entirely to such type of visual arts which visitors love exploring too!
Is Aveiro a day trip from Lisbon?
It's possible to make a day trip from Lisbon and visit Aveiro, one of Portugal's captivating central cities. On this full-day tour you'll discover the city's unique atmosphere with its lovely canals filled with charming Moliceiros boats in vibrant colors. All of which makes for an unforgettable experience! You can check out this guide on the reasons to visit Lisbon to check out other places you can visit as day-trips, too.
Is Aveiro a walkable city?
Yes, it is. Take a journey through the wonderful city of Aveiro and explore its many attractions – all easily navigable by foot. Get those shoes tied tight and go for an invigorating stroll around this picturesque locale!
What are the top things to check out in Aveiro?
Aveiro is an essential place to experience, offering its marvellous canals and unique boats adding color to the city. It should certainly be included on any must-see list! The network of waterways with bridges creates a spectacular view while wandering through Aveiro.
Plus, for those looking to learn more about this area's history and culture, a visit to the museum will prove invaluable. Jesus Monastery should not go unnoticed as well since it provides yet another excellent insight into the amazing attractions that make up this Portuguese city.