The best time to visit the Azores is June to August if you're looking for the best climatic conditions and are not restricted by a strict budget. However, you can have a magical trip to the Azores throughout the year.
If you're a nature lover looking to visit the magical Azores in 2023, then any time of year is perfect! Located in the middle of the Atlantic Ocean, this stunning archipelago offers something unique for thrill-seekers and peace seekers alike.
Its constantly changing weather patterns offer all sorts of adventures (from bird watching to relaxing getaways) making it an ideal destination no matter when you choose to go.
So if you want to explore these breathtaking islands at their best, pick your date wisely and discover what makes them so special throughout each season!
Short Summary of the best time to visit the Azores
Weather in the Azores ranges from mild to warm, with varying levels of rainfall.

High season (June-August) offers good weather and more crowds. Shoulder season (September-October) has fewer crowds but still offers nice weather. Low season (November -March) is budget friendly but can be challenging due to unfavorable weather.

Consider activities, budget and tourist seasons when planning a trip for the best experience!
Weather in Azores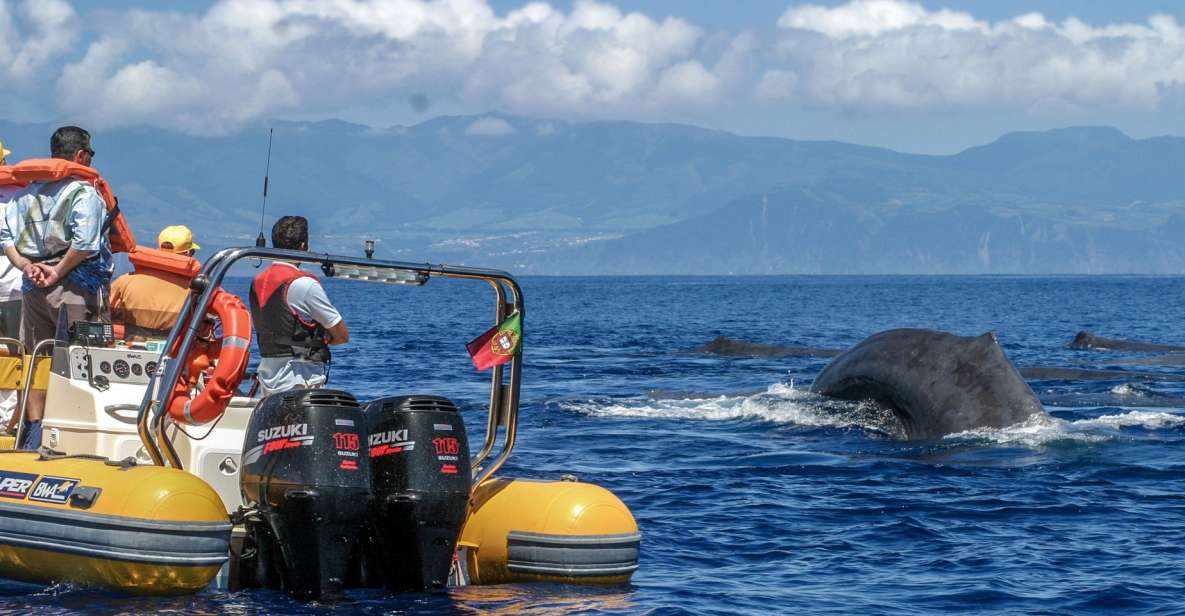 Image source: https://www.getyourguide.com/sao-miguel-island-l1663/azores-whale-watching-islet-boat-tour-t123590/
The Azores Islands are renowned for their consistent humid climate that maintains a rather mild temperature all year. With varying weather conditions and microclimates, island-hopping in this region makes an exciting expedition!
I remember one journey from São Miguel to Pico island - the contrast between the lush green landscapes of São Miguel and Pico's mountainous terrain was striking.
Temperatures range between 14°C (57°F) to 25 °C (77 °F), with temperatures changing by only 8 degrees Celsius from season to season. In winter, too, the region enjoys a mild climate - the average temperature is usually around 13°C (55°F) - while during summer the daytime temperatures tend to be about 24 C (75 F).
Precipitation levels on the different islands of the Azores vary. Some regions get less than 800mm annually, but other areas have over 1 000mm every year.
For June through August - typically considered summer months here - you should expect approximately one inch of rain per month throughout these weeks: quite low compared to rainfall rates experienced outside those months which could go up 7 or 10 rainy days each month at certain times of the fall.
Make sure your suitcase includes warm layers, practical waterproof shoes and do not forget that umbrella when heading off exploring what these mesmerizing places can offer despite fluctuating climatic patterns!
As someone who has visited the Azores multiple times, I've been able to experience the islands in different seasons.
Tourist seasons in Azores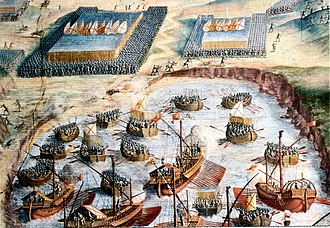 Image source: https://en.wikipedia.org/wiki/S%C3%A3o_Miguel_Island
Visiting the Azores is a great experience, but there are three different periods of time that all offer something unique - high season, shoulder season and low season. In this section I will provide insight into which timeframe would be best for travelers depending on their plans or budget requirements.
High tourist activity can occur during peak times in the summer when temperatures stay warmest here at the archipelago.
It may not be ideal if you're looking to explore certain areas with less people around. However, lower prices tend to attract more visitors during these months, so planning ahead could save some costs too!
High season
From June to August, the Azores experience a period of warm weather and long days that draw large crowds. The temperatures during this time usually range from 21-25°C (70-77°F), ideal for island exploration and outdoor activities.
Yet due to the influx of visitors, car rentals become difficult to come by as do restaurant reservations. These services will likely be pricier than normal. Ultimately, if you don't mind larger amounts of people and can afford it, now may be an opportune moment for your visit around these parts!
Shoulder season
The shoulder seasons in the Azores, from April to May and September to October, can be great opportunities for travellers who want an enjoyable holiday away from peak season crowds. During these months it's possible to have pleasant weather as well as more affordable prices compared to high-season periods.
Although there may not always be intense sunshine like during summertime, you can still do activities such as whale watching, hiking or diving without missing out on any of the fun.
If you are seeking some tranquility while discovering all that this destination has to offer then visiting during its shoulder seasons is definitely recommended!
Low season
The cooler and rainier months of November to March, known as the low season in the Azores, can be a great time for visitors on a budget.
With lower prices on flights, accommodations and activities plus fewer tourists around during this period, it could offer an ideal opportunity to explore with more peace and tranquillity than is often experienced at peak times.
Although some places may be closed due to reduced footfall, there are still numerous airlines offering regular services all year round when you want to visit the Azores.
Each time I've visited, I was amazed by the distinct character the Azores took on with each season.
Azores across the seasons
When it comes to choosing the best time of year to visit the Azores Island, each season has something special and unique. From lush vegetation and spirited celebrations in summer to wild ruggedness during winter, here's a brief overview so you can pick which is right for you!
The warmer weather brings with it vibrant festivals as well as flourishing greenery that envelops much of the island. Alternatively, if colder temperatures are more your style then head over during winter, an ideal opportunity to witness breathtaking views across rough terrains.
June to August

The months of June, July and August are the perfect time to take advantage of warm weather for outdoor activities or even just relax on a beach.
The Azores' landscapes become vibrant as people partake in local festivities that offer unique cultural experiences during this early summer season.
Travelling between islands is ideal during this peak tourist period. Prices may be higher than expected when it comes to flights and accommodations around these parts.
September to October
For a quieter and relaxed vacation experience, without the summer throngs of people, visiting during September or October is recommended.
The temperatures at this time still make it an ideal choice for exploring outdoor pursuits like whale watching, diving and trekking to admire the Azorean landscape's beauty. Showers may appear from time to time, but nothing that should deter one from enjoying their visit in these months with warm weather all around them!
November to March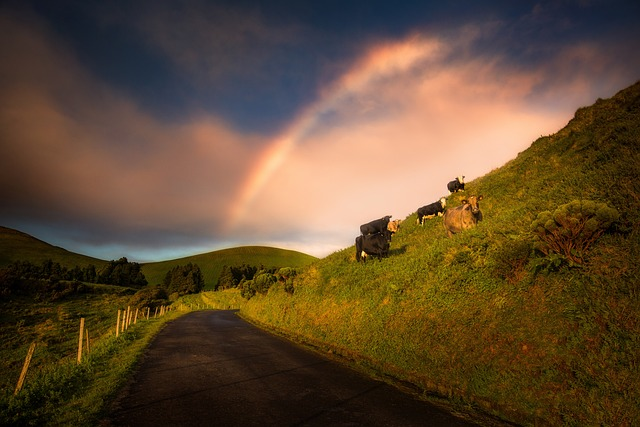 During my winter visit, I had the amazing opportunity to relax in a popular hot spring while surrounded by a snow-covered landscape.
The Azores' low season, which runs from November to March, brings cooler temperatures and more rain. This might not be the ideal time for beach trips or water sports, but provides an opportunity to observe nature in all its rugged beauty.
The winter months also bring some incredible options with direct flights becoming less frequent during this period. Visitors can relax at popular hot springs that offer a therapeutic experience while admiring scenery rarely seen elsewhere.
Unfortunately, certain tourist spots may be shut down due to these conditions, so it is important plan your visits accordingly.
April to May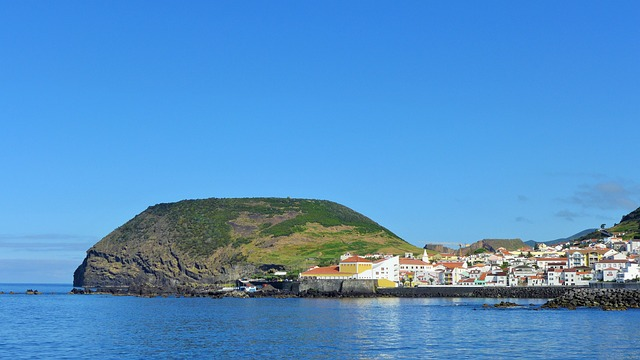 The Azores in April and May offer the perfect climate for outdoor activities, particularly whale watching. Mild temperatures bring an array of beautiful blooms to this archipelago that makes it all the more scenic. Bird lovers are also likely to enjoy their stay as many species can be seen either nesting or migrating through these islands at this time of year.
For those who love wildlife, a visit during springtime is highly recommended due to its abundance of attractions like picturesque flowers and abundant opportunities for both bird and whale viewing!
Azores month by month
No matter the time of year, the Azores offer countless opportunities to explore and enjoy this captivating archipelago. April is a great month for whale watching while in September you can take part in exciting water sports activities. Throughout every single month there are plenty of options open for fun adventures or simply enjoying some relaxation.
So no matter when your visit happens, there will be something new waiting to surprise you!
Festivals throughout the year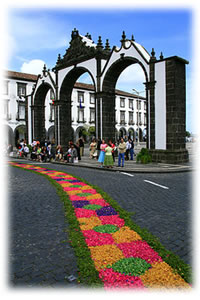 Image source: http://www.azoresweb.com/festivals_azores.html
The Azores offer a huge variety of festivals during the year, such as religious ceremonies, cultural events and gastronomic celebrations. If you plan to visit in spring or summer, it is an ideal time to explore the dynamic local customs by taking part in one of these festivities.
The most well-known are probably Pentecostal Festival of Divine Holy Spirit, Sanjoaninas Walk & Talk Red Bull Cliff Diving World Series event Angrajazz festival Pilgrimage at Santo Cristo Chapel and Mare de Agosto celebration which occur annually. No matter when you go, there will always be something happening – so don't miss out!
What is the cheapest time to visit the Azores?
The cheapest time to visit the Azores is from November until March, for those looking for a deal. During this period, prices are lowered on flights, accommodation and activities so travelers can still enjoy its beauty without breaking their budget.
Those who take advantage of these lower costs may find they get an extra peaceful experience due to cooler temperatures and more rain.
As well as having access to some world-renowned hot springs found in each island's volcanic areas! So if you're planning your next trip there at an affordable rate, make sure it falls within that timeframe!
What is the worst time to visit Azores?
The worst time to visit the Azores is from November to March, the winter months.
Visiting the Azores during wintertime may not be everyone's ideal choice given possible flight cancellations and delays, as well as certain tourist spots being closed due to unfavourable weather.
But if you don't mind cooler conditions and are up for an adventurous experience at a more affordable cost, then this could still turn out to be memorable time spent in the mesmerizing beauty of these islands.
Best time for whale watching
The best time to visit the Azores for a whale watching trip is from April to June.
Visiting the Azores Islands is an ideal opportunity to embark on a whale watching adventure. Species such as sperm whales, blue whales and fin whales can be seen in their natural habitat from April through October. Peak sightings happen between April and June.
This excursion out onto the Atlantic Ocean will truly provide you with a once-in-a-lifetime experience of these remarkable aquatic creatures living within their element! Don't miss this chance to witness some spectacular views of majestic giants that roam free beneath our seas!
Best time for hiking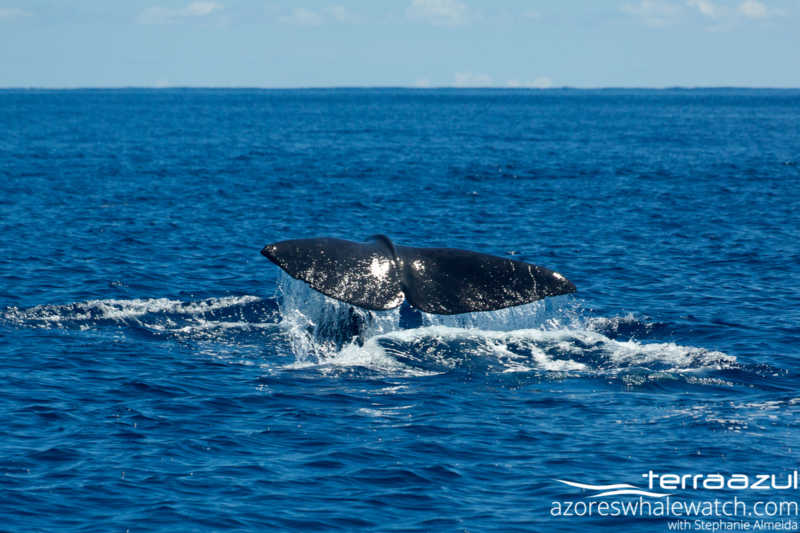 Image source: https://www.azoreswhalewatch.com/sightings/cetaceans/odontocetidolphins/stenellafrontalis/sunny-day/
The best time for hiking in the Azores is from June to September, with comfortable temperatures and sunny weather ideal for discovering the region's lush surroundings.
With trails leading through picturesque woodlands, around imposing volcanic cliffs, and beside beautiful waterfalls, there is an adventure suitable for everyone in this captivating island destination.
Best time for bird watching in the Azores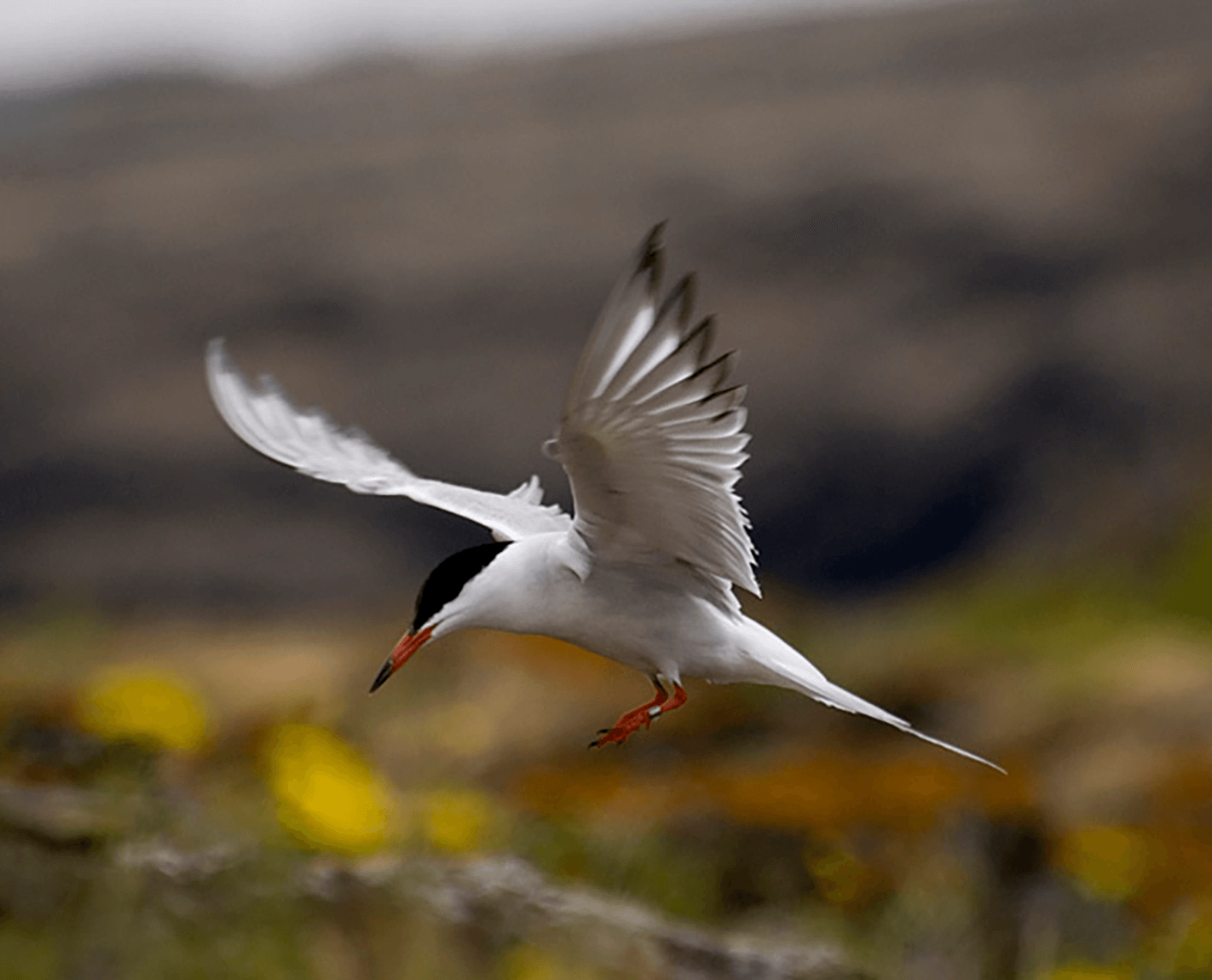 Image source: https://www.visitazores.com/en/experience-the-azores/bird-watching
The best time to visit the Azores for bird watching is during spring and fall, for those passionate about the activity. These two seasons boast an abundant variety of species coming in for nesting or migrating through the islands - providing superb opportunities for keen-eyed observers.
Keep your binoculars handy to observe captivating birds such as European Storm Petrel, Cory's Shearwater, Little Shearwater, Great Shearwater, Bulwer's Petrel, Madeiran Storm Petrel, and White-faced Storm petrel. Don't forget your camera too so you can bring home long lasting memories of these marvelous creatures!
Best time for diving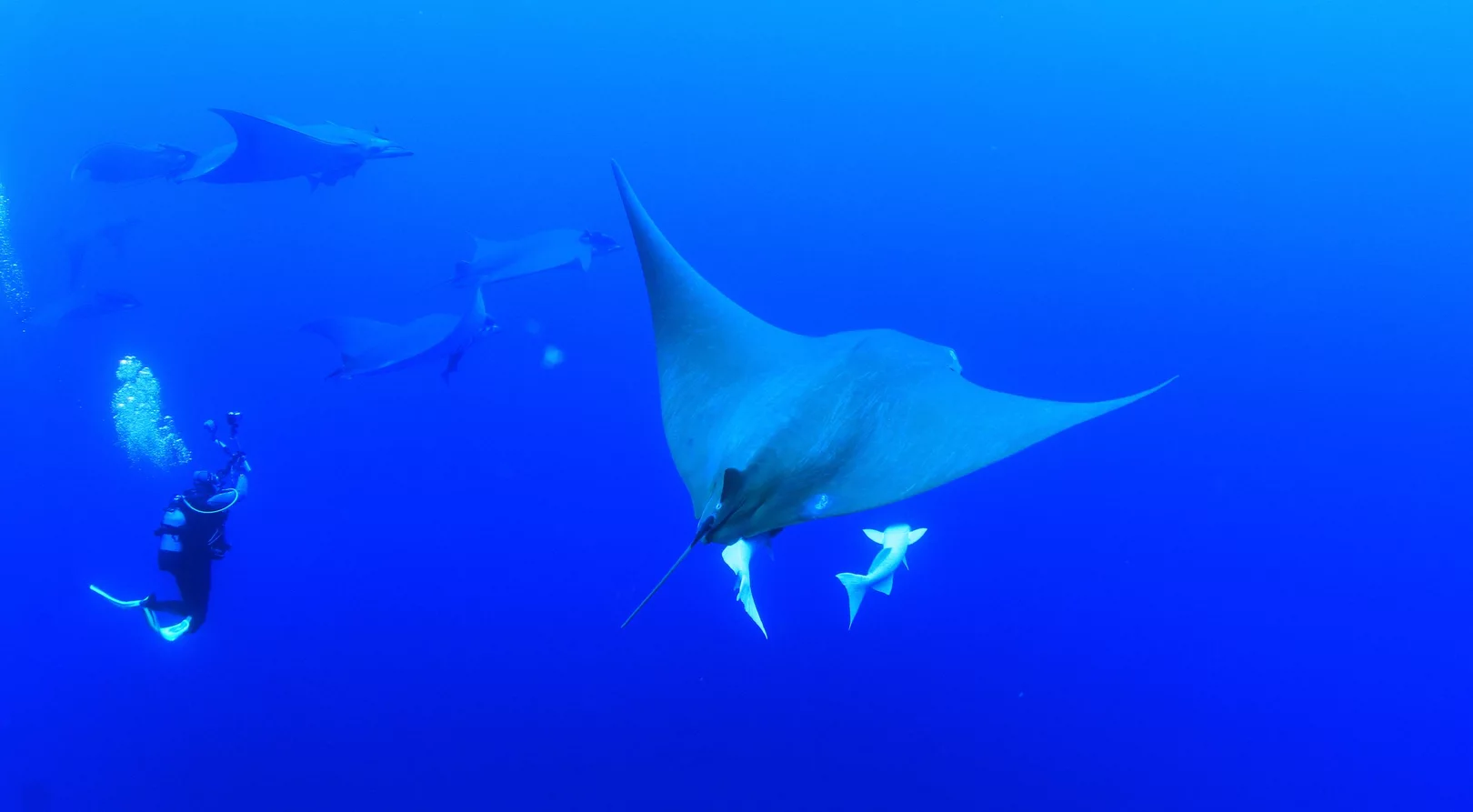 Image source: https://www.padi.com/diving-in/azores/
The best time to visit the Azores for diving is from June to October.
Exploring the wondrous underwater life of the Azores is a must for any diving enthusiast. During these months, rivers can take advantage of pleasant temperatures and calm seas with exceptional visibility that will let them fully experience this vibrant aquatic landscape.
With its kaleidoscope of coral reefs, historic wrecks and plenty more sights to behold - every dive in the crystal-clear waters offers an unforgettable adventure no matter your skill level!
Best time for horseback riding
All year-round is a great time for horseback riding in the Azores. Exploring the stunning island landscape of the Azores via horseback riding is an unforgettable year-round experience, suitable for novice and experienced riders alike.
The islands provide well-trained Lusitano or Cruzado Portuguese horses to suit your needs as you traverse through idyllic meadows, thick forests, and striking coastal cliffs. There's simply no better way to see this special part of Portugal!
Best time for geotourism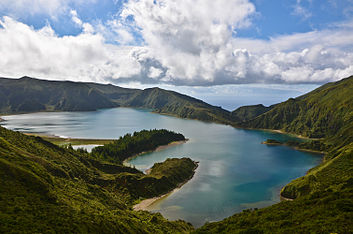 The Azores boast nine volcanic islands, one of which is Sao Miguel Island, and provide visitors with a year-round geotourism opportunity. Spring and summer present the perfect time to experience geological attractions (such as caves) that are open for specific times during these peak seasons.
Discovering this vibrant volcanic history can be awe-inspiring. The beautiful Azores region is one of the best reasons to visit Portugal. No matter when you go, it's sure to leave an impression on its many tourists!
Things to consider when visiting the Azores: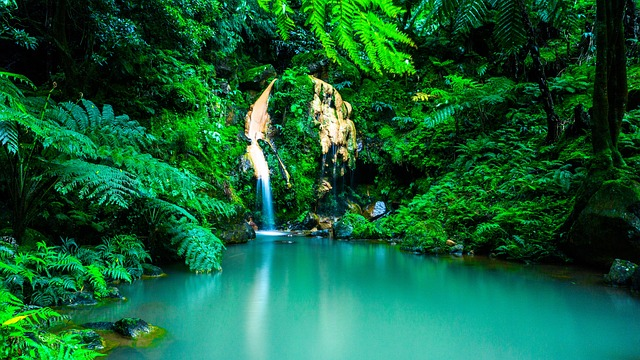 When planning a holiday in the Azores, it's crucial to take into consideration the following factors:
weather patterns,

peak tourist seasons,

activities available and

how much you can afford.
If you think through these points well enough in advance, your vacation will be sure to offer an unforgettable experience for all kinds of travellers, from adventurers seeking thrills or those looking for peace and tranquillity.
Whatever type of getaway is preferred by visitors year-round, the Azores have something unique on hand at any time!
Summary
The Azores Islands offer a unique and varied range of activities, making them an ideal destination for any time of year. From whale watching in spring to surfing the summer waves or indulging in geotourism during fall, not forgetting relaxing hot springs visits in winter, this stunningly beautiful archipelago has something special for everyone!
When planning your visit, consider factors such as weather conditions, seasonality & budget when deciding on which adventures you'll enjoy most while visiting these captivating islands. No matter what experiences await you, they are certain to leave lasting memories that will stay with you forever.
Frequently Asked Questions
What is the rainy season in Azores?
The rainy season in the Azores spans from September to March, with a particular impact on Flores and Corvo where downpours and tempests are most pronounced.
How many days do you need in Azores?
To get the full Azores experience, it is recommended to allocate at least one week of your trip for exploration. Particularly five days should be spent in So Miguel admiring its crater lakes and unique landscape.
If you have extra time left on your hands, why not take a daytrip to other neighbouring islands or do some whale watching activities?
What is the cheapest month to visit the Azores?
From January to March, the larger islands of Sao Miguel and Terceira in the Azores offer a cost-effective getaway with unique experiences.
The breathtaking views featuring volcanic lakes are perfect for whale watching or even hiking activities that can be enjoyed by all kinds of travelers alike.
Not forgetting their delicious cuisine renowned around! This is definitely one destination you don't want to miss out on during its quietest yet cheapest time during winter months.
What is the sunniest month in the Azores?
In August, the Azores have an abundance of sunshine with 8 hours daily. Conversely, December sees a decrease in sunlight lasting less than 8 hours each day.
It is fair to say that out of all the months present within the year cycle for this archipelago, August brings forth the most amount of solar radiation and lightening!
What is the best time of year for whale watching in the Azores?
If you're looking to take in the natural beauty of the Azores, consider whale watching, from April until June. It's an experience like no other. One that is sure to stay with you for a long time! Spotting these majestic creatures and admiring their grace makes for memories that will last forever.