The best places to surf in your Algarve surf trip are Sagres, Praia da Luz, Lagos, Portimao, Albufeira, and Faro.
The best surfing beaches in the Algarve are Arrifana, Amado, Castelejo, Beliche, Tonel, Zavial, Praia de Faro, Amoreiro, Odeceixe, Zavial, Praia Boca do Rio and Praia do Zul.
Hey there! Ever thought of riding waves on the sun-kissed beaches of the Algarve? I did. And guess what? I packed my bags, took my beginner surfboard, and jumped right in. I've traveled to a few spots in the Algarve and let me tell ya, it's a surfer's paradise on the Atlantic Ocean.
Whether you're a newbie like me or a seasoned pro, this place has something for everyone. I've jotted down some of my experiences, favorite spots, and even some sneaky downsides. Dive in, and let's catch some waves together!
The best time to visit Algarve for surfing
When's the best time for a beginner like me to surf in Algarve? Well, after trying out a few times of the year, autumn and spring are the top picks. That's like September to November and then April to June. Why? Well, the waves are just right. Not too big, not too small, just perfect for someone still getting the hang of it. Plus, it's not super crowded. In summer, lots of people visit. In winter, the waves can get super big. Pros love it, but it's a bit much for me!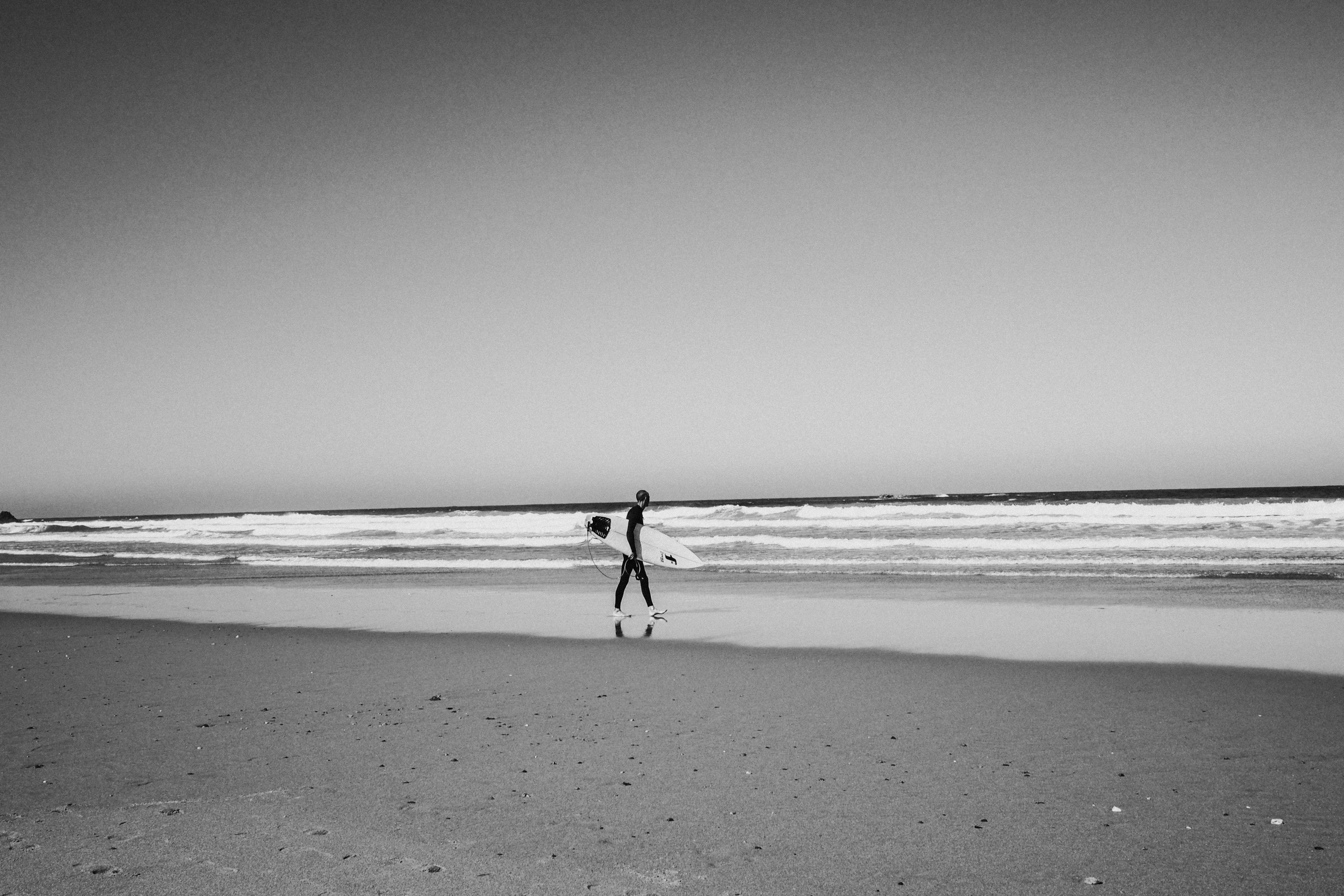 The best places to surf in the Algarve
Sagres
Sagres was my first taste of a real surfing town in Algarve. Wow, the energy here! It's a mix of history and surfing vibes. There are ancient forts and old streets, which make for great walks. But there are also around 5 surf shops I counted.
I tried surfing at one of the local beaches. The waves? Mostly 3 feet tall, but some reached up to 5 feet. Great for someone like me! There were locals and tourists, all mixing together.
After surfing, I grabbed a bite at a local eatery. They had stuff like grilled fish and rice. Oh, and don't forget the pastries. Pastéis de nata are a must-try!
Praia da Luz
Praia da Luz felt more relaxed. It's a smaller town with a charming feel. The beach is the main attraction, of course. It stretches for about 1 kilometer, with golden sands.
I saw families, couples, and around 10 surfers in the water. The waves were calmer here, mostly around 2 to 3 feet. Perfect for beginners like me.
There's this cool promenade with cafes and shops. I had an ice cream and just watched the world go by. So peaceful.
Lagos
Lagos was bustling! It's bigger than the other towns and has a mix of culture, history, and, of course, surfing. The marina is pretty, with boats of all sizes.
I tried my hand at surfing at one of the beaches. There were about 20 other surfers, and the waves were a mix of sizes. Some were 4 feet, others touched 6 feet. Challenging but fun!
Afterwards, I explored the town. There are cool street performers, artists, and lots of shops. They sell things like jewelry, clothes, and souvenirs. I grabbed a pizza slice from a local joint. Delicious!
Portimao
Portimao was a lively spot on my Algarve journey. This town is bigger, with more buildings and streets to explore. I headed straight to the beach, which is about 2 kilometers long. Big, right?
Surfing here was a joy. I saw around 15 surfers catching waves. They ranged from 2 feet to a whopping 5 feet! My comfort zone? Definitely the smaller ones.
After my surf, I wandered around. There's a cool riverside area with cafes. I grabbed a sandwich and watched boats sailing by. They have these cool markets too, selling fruits, fish, and pottery items.
Albufeira
Next stop, Albufeira! This surf town is a blend of old and new. There are cute, narrow streets and also big modern areas. The main beach is where I tried to surf. There were about 20 surfers, all enjoying the 3-foot waves.
I explored the old town later. Lots of shops here, selling things like leather goods, clothes, and toys. I tasted some local pastries too. Yum!
Faro
Ah, Faro! It's the capital of the Algarve region. This city is bustling with activity. Besides the historical buildings and cool parks, there's a lovely beach area for surfers.
I gave surfing a try here. The waves? They averaged about 3 feet. Great for beginners. There were around 12 other surfers in the water.
Afterwards, I strolled in the city. There's this old wall and some ancient buildings. Really cool to see. They have museums too. And the food? Delicious. I tried a local seafood dish. So fresh and tasty!
Surfing beaches in the Algarve
Arrifana
Wow, Arrifana! The first time I set foot on this beach, I was taken aback by its beauty. The shoreline stretches for about 500 meters, surrounded by tall cliffs that make it look like a scene from a movie. I remember lugging my surfboard, heart pounding with excitement.
There were about 20 other surfers in the water, both newbies like me and some who looked more experienced. The waves? They varied. I saw some that were 3 feet high, perfect for beginners. But there were bigger ones, 6 or 7 feet high, that made me a little nervous. Sea birds, like gulls and terns, flew overhead, adding to the serene atmosphere.
It's a popular spot, especially in summer. But the beach is spacious, so it never felt crowded. And the local surf schools? They're awesome. I had a lesson or two and felt more confident after.
Amado
Amado was another treat. This beach is wider, with golden sand stretching as far as the eye can see. I counted 4 surf schools set up along the shoreline. Clearly, it's a favorite among learners.
The waves here are friendly, most of them around 4 feet high. Great for someone like me who's still finding their balance. I met a group of tourists from Spain and Germany. They too were beginners, and we shared some laughs about our countless wipeouts.
There were food trucks nearby. Delicious sandwiches, fresh juices, you name it. It felt like a surfer's paradise.
Castelejo
Stepping onto Castelejo was like entering a different world. It's rugged and wild with black rock formations jutting out of the sea. There were 30 or so surfers catching waves, their silhouette against the setting sun was breathtaking.
Here, the waves seemed to have a mind of their own. Some days, they're calm at 2 feet, other days they surge up to 5 feet. There's this one time I tried to ride a 4-foot wave and ended up tumbling - but hey, it's all part of the fun!
The beach has fewer amenities, but the tranquility and raw beauty make up for it. There's something special about sitting on the sand, watching the waves, and feeling the ocean breeze on your face.
Beliche
Ah, Beliche. Hidden between cliffs, this gem was a pleasant surprise. To reach the beach, I had to climb down a series of wooden steps. It felt like a mini adventure.
There were around 40 surfers in the water when I arrived. Most waves were around 3-4 feet, but I did spot a few reaching up to 6 feet. Beginner-friendly? Absolutely. But also a treat for those wanting a bit more challenge.
I noticed families with kids, making sandcastles, and groups having picnics. After a good surf session, I joined a couple who were playing beach volleyball. There was a sense of community, making it easy to strike up a conversation and make new friends.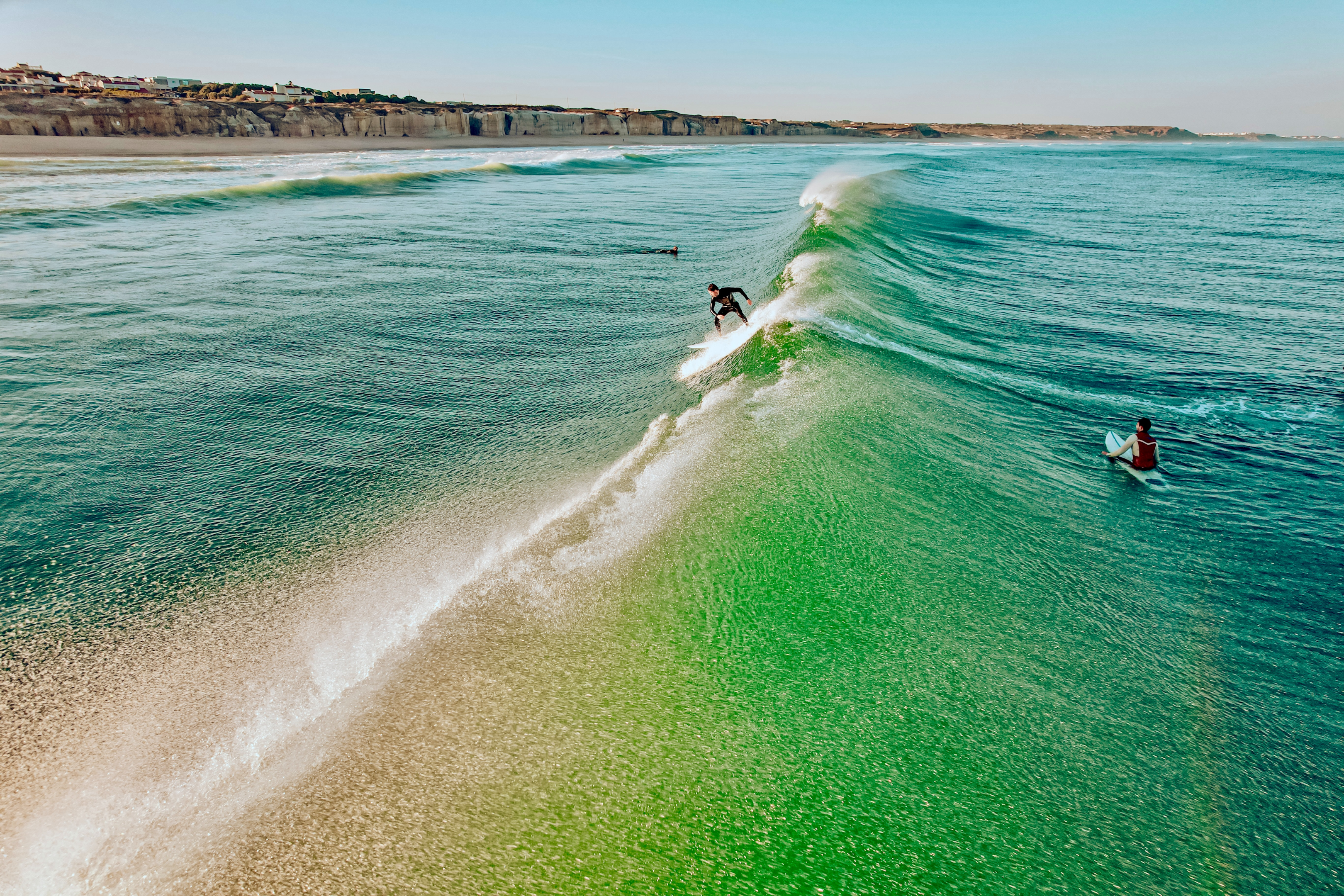 Tonel
Tonel was nothing short of magnificent. When I walked onto this beach, the first thing that struck me was the rocky landscape on one side. I learned that the beach is about 700 meters long, so there's plenty of space for everyone.
I saw around 25 surfers during my visit. There were some riding the smaller, 2-foot waves, while the braver ones went for the 5-foot ones. The thing about Tonel is its waves can get pretty unpredictable. Like the time I thought I'd master a 3-foot wave and ended up getting a mouthful of salty water. Yep, lessons learned!
For refreshments, there are a couple of small kiosks. They sell snacks like chips and drinks like sodas and juices. Simple, but hits the spot after a surf session.
Zavial
Oh, Zavial, what an experience! This beach was quieter compared to some of the others. With a shoreline of around 800 meters, it had this secluded feel that I loved. The sand here? Soft and golden.
I counted roughly 15 other surfers. The waves are usually between 3 to 5 feet, but they're gentle. Perfect for a beginner like me. As for food? There are small eateries nearby. Think grilled sandwiches and fresh fruit salads. Yum!
Praia de Faro
Praia de Faro is one unique spot. It's close to the city, so it's accessible. The beach is super long, I think around a whole kilometer or so. It's lively, with about 50 surfers during peak times, kids playing football, and folks sunbathing.
The waves are pretty consistent. They hover around 3-4 feet, which is awesome for new surfers like me. And the beach vibe? It's bustling. You've got cafes and restaurants lined up along the shore. Pastries, ice creams, pizzas - you're spoiled for choice.
Amoreiro
Amoreiro, nestled between green hills, felt like a secret hideaway. The sand is dark and contrasts beautifully with the blue sea. It spans about 600 meters, and during my visit, there were around 20 surfers dotting the waves.
The waves can be tricky, ranging from 2 feet to 6 feet on some days. As a beginner, I stuck to the shallower end. But it was fun watching the pros tackle the bigger waves.
Right next to the beach, there's a small river. Families with kids love it. After surfing, it's a cool place to just relax and dip your feet. For food? There are a few snack bars. They have things like burgers and smoothies. Perfect after a day in the water.
Odeceixe
So, Odeceixe, on the West coast, was a revelation. Imagine this: a river meeting the sea, creating a unique surfing experience. The beach itself is about 800 meters long, surrounded by hills that look like they've been painted green.
On the day I visited, there were around 30 surfers. The waves here? They're like friendly giants, mostly between 2 and 5 feet. Since I'm still a newbie, I had my fun with the smaller waves. But, there were some daring souls tackling the bigger ones.
Apart from the surf, kids loved playing near the river. Families set up picnics, and the air was filled with laughter. There are a couple of stalls where you can grab a bite. Sandwiches, salads, and cold drinks – the usual beach fare.
Zavial
I had heard tales of Zavial before I visited. It's quieter and has this chill vibe. The shoreline? Roughly 800 meters of golden beauty. I noticed about 15 surfers when I was there.
Waves varied between 3 to 5 feet. They seemed gentle, just right for me. If you're hungry, there are small eateries. I tried a grilled cheese sandwich and a fruit salad, so tasty!
Praia Boca do Rio
Praia Boca do Rio is like a postcard. It's not just the sea here, there's also a riverbed. The beach is not as long, maybe around 500 meters. But, it's breathtaking.
I counted 20 other surfers. The waves? Around 3-4 feet high, ideal for someone still learning. There's something soothing about the place, with the nearby hills and chirping birds, like finches and sparrows.
For munchies, there are kiosks that sell snacks. Think potato chips and iced teas. Perfect for a quick refuel.
Praia do Zul
Oh, Praia do Zul! It's a lesser-known gem. Nestled between cliffs, this beach is around 700 meters of pure serenity. The day I visited, I saw roughly 25 surfers enjoying the beach break and the waves.
The waves here? They're mostly around 4 feet, but I did see a couple that reached 6 feet. There's a thrill in trying, even if you tumble a few times, like I did.
A little heads-up, there aren't many eateries here. But I packed a picnic. Sandwiches, fruits like apples and bananas, and some lemonade. Sitting on the sand, munching away, and watching the sunset? Pure bliss.
Martinhal
Ah, Martinhal! This beach had a different vibe. It's near a resort, so the place looked kinda fancy. The beach is about 600 meters long. The sand? Soft and golden, perfect for a nap after a surf.
I was surprised to see only around 15 surfers when I went. The waves were fun, mostly between 2 to 4 feet. Perfect for a beginner like me. I did spot a few bigger waves, maybe 5 feet tall. Some brave surfers tried them out, and it was fun to watch.
Kids were building sandcastles, families playing games like frisbee and volleyball. Hungry? There's a cool beach bar nearby. They serve stuff like burgers, fries, and shakes. Yummy!
Meia Praia
Meia Praia was massive! I think it's one of the longest beaches in Algarve, stretching for over 4 kilometers. Even with about 40 surfers around, it felt spacious.
The waves? A mix of everything. Some were tiny, like 2 feet, and others reached up to 6 feet. It was like a surfing buffet. For food, there are plenty of beach shacks. I tried fish tacos and ice-cold soda. So good!
Porto de Mos
Porto de Mos felt like a hidden treasure. The cliffs around it made it look like a secret cove. The beach is around 1 kilometer long, with golden sands and clear waters.
I saw about 20 surfers during my visit. The waves were calm, mostly around 3 feet, which made me super comfortable. But, there were moments when bigger, 5-foot waves rolled in, and that was quite a sight!
Close by, there are some cafes. They serve things like pasta, salads, and juices. After a good surf, munching on some spaghetti while looking at the sea? It's the dream.
Aljezur
Now, Aljezur was a change of pace. It's not just a beach, it's like a small town with history and charm. The main beach? About 1 kilometer long. When I reached, there were around 25 surfers riding the waves.
The waves here are pretty cool. Many were around 3 feet tall, which is just right for someone like me. But for those seeking a bit more thrill, there were a few that touched 5 feet.
Walking around, I found local shops selling crafts. Think handmade jewelry, pottery, and woven baskets. Oh, and there's a castle nearby. I didn't visit it, but many folks said it's worth a peek.
Monte Clerigo
Monte Clerigo was like a painting. It has these rocky formations and the sand feels so soft underfoot. The beach stretches for about 800 meters, so there's plenty of space to spread out.
When I was there, I counted maybe 30 surfers. The waves? Mostly 3-4 feet high. Just perfect for practicing my moves. There were kids collecting shells, dogs playing fetch, and the sound of laughter all around.
For snacks, there are cute cafes. I had a sandwich and some fresh orange juice. It hit the spot!
Vale Figueiras
Vale Figueiras felt like a secret spot. Surrounded by green cliffs, this beach is about 700 meters long. On my visit, I saw around 20 surfers, enjoying the cool waves.
The waves here were a mix. Some were 2 feet tall, easy for beginners like me. But, every now and then, a 5-foot wave would roll in. A bit intimidating, but oh-so-fun to watch.
Hungry? There's a little shack selling food. I tried their grilled cheese sandwich and a fruit smoothie. Perfect after a day in the water.
Praia Bordeira
Oh man, Praia Bordeira was a breath of fresh air! This beach seemed to go on forever. I think it's about 3 kilometers long. So, even with 50 surfers around, it felt open and free.
The waves here? They're fun. A bunch were around 3 feet high, perfect for someone still learning, like me. But every once in a while, a 5-foot wave would sneak in. That's when I'd sit back and watch the pros.
Nearby, there are sand dunes. Kids were sliding down them, laughing all the way. I even saw families flying kites. It's like a big beach playground.
And guess what? There's this little cafe right at the beach entrance. They had these pastries, like croissants and tarts. So tasty!
Mareta
Oh boy, Mareta! This beach was something else. When I first got there, I was struck by its beauty. The beach is a neat 900 meters long. There were around 18 surfers enjoying the waves when I arrived.
The waves here? They're super fun. Most were about 2 to 3 feet tall. Just right for someone like me who's still learning. I did notice a couple of bigger waves, like 5 feet, which were pretty exciting to watch.
I also spotted folks with kites. You know, kite surfing? Looked like so much fun. Near the beach, there's a cafe. I grabbed a cold lemonade and some fries. Perfect for a beach day!
Carrapateira
Carrapateira, now that's a cool spot. It felt a bit wild, in a good way. The beach itself stretches for about 1.2 kilometers. When I visited, there were close to 25 surfers catching waves.
The waves here varied. Some were tiny, around 2 feet, and then there were the big ones, touching 6 feet. Those big ones? A bit scary for me, but so cool to see others ride them.
The sand had cool patterns from the wind. And guess what? There are dunes around. Some kids were sliding down them on boards. After my surf session, I got an ice cream from a nearby truck. Perfect end to the day!
Surf camps in the Algarve
Wavy Surf Camp Portugal in Sagres
Wow, the Wavy Surf Camp in Sagres was like no other! Located close to the beach, I could hear the waves as I woke up. They offer these cool wooden cabins to sleep in. Felt like a real adventure!
Every morning, we had group lessons. About 10 of us, all trying to get the hang of surfing. The instructors were super patient. Especially with me. I tumbled a lot, but they cheered me on.
Evenings? Campfires and music. We shared stories, ate marshmallows, and laughed a lot. I made friends from Italy, Sweden, and Brazil. They all had cool surfing tales.
Algarve Surf School in Sagres
Next, I checked out the Algarve Surf School. Right in the heart of Sagres, it's a big hit. Their main focus? Getting newbies like me on board!
We trained on soft boards first. Safer and easier. The group had about 15 beginners. We learned about waves, tides, and the right way to paddle.
The best part? The video analysis. They film us, and then we watch to see what we did right or wrong. Super helpful. And yes, I saw all my silly falls. But I learned a lot too!
Future Eco Surf School in Portimão
In Portimão, I found the Future Eco Surf School. Their twist? They're all about being eco-friendly. They love the ocean and want to protect it.
They use sustainable boards and wetsuits. So cool, right? Our group was small, just 8 of us. It felt personal and fun.
The instructor gave us tips and tricks. For example, how to read the water, or how to spot rips. Safety first, they said.
After lessons, we'd clean up the beach. Picking up trash and stuff. I felt good, surfing and helping the planet!
Oasis Surfcamp Portugal in Lagoa
Oasis Surfcamp in Lagoa was a total dream come true for a newbie like me. First thing? It's so close to the beach! Every morning, I'd wake up to the sound of waves. Just 5 minutes walk, and there I was, toes in the sand.
The camp itself? Picture-perfect. Think tents, hammocks, and a chill-out zone. And about 12 of us, from different countries, all excited to surf. The instructors were top-notch. We got cool tips, like how to stand up without falling (I still fell, though!).
After surfing? BBQs! We'd grill burgers and veggies. And, chat about our day. Big waves, small waves, funny falls. Oh, and the sunsets? Stunning!
Lapoint Surf camp in Alentejo
Then there's Lapoint in Alentejo. This place is pure magic. It's a bit fancy, with comfy beds and a pool. Yes, a pool!
Our group was diverse. Around 20 people. Some beginners, some pros. The coaches were super patient. They showed us moves, like the "pop-up" and "duck dive". They even had cool nicknames for them, which made learning fun.
We had movie nights too. Surf films, with popcorn and blankets. It felt like a big family gathering!
Tiny Whale Surf Lodge
Last but not least, I landed at the Tiny Whale Surf Lodge. First off, it's not tiny. It's massive! It's got this cool rustic feel. Wooden cabins, green lawns, and even a yoga deck.
The best part? The lessons. We were a group of 10. The instructors used fun games to teach us. We played tag in the water, learned about currents, and even had races.
And the food? Yummy! Fresh fish, salads, and my favorite - chocolate cake. After dinner, we'd all sit around, play guitars, and sing. Surfing tunes, of course. Best times!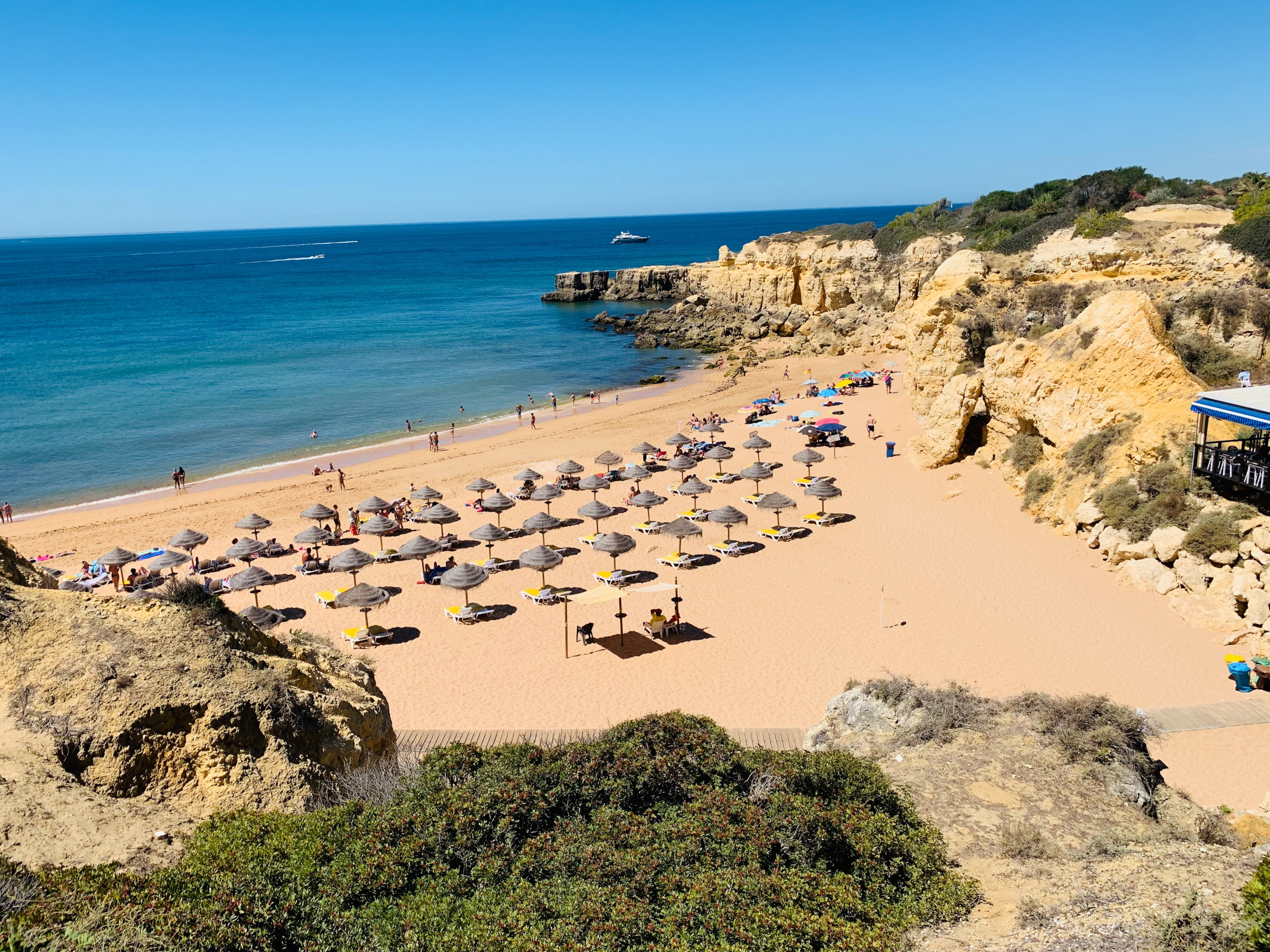 Surf hotels in the Algarve
Endless Summer Surf House
Oh, the Endless Summer Surf House! Staying there was like being in a surf movie. The walls? Decorated with awesome surf pictures. And the people? Super friendly. I stayed in a room with 3 others. We had bunk beds and surf posters everywhere. Breakfast was a treat. Fresh fruit, pancakes, and smoothies. Every day, they had a surf forecast board. It showed where the best waves were. Handy, right? We'd all gather around, plan our day, and then hit the waves. Such fun times!
Martinhal Sagres Beach Family Resort Hotel
Now, Martinhal Sagres is a bit more on the luxury side. But who says beginners can't enjoy a little luxury, right? My room had a sea view. Every morning, I'd watch the waves from my balcony. The resort has 4 pools. Yep, four! And the staff? So kind. They'd give tips on the best beaches for beginners. Plus, there's a surf school right next door. How cool is that?
Salema Beach Village
Salema Beach Village felt like a dream. It's not just a hotel; it's like a mini-town. I stayed in a villa. Two bedrooms, a kitchen, and the best part? A private terrace. Every evening, I'd chill there, listening to the waves. The village is close to the beach, just a 10-minute walk. And the beach? Golden sand, clear water, and waves perfect for newbies like me.
Carrapateiramar Guest House
Carrapateiramar Guest House is a cozy spot. It's smaller than the other places, but oh so charming. My room had wooden beams and cute surf decorations. The owner, Maria, is a surfer. She'd tell stories about her surf adventures. And give tips! Like where to find the calmest waves. The guest house has a lovely garden. After surfing, I'd relax there, sipping on a cold drink. It's a peaceful place, perfect for a surf getaway.
Downsides to surfing in the Algarve
Alright, so while I've had heaps of fun surfing in the Algarve, there were a few downsides. I think it's only fair to share them.
First off, the crowds. Especially in July and August. So many people! I went to a couple of popular surf beaches and it was like a packed sandwich. I counted maybe 30 surfers at one spot. Yep, thirty! For a newbie like me, that's intimidating.
Then, the winds. Sometimes they can get pretty strong. There were days I felt like I was flying a kite instead of riding a wave. Not the best feeling when you're just trying to stand up on your board.
And don't get me started on jellyfish. I've bumped into them a few times. It's not common, but when it happens, yikes! They give a sting that's quite a surprise. I had red marks for days.
Also, there's no big cities nearby and while the Algarve is great for a getaway, you'll find yourself far from the more urban areas like Lisbon.
Lastly, prices. Peak season for beach breaks means peak rates. Surf lessons, board rentals, even snacks at beach cafes, everything's a bit pricey.
Still, with all that said, the good times in Algarve outweigh these small hiccups. Just thought you'd want the whole picture!
Things to do when not surfing
Party in Albufeira
Oh, Albufeira! It's party central. I remember this one night when my friends and I went to 3 different clubs. Yes, three! The music, the lights, and the energy. Everyone's dancing, laughing, and just having a blast. If parties are your thing, Albufeira's nightlife won't disappoint.
Visit Lagos Old Town
Lagos Old Town is like stepping back in time. Cobbled streets, ancient buildings, and cute cafes. I spent an entire day wandering around, taking pictures. There's history at every corner. And those souvenir shops? They've got the coolest stuff. From handmade jewelry to surf-themed tees.
Explore Praia da Rocha
When I wasn't on a surfboard, Praia da Rocha was a go-to spot. It's not just a beach, it's an adventure. Huge cliffs, hidden caves, and golden sands. I even took a boat tour. We saw dolphins! How cool is that? The sunset there? Pure magic. Every time, it felt like a movie scene.
Conclusion
Whew! What a ride. From bustling beaches to quiet surf camps, the Algarve has it all. Sure, there were some hiccups (remember the jellyfish?), but the thrill of riding those waves, the sunsets, and the new friends made it all worthwhile. If you're looking for your next surfing adventure, the next Algarve surf trip is waiting with open arms. Just pack some sunscreen, maybe a jellyfish repellent, and you're good to go. See you on the next wave!
FAQs
Is the Algarve good for surfing?
Totally! The Algarve is one of the top spots in Portugal for surfing. Whether you're an eager beaver like me, just starting out, or a seasoned surfer, there's a beach and wave that'll suit your style. The water's great, and the vibes? Even better.
Are there waves in the Algarve?
Yes, and plenty of them! From small, gentle ripples for folks like me who are still figuring it out, to bigger, challenging waves for the pros. Different beaches have different wave sizes, so you've got a lot to pick from.
Is Lagos Portugal good for surfing?
Absolutely. Lagos was one of the highlights of my trip. The beaches around Lagos are versatile. Some are calm and beginner-friendly, and some are for the more daring. And after surfing? The town itself is a treat to explore.
Does Portugal have good surfing?
Oh, yes! Portugal is like a surfing magnet. With its long coastline, it's got a mix of beaches and surf spots. From the world-famous Nazaré to our beloved Algarve, you'll find waves that'll make your heart race. Even pros come here for the big wave challenges.
Can beginners surf in Portugal?
For sure! I was a bit nervous at first, but Portugal, especially the south coast beaches in places like the Algarve, has the best surf towns and tons of surf schools. They've got instructors who'll teach you the ropes, and beaches that are perfect for us newbies. So if I can do it, you can too!
How beginner-friendly is the Algarve for surfing?
Super friendly! There are other South Coast beaches, but Algarve is amazing with small, gentle waves perfect for newbies. I tried a few, and trust me, I only fell like, 20 times!
What's the deal with jellyfish?
They're around, especially in some areas. But, it's not every day. Just be cautious. I had a couple of encounters, and while they stung, it wasn't the end of the world.
Is it expensive to surf in the Algarve?
It can be, especially during peak season. But there are deals. For instance, the best surf camps will often offer package deals, like lessons plus accommodation.
Can I rent a surfboard there?
Absolutely! There are tons, and I mean TONS, of rental places. They have all sorts – from beginner boards to pro ones. And the prices? Pretty reasonable, especially if you're not visiting in the middle of summer.
Any must-visit spot for a beginner like me?
Oh, for sure! Praia da Rocha was a dream. Not too crowded and the waves? Just perfect for someone still getting their sea legs.